Who Was the Real Dennis Nilsen? David Tennant Plays the Scottish Serial Killer in 'Des' on Sundance Now
David Tennant's latest role may be his most gruesome one yet. He transforms into Scottish serial killer Dennis Nilsen in the upcoming miniseries Des, which premieres this Thursday. Nilsen murdered at least a dozen boys and young men in the late 1970s and early 1980s in London, England.
In the trailer, Tennant plays a calm and cooperative yet chilling Nilsen whose physical likeness to the killer is uncanny. In the short but captivating clip, human remains are collected while Nilsen is arrested and questioned about the murders.
Based on the 1985 non-fiction book Killing for Company by Brian Masters, the miniseries follows Nilsen's arrest, along with Masters, his biographer (Jason Watkins) who grew obsessed with him.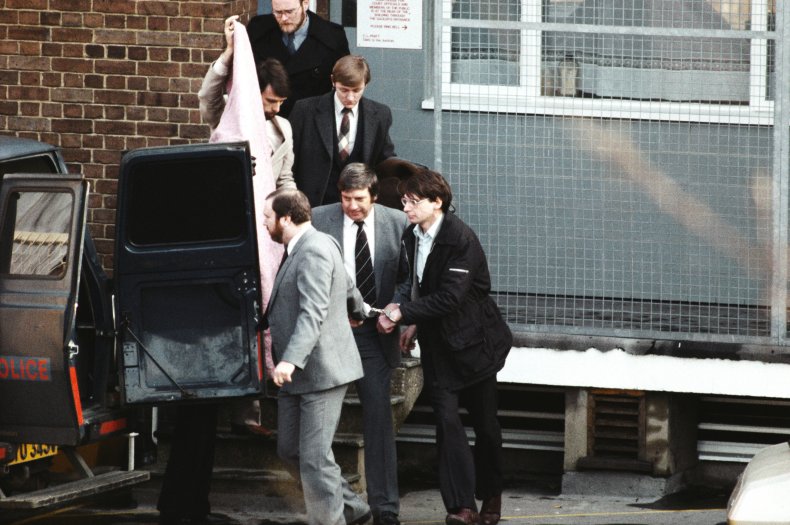 Nilsen killed 15 boys and young men, most who were homeless or gay, at his home in North London. He found his victims in local pubs and lure them back to his apartment with alcohol or a place to stay, where he would kill them.
After murdering them, Nilsen used to sit with the bodies in his apartment before dismembering them. Sometimes, he would engage in necrophilia with the corpses. He would burn the remains, or dispose of them by flushing the body parts down his toilet.
Nilsen eventually became known as the Muswell Hill Murderer, since many of his killings took place in the Muswell Hill district of the city.
Nilsen was arrested in 1983 after the remains of one of his victims were caught in a drain near his home. The plumber who made the eerie discovery notified the police, and Nilsen then admitted to killing 15 to 16 people in excruciating detail.
The Scottish killer pleaded not guilty to the crimes, but was ultimately sentenced to 25 years in prison for six counts of murder and two of attempted murder. His sentence was eventually increased to life. Nilsen died in prison in 2018.
Tennant revealed that despite the gruesome killing spree Nilsen went on, the murderer appeared "boring."
"Of the few people I met who had personally known him, one of the most frequent descriptions seems to be that he was actually rather boring," he said, via the BBC. "It certainly would seem that those who worked with him at the job office found him pleasant enough. Sometimes he would drone on a little, but there was certainly nothing extraordinary, apparently, about this man."
He also noted how average Nilsen seemed. "Clearly, one of the extraordinary things about this story is that he killed so many people without anybody apparently noticing, and that nobody in his life raised an alarm, and it could go on for the number of years that it did."
The three-part miniseries Des premieres on Sundance Now on Thursday, October 15.