Who Was Robin Bush? What Barbara Said About Daughter Who Died From Leukemia
Republican matriarch and former first lady Barbara Bush died Tuesday after suffering from Chronic Obstructive Pulmonary Disease (COPD) and congestive heart failure. She was 92 years old. Bush wasn't afraid to die, though. She had already experienced the death of her daughter, Pauline Robinson "Robin" Bush, who died from leukemia in 1953 at 3 years old.
Bush and her family were not familiar with leukemia before, and were told there was no treatment for Robin except to bring her home to die. "She said: 'You don't do anything. She's going to die,'" the former first lady recalled in 2012 for a Today interview. "'She said, 'My advice is take her home, love her. In about two weeks she'll be gone.'"
The doctor said to "…forget that Robin was sick, make her as comfortable as we could, love her — and let her gently slip away," Bush wrote in her 1994 memoir. "She said this would happen very quickly."
But the Bushes weren't willing to accept that diagnosis. Instead, they found a hospital that would treat Robin's leukemia, a cancer not widely known in 1953. Robin underwent multiple bone marrow tests and had regular blood transfusions at Sloan Kettering in New York. After battling the blood cancer for seven months, Robin died on October 11, 1953, about two months before she would have turned 4 years old.
Bush was with her daughter when she died. "I was combing her hair and holding her hand," Bush said in her Today interview. "I saw that little body, I saw her spirit go."
Robin's soul always stayed with Bush. "Robin to me is a joy. She's like an angel to me, and she's not a sadness or a sorrow," Bush said in 2012.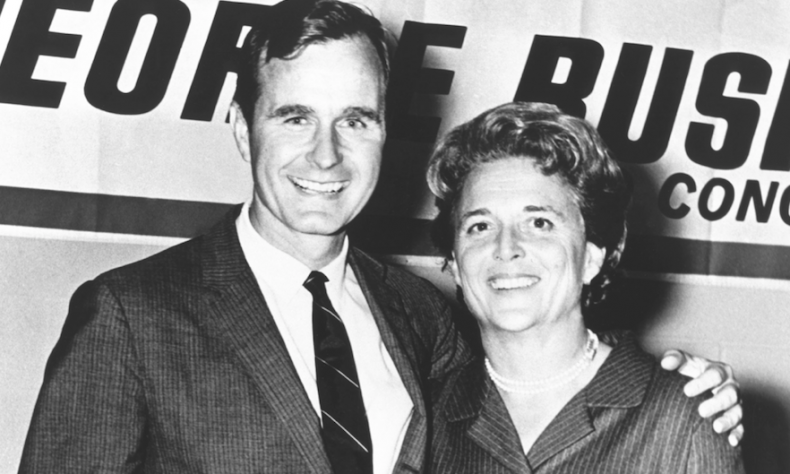 Bush's husband, former President George H.W. Bush., released a statement on Tuesday: "A former first lady of the United States of America and relentless proponent of family literacy, Barbara Pierce Bush passed away Tuesday, April 17, 2018, at the age of 92."
Her son President George W. Bush also responded to the former first lady's death. "My dear mother has passed on at age 92. Laura, Barbara, Jenna, and I are sad, but our souls are settled because we know hers was," he said. "Barbara Bush was a fabulous First Lady and a woman unlike any other who brought levity, love, and literacy to millions."