Who Was Roxsana Hernandez? Transgender Woman Who Died in ICE Custody Was Beaten Before Death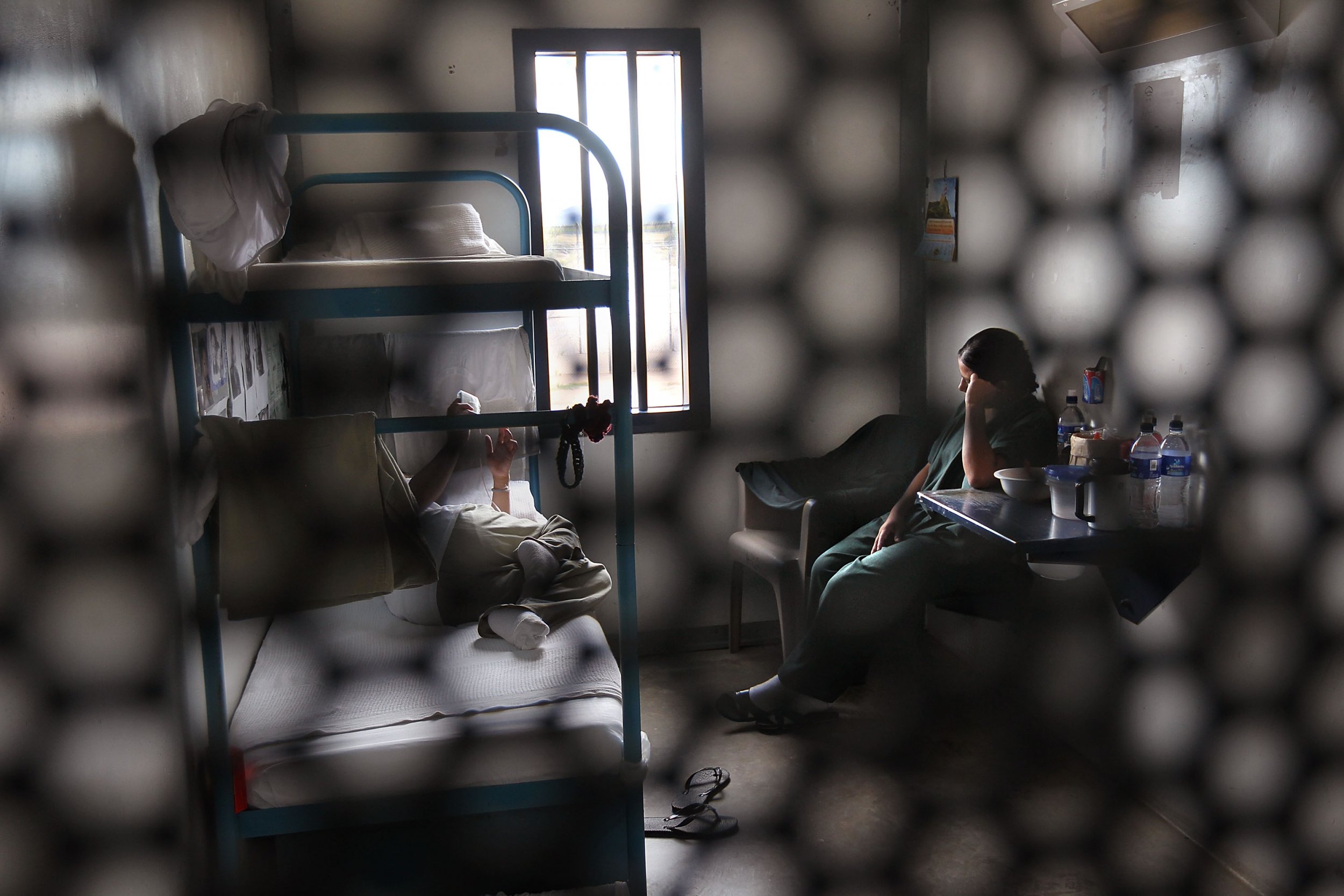 When 33-year-old Roxsana Hernandez, a transgender woman from Honduras, made the decision to flee her home country with a caravan of Central American asylum seekers last spring, she had dreams of opening up a salon in the U.S., where she would be free from persecution and able to send money back home to her family.
Her dreams were quickly cut short, however, with the 33-year-old dying within two weeks of being taken into the custody of the U.S. Immigration and Customs Enforcement agency.
ICE had previously told Newsweek that the 33-year-old transgender woman, who was HIV-positive when she presented herself at the San Ysidro port of entry near San Diego in May, had died that same month of cardiac arrest after showing "symptoms of pneumonia, dehydration and complications associated with HIV."
Today marks the 6-month anniversary of #RoxsanaHernandez's death in ICE custody. A coalition of supporters, lawyers, and advocates have filed a notice of wrongful death tort claim in #NewMexico. #JusticeForRoxsana must continue to be in your minds, hearts, and actions. pic.twitter.com/UrcXDryNZa

— Polemicist (@PalmTreesnGz) November 26, 2018
However, legal representatives for Hernandez's family say ICE has not told the full story of Hernandez's final days in the agency's custody, with an independent autopsy finding evidence that the transgender woman suffered "physical assault and abuse" before her death.
On Monday, six months after Hernandez's death, the Transgender Legal Center (TLC) and Andrew Free, a civil rights attorney, filed a wrongful death notice claim with the New Mexico Attorney General's Office, asserting that Hernandez's death was "entirely preventable" and came after she suffered significant abuse.
"Specifically, forensic evidence indicates she was handcuffed so tightly as to cause deep tissue bruising and struck repeatedly on the back and rib cage by an asp or similar instrument while her hands were restrained behind her back," TLC and Free said in their notice of a personal injury and wrongful death claim.
TLC Director of Litigation Lynly Egyes said in an additional statement that the independent autopsy report, which was carried out by "an independent expert board-certified forensic pathologist," revealed that Hernandez "was shackled for a long time and very tightly, enough to cause deep bruising on her wrists."
"She also had deep bruising Injuries consistent with physical abuse with a baton or asp while she was handcuffed, according to an examination of the tissue by an independent expert board-certified forensic pathologist," Egyes continued.
"In the final days of her life, she was transferred from California to Washington to New Mexico, shackled for days on end," the TLC director of litigation said.
"If she was lucky, she was given a bottle of water to drink," Egyes said. "Her cause of death was dehydration and complications related to HIV. Her death was entirely preventable."
Related: Transgender woman dies in ICE custody, sparking outrage over 'deplorable and inhumane' conditions
TLC said that during her "hellish ordeal" under ICE custody, Hernandez was held in "notoriously cold holding areas, known as hieleras," and became "increasingly ill as a result of the inhumane conditions."
"She was repeatedly denied access to medical care she begged for, only able to see a doctor after days of vomiting and diarrhea" the legal center said.
ICE has denied any allegations of abuse pertaining to Hernandez's case, with agency spokeswoman Leticia Zamarripa telling The Republic in a written statement that any allegations that the woman was abused while in ICE custody are false.
"A review of Hernandez's death conducted by ICE Health Service Corps medical professionals confirmed that she suffered from a history of untreated HIV," Zamarripa said.
"At no time did the medical personnel treating Ms. Hernandez at Cibola General Hospital or Lovelace Medical Center raise any issues of suspected physical abuse," she added.
"At no time did the medical personnel treating Ms. Hernandez at Cibola General Hospital or Lovelace Medical Center raise any issues of suspected physical abuse," Zamarripa said.
After receiving the results of the independent autopsy, however, Hernandez's family is demanding justice.
In a statement released through TLC, Hernandez's family members said it was "an injustice to have her die the way she did."
"She left with dreams of opening a beauty salon and hopes of helping us out," the family said. "She fled Honduras because here transgender people are discriminated against."
In Central American countries, LGBT community members are known to face epidemic levels of violence and discrimination, according to Amnesty International.
In a report published last year, the advocacy group warned that "the lives of lesbian, gay, bisexual, transgender and intersex people from violence-ridden El Salvador, Guatemala and Honduras are at risk," in their home countries.
Amnesty said that with authorities in all three countries failing to protect LGBT community members, residents have been left with "no choice but to flee."
In Honduras alone, nonprofit Cattrachas has said that 275 LGBT people were killed in the country between the years 2009 and 2017, with many of those cases never resulting in criminal charges or convictions.
Recently, a group of Central American LGBT asylum seekers were among the first of thousands traveling with a caravan to the U.S. to make it to Mexican border town Tijuana, with hopes of claiming U.S. asylum at the San Ysidro port of entry in San Diego, California.
In their statement to TLC, Hernandez's family said she left Honduras "with hopes of living a better life."
"It has not been easy for us to accept that she is gone, we were very close. It's difficult to accept that she was taken from us because of negligence, because of not giving her support and medication that she needed, because they treated her like an animal. It's not fair," the family said.
"It's not fair that she fled Honduras looking for a better life and instead she was murdered," they said. "Now all we have left with is the hope that we can see justice for her. Justice for Roxsana."