Who Was Sake Dean Mahomed? Facts and Quotes About Author, Surgeon and Entrepreneur Celebrated in Google Doodle
Today's Google Doodle celebrates the achievements of Sake Dean Mahomed, author, surgeon and entrepreneur.
On this day in 1794, Mahomed became the first Indian to publish a book in English—he later launched Britain's first Indian restaurant.
Mahomed was born in 1759 in Patna, India. After his father died at the age of 10 he was brought up under the wing of British Captain Godfrey Evan Baker.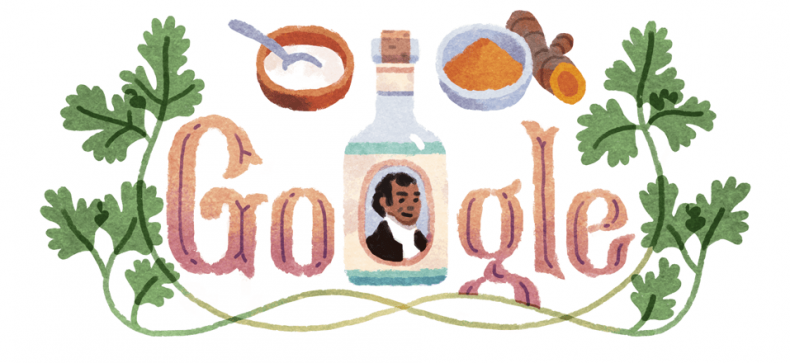 He served in the army of the British East India Company as a trainee surgeon, and when Captain Baker resigned in 1782, Mahomed also quit the army, accompanying his adoptive father back to Britain.
In 1794 he published The Travels of Dean Mahomed, the first book by an Indian author in English. In the book, Mahomed described his service and adventures in the British military, the cities of India, and his controversial marriage to Jane Daly.
After emigrating to Cork with Baker, where he studied English in a local school, he had met and fell in love with Daly.
Her parents opposed the marriage and, at that time, marriage between Protestants such as Daly and non-Protestants was illegal.
So the couple eloped and Daly converted to Anglicanism. The couple were married in 1786 and had seven children.
After moving to England with his family in 1810, Mahomed set up Britain's first Indian restaurant, the Hindostanee Coffee House.
"The Epicure's Almanack—an early London restaurant guide—hailed it as a place for nobility to enjoy hookah and Indian dishes of the highest perfection," writes Google on its Google Doodle page.
However Mahomed was forced to close the restaurant and file for bankruptcy in 1812 and moved to the seaside resort of Brighton where he opened a spa offering luxury herbal steam baths.
He described the head massage treatment with oils he introduced using the Hindi word champissage, origin of the English word "shampoo."
Among patrons of the spa were King George IV and King William IV, and Mahomed soon became known as the "shampooer of kings." He was even appointed personal "shampoo surgeon" to George IV.
He wrote a book on the health benefits of his steam bath methods which he claimed could help alleviate a range of illnesses.
Gradually though his spa treatments fell out of fashion, and Mahomed died in 1851.
In 2005, Mahomed's achievement were celebrated with a plaque on the site of his London restaurant.