Who Was Sir Oswald Mosley? Meet Sam Claflin's 'Peaky Blinders' Character, Based On Real-Life BUF Leader
Fans of Peaky Blinders are being introduced to a new villain in Season 5: British politician Sir Oswald Mosley. The character, portrayed by Hunger Games star Sam Claflin, was an injured World War I veteran who would become the leader of the violent, anti-Semitic, British Union of Fascists (BUF). According to Cillian Murphy, star of the BAFTA-winning crime saga, Mosley said phrases like "Make Britain Great Again" and accused the media of spreading "false news" while making speeches to the British public.
With Season 5 debuting on Sunday after a brief hiatus, fans of Peaky Blinders will get to see what happens when Tommy Shelby (Murphy), leader of the Peaky Blinders, dabbles into politics and crosses paths with Mosley.
"This series deals a lot with the rise of fascism in Britain. It deals a lot with Oswald Mosley," Murphy, 43, told Newsweek. "His speeches are readily available online, and you can look them up, but he used phrases like 'Make Britain Great Again' and 'false news.' It's kind of like a playbook for populism. What I think [show creator] Steve Knight is doing very smartly is commenting on what is happening in the world politically but doing it through the prism of history, which is much smarter, a much more elegant way of dealing with it."
He continued: "It's kind of impossible to make a piece of art or drama about the current situation politically because it's constantly involving a developing and shifting you're always going to be behind the curve. Where if you look back, events that happened in the past and try and hold a mirror up to what's happening now then I think you can provide some sort of a sort of commentary."
In the series, Mosley tells Tommy that he's come to his attention. Violence is nothing new for Tommy; he's murdered scores of people and feelings are the least of his worries. But Mosley's street fighters don't keep razor blades in their caps like the Peaky Blinders; they're the blackshirts—infamous for their violence against Jews and opponents on the left.
In real life, Mosley was friendly with Benito Mussolini, former Prime Minister of Italy, and Adolf Hitler, who attended Mosley's second wedding, which took place at the home of Joseph Goebbels, the minister of Nazi Propaganda, according to the BBC.
Mosley rose to recognition after the stock market crashed in 1932. "He was incredibly egotistical. He believed he was the right man. He believed that he had the solution," Stephen Dorril, a Mosley biographer, told The BBC on Sunday.
While most people are familiar with Italian fascists and German Nazis, British fascists haven't been explored as much through the lens of entertainment—until Season 5 of Peaky Blinders.
The award-winning series will be available on Netflix on October 4.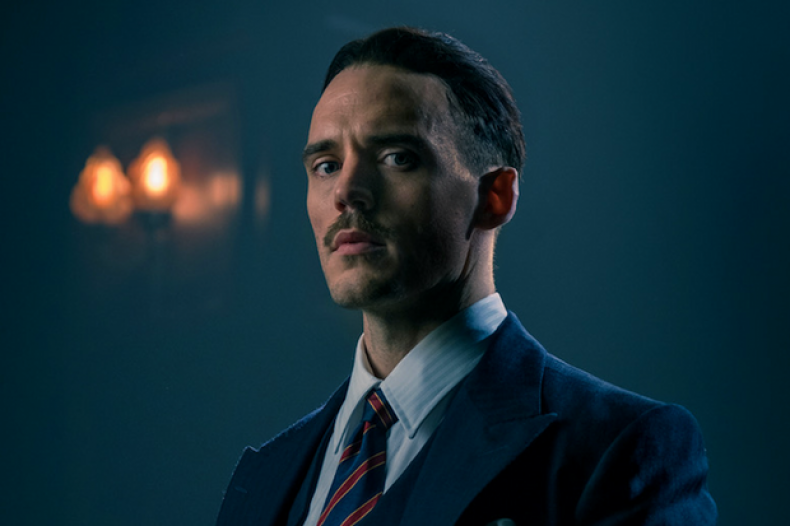 Who Was Sir Oswald Mosley? Meet Sam Claflin's 'Peaky Blinders' Character, Based On Real-Life BUF Leader | Culture