Who Was Subhas Chandra Bose? Alexandria Ocasio-Cortez Senior Staffer Criticized for Sporting Image of Nazi Collaborator
Congresswoman Alexandria Ocasio-Cortez's chief of staff has come under fire after being spotted wearing a T-shirt bearing the image of a controversial Indian independence figure who collaborated with Adolf Hitler's Nazi regime during World War Two.
Saikat Chakrabarti wore the green t-shirt in a video aired by NowThis News in December, detailing Ocasio-Cortez's unexpected rise and eventual congressional victory in last year's midterm elections, the Jewish Telegraphic Agency reported.
Bose was an Indian nationalist leader who worked with the Nazis and the Japanese Empire to rid the subcontinent of the British during World War Two.
Hitler recognized Bose as the leader of Azad Hind—"Free India"—and his Indian National Army fought alongside the Imperial Japanese Army against British troops as battle raged across what is now Myanmar and into the eastern fringes of Indian territory.
Bose died just weeks before the war ended. On August 18, 1945, the Japanese plane on which he was traveling crashed in Taiwan, having been overloaded with cargo. Though many popular conspiracy theories claim otherwise, Bose later died in hospital from severe burns and his ashes were buried in Tokyo.
The nature of his life and death have afforded Bose a legendary reputation with scholars long split on his legacy. Chakrabarti spoke with Newsweek but declined to provide an on-the-record comment on the T-shirt.
Shruti Kapila, a lecturer in Indian history at the University of Cambridge, explained that Bose was "certainly an anti-colonialist," but noted that he also "certainly took aid from Hitler," who at that time was expanding his new German empire across Europe.
"This guy deserves some of the controversy," she added. "You can't whitewash the fact that Bose does take help from the Nazis." On this basis, she suggested that Chakrabarti's decision to wear the T-shirt outside of India is highly controversial.
Bose's personal ideology was complex. Kapila described it as "socialist and statist," and stressed that he cannot be considered a right-wing figure in the vein of the Axis leaders during World War Two.
Though Bose's fiercely pro-independence ideology was always infused with socialist ideals, he did not denounce fascism in the same way as fellow independence leader Jawaharlal Nehru—who would become the country's first prime minister—did. Bose instead called for a middle way between socialism and fascism, fusing elements of both creeds to create a uniquely Indian ideology.
That said, Kapila suggested it is difficult to say for sure "he was free of the kind of ideologies that led to such human catastrophes." His supporters tend to paint his Axis alliances as purely pragmatic, though Kapila noted there is no "easy, straightforward answer" to the question of his true political outlook.
He proclaimed and led Azad Hind as its strongman prime minister and head of state. Though Bose ran the Japanese puppet state in an authoritarian manner, some have claimed that he still believed that democracy was the best system for a future independent state.
Bose's militarism, however, was clear. Mahatma Gandhi passed Bose over as his chosen representative in the Indian National Congress, instead choosing the more moderate Nehru. Kapila explained that part of this decision was driven by Gandhi's concern over Bose's potential to embrace violence in the independence struggle.
"Gandhi was pretty aware of the temptations of violence that Bose was likely to fall to," she told Newsweek.
His early death, at the age of just 48, makes difficult to know what kind of political leader he would have been. "There are all these what-if scenarios," Kapila explained, which have "animated Indian political fantasies."
To this day Bose remains present in India, like a "zombie," "undead" or "ghostly" figure, Kapila added.
Bose and other nationalist figures are especially relevant in India today. Right-wing strongman Prime Minister Narendra Modi has just secured his second term in office with a huge victory in national elections. Opponents have warned that the revivalism of Hindu nationalism under Modi is prompting intolerance and violence against minorities.
"A lot of Modi supporters today are also Bose supporters," Kapila explained. Modi has praised "a large number of what can be called radical nationalists from India's past," she added, including Bose. However, given the political split between Bose and Gandhi, Modi has also been careful not to alienate those who subscribe to the Gandhian strand of politics.
"What the Modi discourse is doing—not him personally always but the people who like Modi—is that they are resurrecting figures that Nehru displaced to forge his power," Kapila explained. "These figures have come alive again."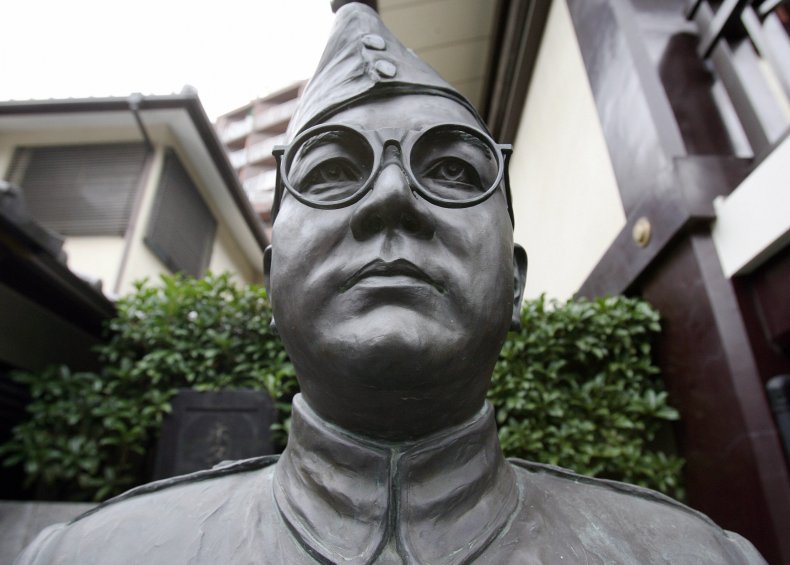 Who Was Subhas Chandra Bose? Alexandria Ocasio-Cortez Senior Staffer Criticized for Sporting Image of Nazi Collaborator | News