Who Were the Toronto Victims? Police Release Names of Those Killed in Van Attack
Canadian police have released the names of the 10 people who died when a man drove a rental van down a sidewalk on April 23 in Toronto.
Those killed range in age from 22 to 94, and all of their families have now been notified, CBC reported. Another 13 people were injured in the attack, five of which remain in critical condition. The #TorontoStrong fundraising effort for the victims of the attack has already passed the CAD$1 million ($780,000) mark.
Alek Minassian, 25, is charged with 10 counts of first-degree murder and 13 counts of attempted murder. Police eventually expect to charge him with a further three counts of attempted murder.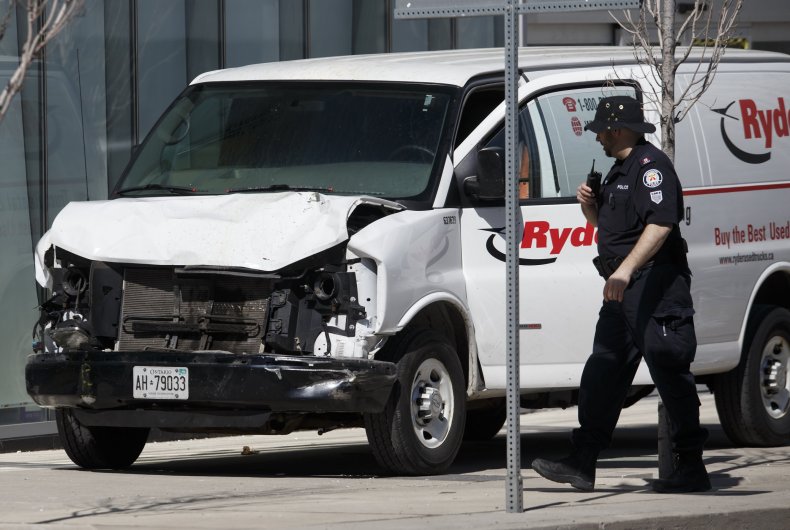 Eight of the 10 killed were women, matching allegations that the attack was sparked by a misogynistic worldview in which Minassian allegedly identified as an "incel," or "involuntary celibate." The majority of those injured were also women, police said. Incels, most active on online message boards, blame women for a difficulty in forming romantic of relationships and believe their right to sex is being withheld by females.
Before the Toronto van attack, Minassian had praised misogynist mass shooter Elliot Rodgers and posted on his Facebook page, "The incel rebellion has begun!"
Minassian reportedly pretended to be armed when police tried to arrest him, and begged officers to "shoot me in the head." Police have been praised for displaying the restraint that allowed them to apprehend the suspect.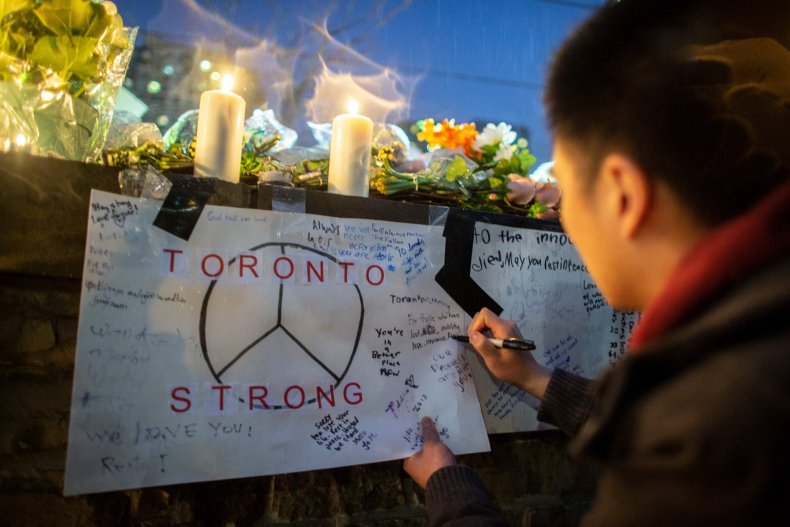 The victims come from a range of backgrounds, reflecting the diversity of the downtown Toronto neighborhood. Two of the dead were foreign nationals.
Anne Marie D'Amico, 30, was the first victim to be identified. She worked for the American investment management company Invesco, whose offices are close to the site of the attack.
Sohe Chung and Ji Hun Kim, both 22, were both students in Toronto. Kim was a South Korean international student studying at Seneca College, while Chung was pursuing a bachelor of science in cellular and molecular biology at the University of Toronto.
Teacher Beutis Renuka Amarasingha, 45, had just finished her first day of a new job when she was caught up in the attack. Amarasingha had left Earl Haig Secondary School, close to the scene of the crime. Friends and relatives became concerned when she did not return home to look after her son, CBC said.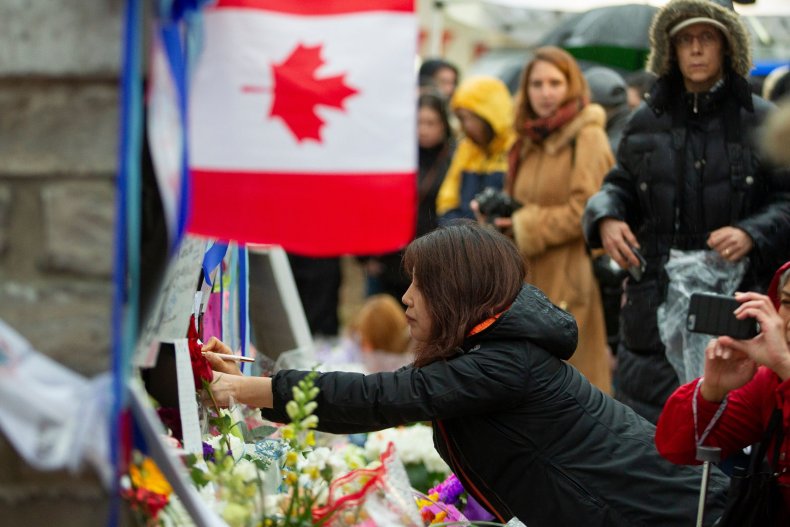 Andrea Bradden, 33, was from Woodbridge, Ontario. She was working as an account executive working out of the Toronto office of the Gartner company, according to Global News.
Chul Min King, also known as "Eddie," was a chef at a the Brazilian Copacabana restaurant. The 45-year-old was married, and his wife lived in South Korea.
Four people over the age of 80 were killed. Dorothy Sewell, 80, was retired having worked for Sears for many years. In her spare time, she volunteered to help her fellow seniors. Geraldine Brady was an 83-year-old grandmother to five and great-grandmother to one. She worked as an Avon sales representative, the Toronto Star said.
Munir Abdo Habib Najjar, 85, from Jordan was in Toronto to visit his son, and had only been in Canada for a short time before the attack took place. Harry Malawi, a family friend and president of the Jordanian Canadian Society, told CBC that Najjar was walking with his wife when he was killed.
Mary Elizabeth Forsyth—known to her friends as "Betty"—was 94.