Who Will Be the Next British Prime Minister? Odds and Top Candidates After Theresa May Say She'll Step Down Before Next Election
British Prime Minister Theresa May has reportedly told members of her Conservative Party that she will not stand during the next general election, amid significant backlash to her government's handling of ongoing Brexit negotiations with the European Union.
Reuters tweeted Wednesday that May will not put forward her candidacy for the top government post during the next election, and the Associated Press reported that she will step down before the scheduled 2022 national polls.
May said, "In my heart I would like to lead the party into the next election," according to Associated Press, citing Solicitor General Robert Buckland. She then indicated, according to Buckland, that she would "accept the fact that" she would not continue to lead her party in the government.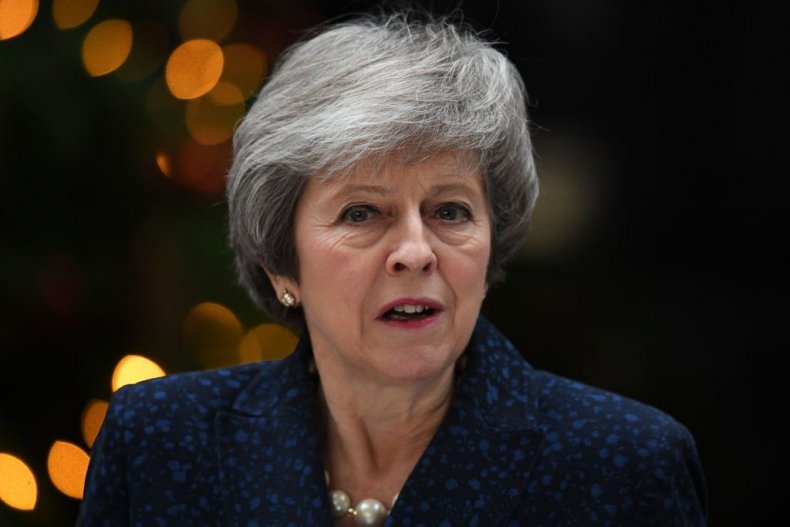 May's comments came as Conservative Party members have moved ahead with a "no confidence" vote against her leadership, expressing concern over her handling of Brexit. The prime minister earlier this week postponed a vote on the deal she had negotiated with the E.U., fearing it would face rejection due to major criticism.
The prime minister, however, won the Wednesday vote 200–117, according to BBC Political Correspondent Nic Eardley. She was also photographed smiling as she returned to her residency at 10 Downing Street after the vote.
Nonetheless, many have already been speculating who would replace May, with betting odds favoring former foreign secretary Boris Johnson and former Brexit secretary Dominic Raab. Furthermore, other top Conservative politicians have been floated as well, including Sajid Javid, Michael Gove, Amber Rudd and Jeremy Hunt, according to the Evening Standard.
Johnson, who has been a staunch critic of May's Brexit plan, resigned from his post in her cabinet in July. There has been speculation that Johnson could become the kingdom's next prime minister since his summer resignation, and Ladbrokes odds put him as a joint favorite to take over the top post along with Dominic Raab at 5–1. Raab took over the Brexit post in July, following the resignation of David Davis just ahead of Johnson's departure. However, Raab also stepped aside in mid-November, saying he couldn't accept May's deal with the E.U.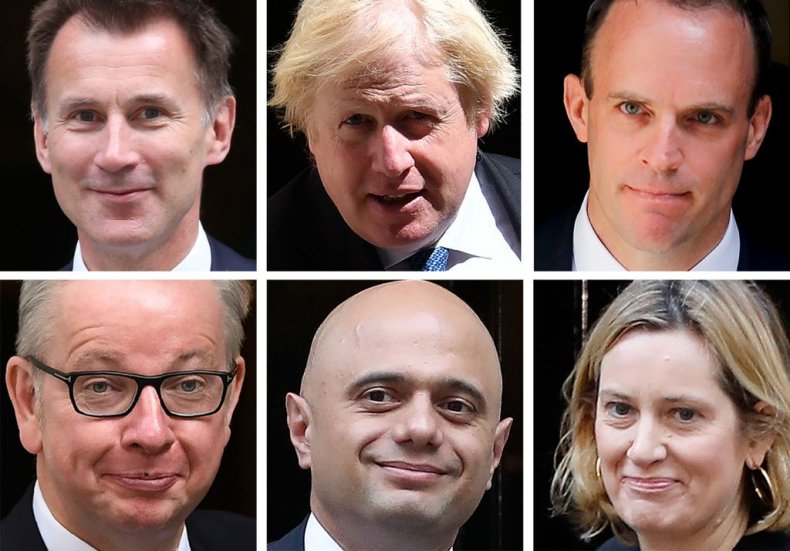 Michael Gove is considered a third-place contender for the Conservative leadership, with Ladbrokes putting his odds at 7–1. He currently serves as the secretary of state for environment, food and rural affairs. However, he has said earlier that it is "extremely unlikely" that he'd put forward his candidacy.
Home Secretary Sajid Javid has said he plans to back May unless she loses the vote. He then could consider throwing his hat in the ring for party leadership. With Ladbrokes putting his odds at 8-1, Javid appears to be among the top contenders. If selected, he would become the first British prime minister of Asian descent.
Jeremy Hunt, who replaced Johnson as foreign secretary, is also seen as a possible option, with odds of 12–1. Amber Rudd, who is currently the secretary of state for work and pensions, is also considered a contender—but trails the rest with odds of 20-1.