Who Will Be the Washington Redskins' Next QB after Colt McCoy's Injury?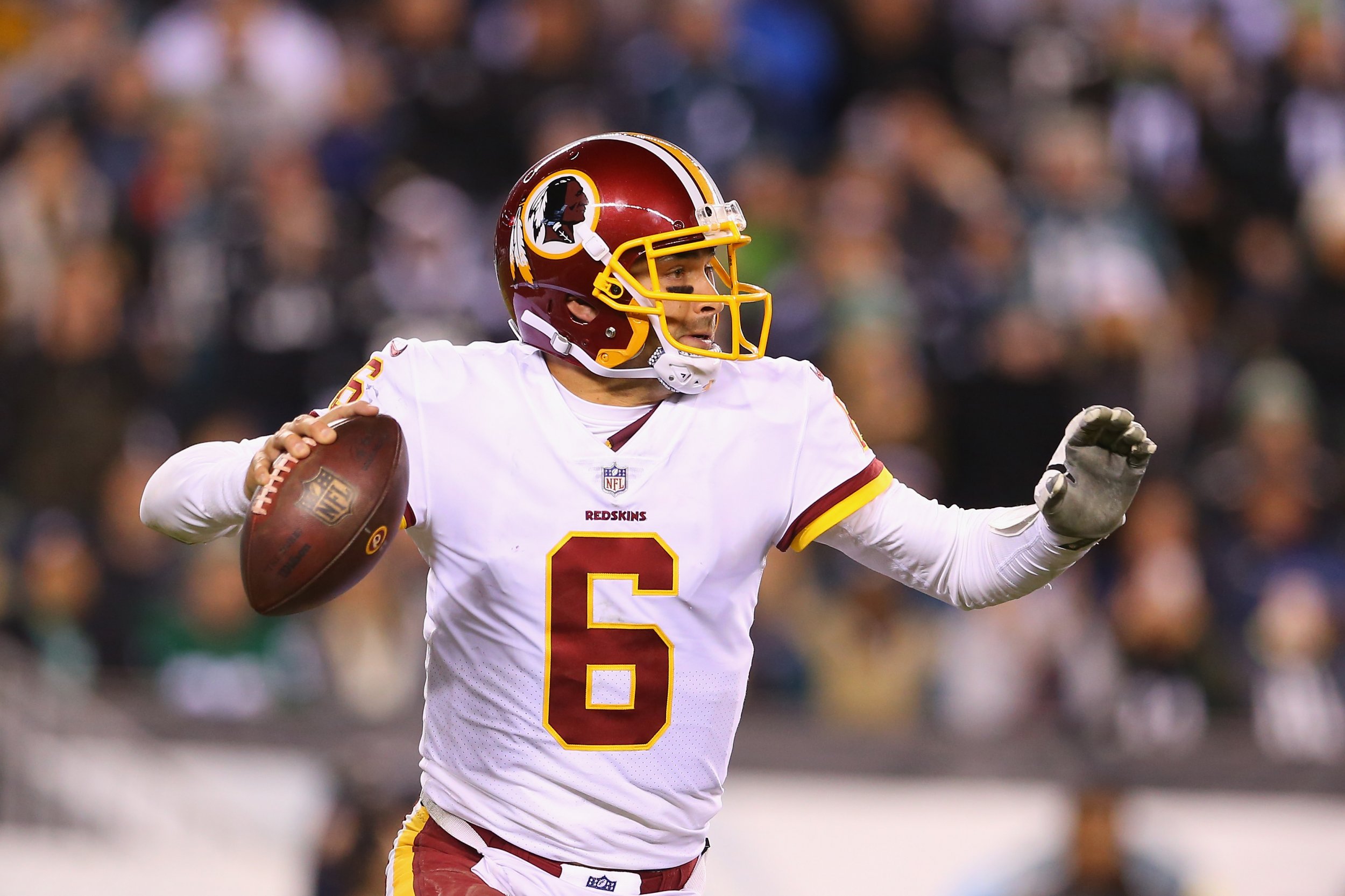 The Washington Redskins season is unraveling at a rate of knots after they lost a second quarterback in three weeks.
Colt McCoy will miss the rest of the campaign after breaking his right fibula on Monday night, as the Redskins slumped to a third consecutive defeat after losing 28-13 in Philadelphia against the Eagles.
The injury was jarringly similar to the one Alex Smith suffered in Week 11, when Washington's quarterback broke his fibula and tibia.
"This is a tough blow," Redskins coach Jay Gruden was quoted as saying by ESPN. "Losing Alex was one thing. He was a great leader, great quarterback. Then Colt finally gets his opportunity and he gets kicked in the leg and breaks it. I'm heartbroken for both of those guys."
Washington is now expected to hand the keys of its offense to Mark Sanchez, who was signed on November 19 as a back-up for McCoy and replaced him on Monday night. In his first appearance since Week 16 of the 2016 season, he completed 13 of 21 passes for 100 yards, but threw for only 38 yards in the second half.
With Sanchez now their only option under center, the Redskins are expected to add another quarterback to their roster. Here's who they could be looking to.
E.J. Manuel
Manuel was part of a group of quarterbacks who worked out for the Redskins before they signed Sanchez. The 28-year-old started just one game for the Raiders last season, going 13-of-26 for 159 yards as Oakland lost to Baltimore in Week 5.
The Raiders re-signed him in March but cut him at the 53-man roster deadline.
Kellen Clemens
A 12-year NFL veteran, Clemens hasn't been in the league since the end of the 2017 season and hasn't started a game since the 2013 campaign, when the Rams were still in Saint Louis.
A second-round pick in the 2006 draft, Clemens was only named as a starter in 13 games over the last 10 years.
T.J. Yates
Like Manuel and Clemens, Yates was also part of the quarterbacks who worked out for the Redskins late last month. The 31-year-old led the Houston Texans to their first-ever playoffs win in 2012, becoming only the fifth rookie quarterback to win a playoff game.
Yates returned to the Texans for two more stints, starting three games last season in place of the injured Deshaun Watson.
Josh Johnson
Washington had a look at Johnson before they settled for Sanchez. The 32-year-old has played for 11 different NFL teams but last started a game in the league in 2011 in his final year in Tampa Bay and last played in a regular season game five years ago.
He was drafted as the number one overall pick in the Alliance of American Football quarterback draft last week.