Who Will Control the 21st Century? Whoever Controls Space | Opinion
It's impossible to predict the future. But one thing you can be sure of: Few things will be of more important to the lives of our children than who wins the emerging, epoch-defining struggle for control of space.
This is a battle just beginning over who will control the communication satellites so central to our economy as well as the vast resources of other planets. But ultimately, the new space battle represents a war over opportunities for colonization, for an increasingly resource-stretched and crowded earth.
This may sound like apocalyptic sci-fi. But space is already becoming big business, and it's certain to get much bigger. Boosted by a huge surge of investment, space-industry global revenues are up more than twofold since the early 2000s, from $175 billion in 2005 to almost $424billion in 2019. By 2040, Morgan Stanley projects annual global space-industry revenues to reach $1.2 trillion.
Today the big money—$271 billion of it—is in communications satellites and launch services. Soon enough, there may be a market for things like space tourism, manufacturing in space and even, eventually, the old dream of colonization.
But in the long run, the key struggle will be over military applications and, perhaps even more critical, control of valuable resources. The monetary potential in mining key resources like lithium, cobalt and gold has been estimated to be as high as 27 quintillion dollars.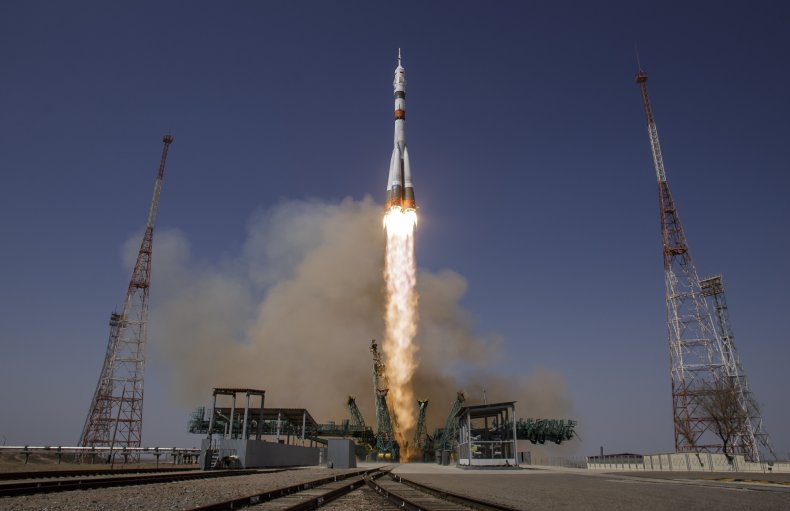 But the space war is not just about money. It's also about power. And America faces a challenge on the galactic front from China, Russia, the European Union, Japan, and even Israel, all of whom pose a challenge. And as Brandon Weichert notes in his book Winning Space: How America Remains a Superpower, America's claim to being the world's superpower rests to a large degree on winning the space front.
Right now, military advantage clearly remains a prime motivator. Control of satellites are crucial to any future conflict, as militaries depend on satellite communications for both surveillance and battlefield operations. The winner of future "star wars" will be those who can control access to space.
Unfortunately for the U.S., China is very aware of this. Ye Penjiang, the head of its moon program, views space from an imperial perspective, comparing it to the islands China is occupying or creating in the south seas. Penjiang has gone so far as to suggest that China's "descendants" would never forgive them for giving up this new realm.
So it's not surprising that Chinese young people now dream of being astronauts, like Americans in the 1960s, while most of our young people seem more interested in becoming social media influencers, more like Justin Bieber than Buzz Aldrin as Weichert archly put it.
Still, despite these challenges, America remains the leading player, in large part due to our burgeoning array of private space companies. In 2018, Chinese companies raised some $516 million—compared to the 2.2 billion raised by American firms. Some of these are backed by such moguls as Elon Musk, Jeff Bezos, and Richard Branson, but they control only a portion of the more than the US's 150 space-related companies. It's far more than any country, and at least 30 times more than China or Russia. These firms are engaged in everything from launch facilities and launch-service provision to reusable-rocket production and Moon and Mars landers and vehicles.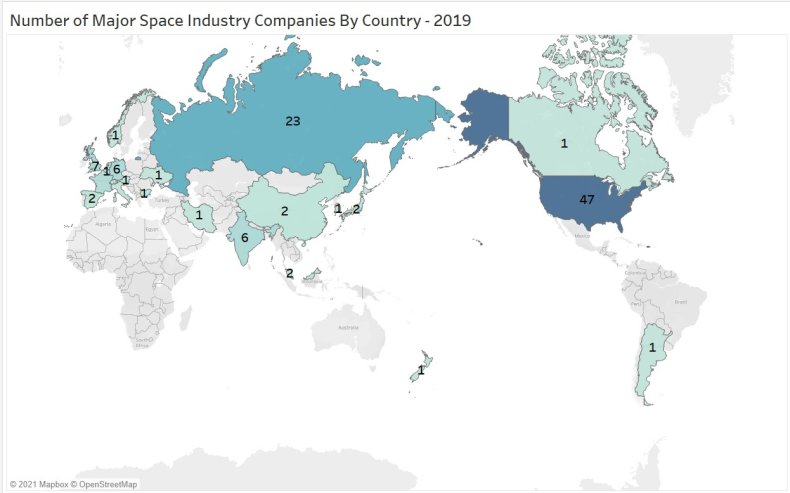 Right now, the space entrepreneurs are keeping the United States well in the lead technologically. The U.S. represents over 40 percent of world's launch services industry, taking market share from both the European Union and Russia. And while a decade ago, Americans were dependent on French or former Soviet launch sites and even vehicles, today the biggest players in the launch services business include private firms like Space X, United Launch Alliance (ULA), Boeing and Northrup Grumman.
The state that gave the world "Governor Moonbeam" remains without question the central heartland of the space industry. Though tech and other high-end employment are dispersing at a rapid pace from areas like Silicon Valley, the unique nature of the space industry—its dependence on accessing rare skills and technical networks, for example—favor California's continuing leadership. The talent pool, developed over the past eighty years, is still critical. Local universities like USC, UCLA, UC Berkeley and Caltech have ongoing R&D efforts to support the aerospace talent pool and technology development.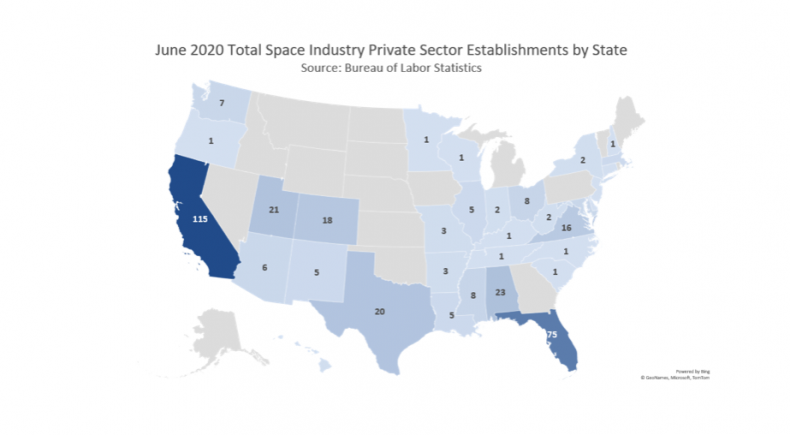 California has a 19 percent share of the overall global space industry, as well as 40 percent of the U.S. industry sites. But there are other states— notably Florida and Texas—working to knock California off its perch. If state authorities are not worried by the recent decision of Elon Musk to move to Texas and Space X to build its new spaceships not in San Pedro but in Florida, they should be.
Other states, for example, Washington, Oklahoma, and Michigan, are targeting the industry with tax, real estate and worker-training deals. Texas, with its boundless space and ambition, has the "second-most attractive" aerospace market in the nation, with NASA's Johnson Space Center, SpaceX, Blue Origin, Boeing, Lockheed, L3 and a host of geographically important resources such as launch sites, historic rocket testing locations, and production facilities.
Texas is already the site for the bulk of rocket test and certification flights. SpaceX and Jeff Bezos' Blue Origin have large test facilities in Van Horn and Brownsville, respectively. In addition, Texas has two spaceports, one in Midland and one in Houston. And it has two spaceports, Midland International Air and Space Port and Houston Spaceport, which has enjoyed state support since 2013.
But America may not be top space dog forever. This will take attention and investment.
History generally favors countries and places who risk the most and work along the cutting edge. Right now, we can expect governments to fund much of the innovation effort, particularly on the military side. But we might find that modern adventurers, like their counterparts in the age of sailing ships, will be the ones pushing the envelope technologically, whether in reducing launch costs, using three-D printing for making rocket parts or accommodating space tourists.
To be sure, government backing will matter. President Trump was arguably the first strongly pro-space President since Reagan, while the Biden Administration's plan to increase NASA's budget by over six percent next year may have a salutary effect.
It remains an issue of overwhelming national interest whether the space industry ends up concentrated in Long Beach or south Texas, the Indian Ocean, Kazakhstan or in China's rugged interior. Right now, the U.S., and particularly California, has the lead. But the future does not always belong to the early leader, which is why we speak English rather than Portuguese. The future remains a domain that is not yet determined but should not be squandered.
Marshall Toplansky is Clinical Assistant Professor of Management Science at the Argyros School of Business and Economics at Chapman University. He the co-founder of KPMG's center of excellence in advanced analytics, and holds an MBA from Harvard Business School. Joel Kotkin is the Presidential Fellow in Urban Futures at Chapman University and executive director of the Urban Reform Institute. His new book, The Coming of Neo-Feudalism, is now out from Encounter. You can follow him on Twitter: @joelkotkin.
The views expressed in this article are the author's own.