Who Will Get the Money From Second Small Business Loan Bill? Trump Signs $484 Billion Relief Package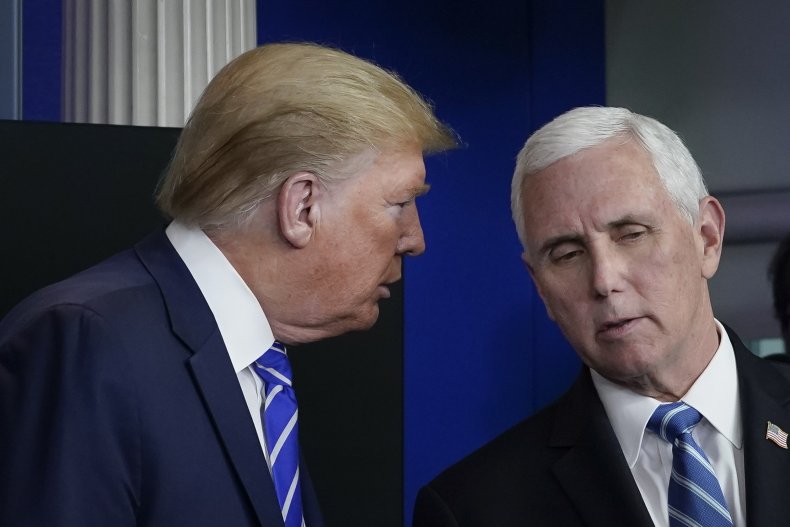 Small businesses across the country will now have access to an additional $320 billion in coronavirus relief loans after President Trump signed into law Friday a $484 billion supplemental relief package.
The legislation also provides $25 billion for coronavirus testing and $75 billion in additional funding to the health care provider relief fund established by the $2 trillion emergency coronavirus relief bill that Trump signed into law last month. There are also provisions to help some money reach rural, minority and women-owned small businesses, and a portion is earmarked for small- and mid-sized banks. Lending is expected to begin again next week.
The president said the legislation would be "great for small businesses" and "great for the workers," and said that it will "extend relief to thousands of African-American and Hispanic American business owners."
Surrounded by Small Business Administration head Jovita Carranza, Texas Republican Senator John Cornyn, and House Majority Leader Kevin McCarthy, GOP Conference Chair Liz Cheney, and House Republican Whip Steve Scalise, Trump signed the relief package—known as the Paycheck Protection Program and Health Care Enhancement Act—in an Oval Office ceremony that took place less than a day after the House of Representatives approved the legislation.
Although the Senate approved the bill on Tuesday by unanimous consent during a pro forma session that negated the need for senators to return to Washington, getting the House's stamp approval required a further two-day wait while members returned to Washington to vote in person during a lengthy process meant to ensure proper social distancing in accordance with Centers for Disease Control guidelines.
The bill signing capped off two weeks of tense negotiations between the White House and top Democrats in Congress that began after it became clear that the initial $349 billion appropriated for the Paycheck Protection Program in the CARES Act—which Trump signed into law on March 27—was insufficient.
The program provides forgivable loans to small businesses that keep employees on the payroll regardless of whether they are operating normally during the Covid-19 pandemic, but the Small Business Administration announced that the initial tranche of funds had run out as of April 16, roughly two weeks after it first began accepting applications.
While both the Trump administration and Senate Majority Leader Mitch McConnell, R-Ky, pushed for Congress to approve a standalone bill which allocated a smaller amount of money to replenish the loan program, Democrats held out for the inclusion of roughly $100 billion more in emergency funding, including $75 billion for hospitals and $25 billion for expanded Covid-19 testing.
Just one Democrat—progressive Alexandria Ocasio-Cortez of New York—voted against the legislation, joining Republican Representatives Andy Biggs, R-Ariz., Ken Buck, R-Colo., Jody Hice, R-Ga., and Thomas Massie, the Kentucky Republican whose insistence on a roll call vote required House members to risk traveling to Washington in the midst of a nationwide pandemic. Michigan independent Representative Justin Amash, a former Republican and noted fiscal hawk who rarely votes in favor of large appropriations bills, voted present.
While the four GOP members who voted against the bill opposed it as an example of excessive spending which adds to the national debt, Ocasio-Cortez said her opposition to the bill stemmed from its limited scope.
In a floor speech shortly delivered shortly before members began voting, Ocasio-Cortez slammed her colleagues for focusing on the Paycheck Protection Program rather than direct aid to everyday Americans, citing the Trump administration's loose eligibility guidelines for the program that allowed large restaurant chains like Ruth's Chris Steak House and Shake Shack to participate.
"It is a joke when Republicans say they have urgency around this bill. The only folks they have urgency around are folks like Ruth's Chris Steak House and Shake Shack. You are not trying to fix this bill for mom and pop," she said. "We have to fight to fund hospitals, fighting to fund testing. That is what we're fighting for in this bill. It is unconscionable. If you had urgency, you would legislate like rent was due on May 1 and make sure we include rent and mortgage relief for our constituents."
Although Democrats had hoped that the follow-up bill to the CARES Act would include additional direct aid to households, help for state and local governments with Covid-related revenue shortfalls, provisions to require voting by mail in the November general election and financial assistance for the U.S. Postal Service, House and Senate leaders accepted the smaller package with the expectation that Congress will take up a more ambitious measure when it returns on May 4.
But such plans may go awry thanks to Senate Majority Leader Mitch McConnell, who earlier this week suggested that more coronavirus relief spending would be harmful because it would increase the federal government's budget deficit, and expressed wariness at the possibility of direct assistance to state governments, deriding them as "blue state bailouts."