Kavanaugh, Ford Hearing: Here's Who Will Be Questioning Supreme Court Nominee and Accuser During Senate Testimonies
Christine Blasey Ford and Brett Kavanaugh will testify to the Senate Judiciary Committee on Thursday before it delivers a vote on whether Donald Trump's Supreme Court nominee should move toward confirmation by the full Senate.
Ford has accused the judge of sexually assaulting her when the two were in high school. She claims that Kavanaugh, then 17, was drunk and pinned her down on a bed before groping her, and that Kavanaugh's friend, Mark Judge, was in the room when the attack happened. At one point, Ford said, she feared for her life.
Ford will now tell her story to the committee, where she would have normally been questioned by 21 senators, including 11 Republicans and 10 Democrats. But Republicans have hired a sex crimes prosecutor to handle the questioning on their behalf. After her testimony, Kavanaugh will then be questioned. The committee has set a vote for the judge's confirmation for Friday morning.
Here's who will be questioning Ford and Kavanaugh:
The Republicans
Rachel Mitchell
In an attempt to avoid another Anita Hill style-testimony, during which an all-male Judiciary Committee grilled Hill on her allegations that Justice Clarence Thomas had sexually harassed her, Republican senators have hired a female prosecutor from Arizona to question Ford.
Rachel Mitchell will be tasked with questioning Ford on behalf of all 11 Republican senators on the committee. Senate Judiciary Chairman Chuck Grassley confirmed her hiring on Tuesday evening. In introducing Mitchell, Grassley said that she has been "recognized in the legal community for her experience and objectivity."
Mitchell, a registered Republican, has worked as a prosecutor since 1993. She has overseen a handful of high-profile sexual assault cases, including a 2005 case in which a former Catholic priest was found guilty of sexual misconduct with a child and child molestation.
Mitchell spent 12 years in the sex-crimes bureau of the Special Victims Unit in Maricopa County, Arizona. She is now the chief of the unit.
A Phoenix defense attorney who "has gone up against Mitchell in 30 cases in more than 20 years," reported The Washington Post, said, "I really do think that she's a very professional person who is out to make sure the right thing is done."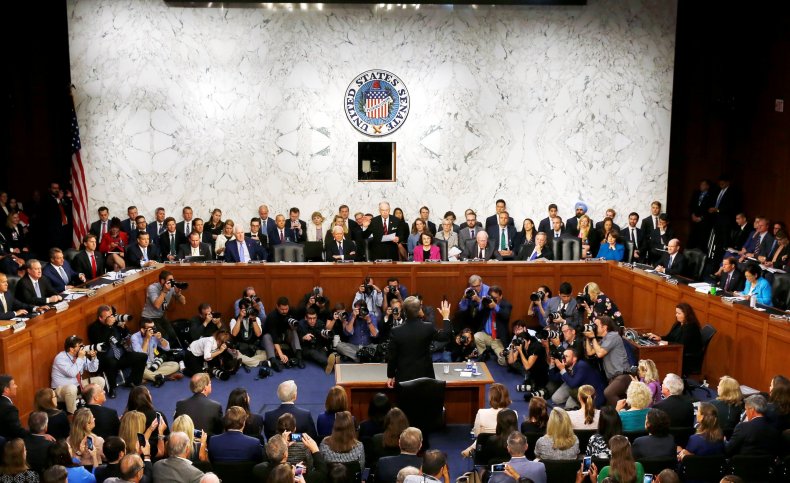 The Democrats
Dianne Feinstein (CA)
Feinstein is the lawmaker Ford first approached with her allegations against Kavanaugh in July. In a letter, Ford identified the judge as her abuser and said that as a constituent she expected Feinstein to keep her identity anonymous and the matter confidential.
On Tuesday, Feinstein said that she could not guarantee that Ford would show up to testify after Republican senators hired outside counsel to question her about the allegations.
Patrick Leahy (VT)
Leahy was on the Senate Judiciary Committee when Anita Hill testified in 1991, along with Republican Senators Chuck Grassley and Orrin Hatch. The Vermont lawmaker took the lead on writing a letter to the committee on behalf of all Democratic members asking for an FBI investigation to look into the "potential federal crimes being committed against Ford" since she came forward with the allegation against Kavanaugh. Those crimes included the death threats, hacking of her email and the harassment she's faced.
Richard Durbin (IL)
On the first day of Kavanaugh's confirmation hearing, Durbin requested that the judge "step up" and ask for the meeting to be postponed due to the last minute release of more than 40,000 documents. Durbin told MSNBC on Tuesday that Ford had "everything to lose and nothing to gain" from coming forward with her allegation against Kavanaugh.
"She's been ridiculed by the president of the United States, she's had her family moved out of their home because of death threats, she's faced all sorts of charges—many of them completely false—and she knew that going in," he added, stating that such hurdles add a lot to her credibility as a person.
Cory Booker (NJ)
Booker immediately moved to dismiss Kavanaugh's confirmation hearing just minutes after it began. He dared Republicans to expel him from the Senate and called his actions at the hearing his "I am Spartacus" moment. In response to the rush by Republicans to get Ford to testify, Booker asked: "Will we listen to a woman who is making a credible accusation?"
Booker, however, has been under fire for a column he wrote for his college newspaper in which he described groping a high school friend.
Kamala Harris (CA)
Harris made headlines during her questioning of Kavanaugh when she asked the judge if he could think of "any laws that give the government the power to make decisions about the male body."
"I'm not aware—I'm not—thinking of any right now, senator," he replied.
On Tuesday Harris tweeted that Ford "isn't on trial" and Republicans hired a private attorney in order to "intimidate her and avoid being held accountable by voters."
Mazie Hirono (HI)
Hirono has been particularly outspoken in her support of Ford, telling men across the country to "just shut up and step up." The senator from Hawaii has said that she believes Ford and slams Republicans for spreading the idea that "women just sit around making these things up."
Hirono has previewed what she will be asking Kavanaugh during Thursday's testimony, including inquiring about his high school's partying environment.
Sheldon Whitehouse (RI)
Whitehouse tweeted on Thursday that Kavanaugh must withdraw or the FBI must investigate the allegations of sexual misconduct. "There is no decent third option," he added. Whitehouse advised Kavanaugh to part ways with the "Republican charade" and demand an FBI investigation, stating that if he really did nothing wrong then he should want his name to be cleared by a thorough investigation.
Amy Klobuchar (MN)
Senator Klobuchar, a former prosecutor, said that Democrats on the Committee were being "shut out" from getting any information from the witnesses and accusers of Kavanaugh. "Even in the Anita Hill hearing, we had dozens of witnesses that came forward and were allowed to testify. This time all of that is being shut out," Klobuchar told CBS This Morning on Tuesday.
Christopher Coons (DE)
Coons said that he believes women who come forward against their abusers and told MSNBC that it is on Kavanaugh to prove that he is innocent if he wants to continue working as a public servant. "He bears the burden of disproving these allegations," the senator said.
Richard Blumenthal (CT)
Blumenthal joined the protesters at Yale University (Kavanaugh's alma mater) on Monday before making his way to D.C.
"We're talking here about a cloud that will forever hang over this nominee and a stain on the Supreme Court itself, unless there is a full, fair investigation. Whatever your views are on Brett Kavanaugh, for or against, your should be in favor of reopening this investigation, allowing the FBI to uncover the facts and evidence," Blumenthal told the crowd.