Who Will Replace Alex Trebek?
Alex Trebek, the acclaimed game show host who charmed millions of Jeopardy! viewers for nearly four decades, passed away on Sunday morning. His death came about two years after the TV personality first announced his late-stage pancreatic cancer diagnosis and pledged to continue hosting Jeopardy! even as he received treatments.
The quiz show issued a statement with news of Trebek's death on Sunday afternoon, saying he passed away peacefully with his loved ones at home. The statement led to an instant outpouring of tributes that underscored Trebek's lasting mark on pop culture, as well as some questions about who will step in as his Jeopardy! successor.
Some suggested Ken Jennings, the memorable Jeopardy! contestant who is currently considered the highest-earning game show participant in U.S. history. Jennings was one of many to offer commemorative remarks in the aftermath of Trebek's passing on Sunday. Amid those suggestions, most comments circulating on social media noted that Trebek's legacy is irreplaceable, and will likely remain so regardless of who is selected to assume the host's role.
Trebek offered his own pick for a successor last July during a Good Morning America interview promoting his memoir, The Answer Is...: Reflections on My Life.
"I joke with the audience all the time, and I say 'Betty White' because they want somebody younger, somebody funnier," Trebek said, noting that he and the comedian "have been friends for a long, long time."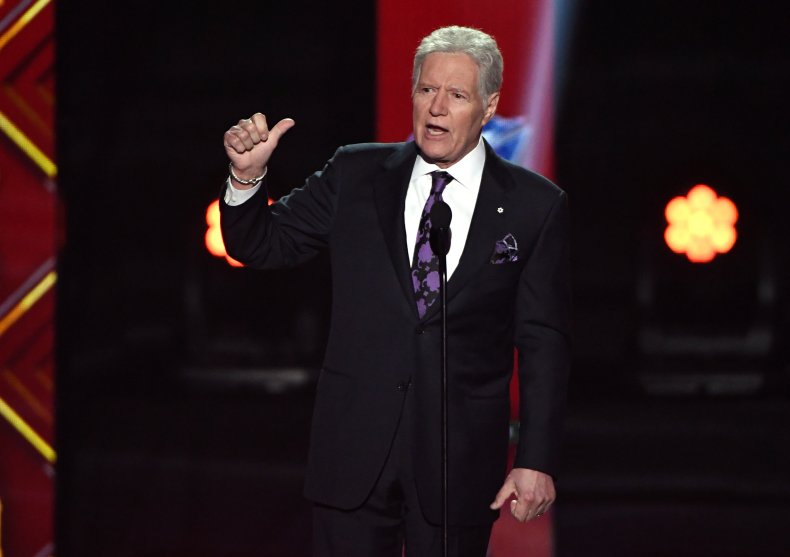 Sony Pictures, which produces Jeopardy!, told Newsweek Sunday that the company does not yet intend to share details about a new host. But it confirmed to Variety that the show will continue to air previously taped episodes with Trebek as host through Christmas Day of this year. His final day of in-studio filming was on October 29.
The production company celebrated Trebek's lengthy Jeopardy! career in a statement on Twitter.
"Today we lost a legend and a beloved member of the Sony Pictures family," the statement began. "For 37 amazing years, Alex Trebek was that comforting voice, that moment of escape and entertainment at the end of a long, hard day for millions of people around the world."
Trebek was contracted to continue hosting Jeopardy! until 2022 and shared his eagerness to return to taping the series over the summer. He won a Daytime Emmy Award for Outstanding Game Show Host around the same time, while the show itself earned accolades for Outstanding Game Show and Outstanding Daytime Promotional Announcement. Trebek received seven Daytime Emmy Awards throughout his time on on the show.