Who Will Replace John McCain? Most Likely Candidates to Replace Arizona Senator
In the wake of veteran politician John McCain's death on Saturday, questions are being asked over who will take his Arizona seat.
The senator, who "served the United States of America faithfully for 60 years," died on Saturday, August 25, at around 4:30 p.m., after deciding to not continue treatment against brain cancer. McCain's office released a statement saying he died surrounded by his family in Cornville, Arizona. He was 81 years old.
McCain's replacement will be decided by Arizona Governor Doug Ducey, who must choose a person from the same party as McCain (Republican). Whoever Ducey selects will remain in the seat until a special election is held in November 2020. The winner of that election will hold the seat until 2022.
Despite McCain's condition worsening over his last few months, Ducey, out of respect for McCain, refused to comment on who he might get to fill the Arizona seat. Ducey did issue a statement following McCain's death, saying, "We're most proud to call him a fellow Arizonan. Like so many of us, he was not born here, but his spirit, service and fierce independence shaped the state with which he became synonymous."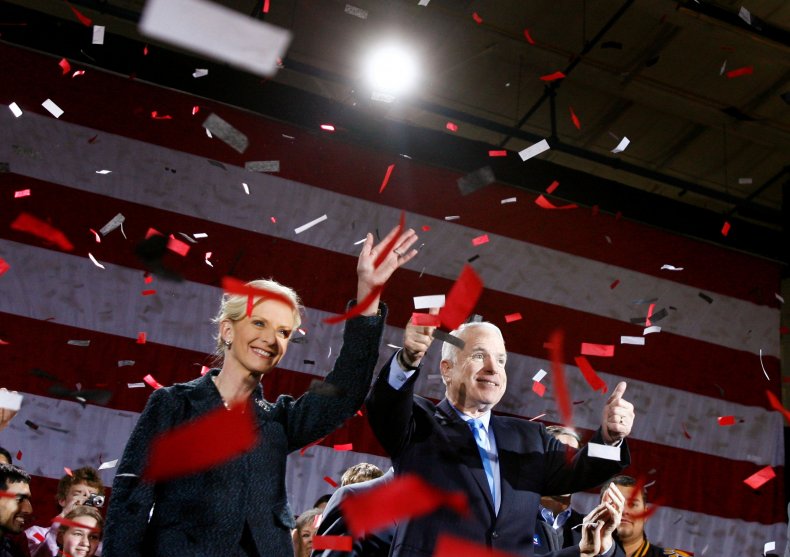 Rumors are now circulating over who the candidates will likely be.
Kirk Adams
Ducey's chief of staff, 45-year-old Adams, previously shunned all talks of replacing McCain. But the former speaker of the Arizona House of Representatives did run for Congress (unsuccesfully) in 2012. Adams is well connected and served Ducey as the point man for state and federal issues with Congress, according to The Arizona Republic.
Cindy McCain
John McCain's wife, Cindy, is considered by some to be the perfect replacement to continue her husband's work. The former chairwoman of humantarian organization HALO USA has become more vocal over the past few years, in particular calling for state and federal legislation to be introduced to prevent human trafficking.
If chosen, Cindy McCain would become the first female to represent Arizona in the United States Senate.
Doug Ducey
Doug Ducey, who has openly supported Donald Trump's plan to build a wall between the United States and Mexico, is legally allowed to appoint himself McCain's successor. But according to The Washington Post, Ducey's spokesman, Daniel Scarpinato, ruled him out of the race. "He has never and would never consider it, no matter the circumstances," Scarpinato said.
Jon Kyl
Former Senate minority whip Kyl served Arizona from 1995 to 2013 as the number-two Republican in the state. Kyl's selection would be a popular one, given much of the upper house worked with him before his retirement, according to the Huffington Post. The only roadblock is his age: Kyl is 76 and would likely take the position only as a placeholder. He'd also have to come out of retirement.
Who else:
Other names being floated as McCain's replacement include:
Karrin Taylor Robson, from the Arizona Board of Regents.
Vincent Damon Furnier, otherwise known as Alice Cooper, who was friendly with McCain.
Barbara Barrett, the first female Republican to run for governor.
John Shadegg, a former congressman.
Eileen Klein, the Arizona state treasurer.
Matt Salmon, a five-term member in the U.S. House of Representatives.
Ducey said no replacement would be named until after McCain's funeral.