Who Will Replace Kamala Harris as California Senator? These Are the Hot Favorites
Presumptive Democratic nominee Joe Biden locked in his vice president pick on Tuesday, making Sen. Kamala Harris the first Black woman VP nominee in U.S. history.
The long-awaited selection could see Harris' California seat handed to a fresh face, provided she and Biden beat President Donald Trump in the November presidential election, or should the senator choose to resign ahead of polling day.
California Governor Gavin Newsom will have the Constitutional power to select Harris' replacement before the seat is up for election and primary challenges again in 2022.
Speculation has abounded about who Gov. Newsom might pick to replace Harris, with both the Los Angeles Times and Politico noting that he will likely be expected to appoint a woman of color to the role, given Harris' status as the second Black woman ever elected to the U.S. Senate.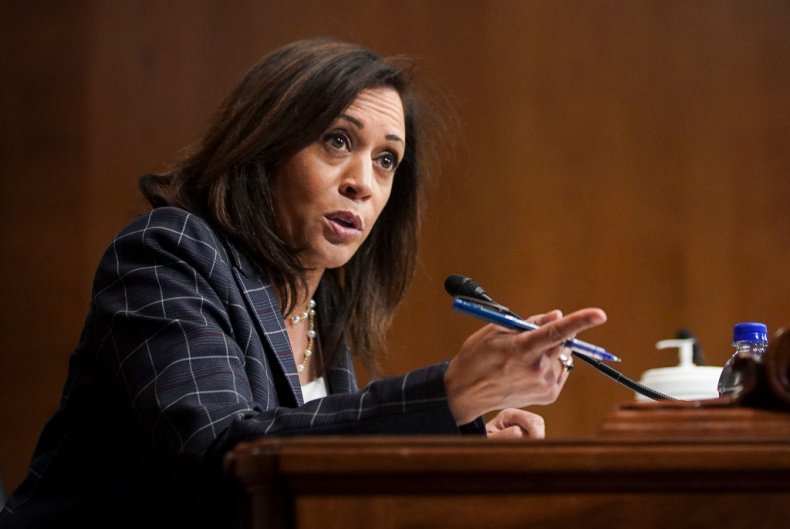 Democratic strategist Rose Kapolczynski told the L.A. Times that there would be "a lot of pressure" to replace Harris' with another person of color, should she resign her Senate seat later this year.
The former Clinton administration official Karen Skelton told Politico that Newsom would likely have to consider a "Black or Latinx" candidate to replace Harris if the time comes.
Newsweek has contacted Gov. Newsom's office for comment, and will update this article with any response. Democratic strategists in California have also been approached for comment.
Here are five of the hotly tipped runners and riders for Harris' Senate seat so far:
Rep. Karen Bass
The Los Angeles Democrat was long considered a frontrunner in Biden's VP nominee sweepstakes, until her record on Cuba led to some experts warning that her candidacy would potentially switch off Cuban American voters.
Nevertheless, the influential chairwoman of the Congressional Black Caucus has a long track record of big election victories in the state, meaning she would likely be seen as a safe choice heading into the 2022 midterm elections.
Mayor London Breed
San Francisco's first Black woman mayor pushed for Harris' selection as the Democratic VP nominee, and could well expect the support of her friend and mentor if she vacates her Senate seat after the November election.
"I've long been proud to call Kamala Harris a friend and a mentor—now I'm excited and ready to call her Vice-President!" Breed tweeted in the wake of Biden's announcement on Tuesday.
Speaking to Politico, Democratic strategist Jim Stearns said Breed was "right in line" with Newsom's politics, potentially improving her odds of being selected for the Senate seat.
California Secretary of State Alex Padilla
Another major backer of Harris' run for the Democratic VP nomination, Padilla is clearly popular among Californians, seeing off his Republican challenger Mark Meuser in 2018 with more than two thirds of the vote.
The statewide office holder also has close ties with Newsom, having reportedly served as the governor's campaign chairman in California's 2010 gubernatorial election.
His selection for the Senate seat would also make him the first Latino U.S. senator from California, despite the state having a historically large Hispanic population.
Rep. Adam Schiff
Although his selection would likely raise concerns among progressives who want Harris' seat to be passed on to another person of color, Rep. Schiff can't be totally written out of the running for the Senate seat.
The Los Angeles Democrat has held a lot of sway on Capitol Hill over the past few years, and was at the forefront of impeachment proceedings against President Donald Trump—a man with very low ratings in the Golden State.
Whether he would be willing to give up his sway in the House for a junior role in the upper chamber is yet to be seen.
Rep. Barbara Lee
Having backed Harris candidacy for the Democratic VP nomination, Rep. Lee told NBC Bay Area that the incumbent senator would be "an effective partner" with Biden after his selection was announced.
"It was hard to describe how I felt," she said. "Here we have a vice presidential candidate who was actually born in Oakland, California. In my congressional district."
Although the representative would have to contend with Mayor Breed and Padilla for Harris' support in any future selection process for her replacement in the upper chamber, Lee was tipped as a top tier candidate in the eyes of strategists surveyed by the Los Angeles Times.