Who Will Replace Nikki Haley at the U.N.? Ivanka Trump Isn't the Favorite, According to Oddsmakers
When Nikki Haley—the United States' ambassador to the United Nations—announced she intended to resign, the next question was clear: Who would replace her?
Oddsmaker Bovada has weighed in on that question on Wednesday. It put out odds on who would replace Haley, who is expected to resign before the end of the year. Here's what they had:
-United States Ambassador to Germany Richard Grenell - 7/4
-Former deputy national security adviser​ Dina Powell - 2/1
-United States Ambassador to Russia Jon Huntsman - 7/1
-White House adviser (and son-in-law of President Donald Trump) Jared Kushner - 8/1
-White House adviser (and first daughter) Ivanka Trump - 25/1
-Field (meaning everyone else) - 2/1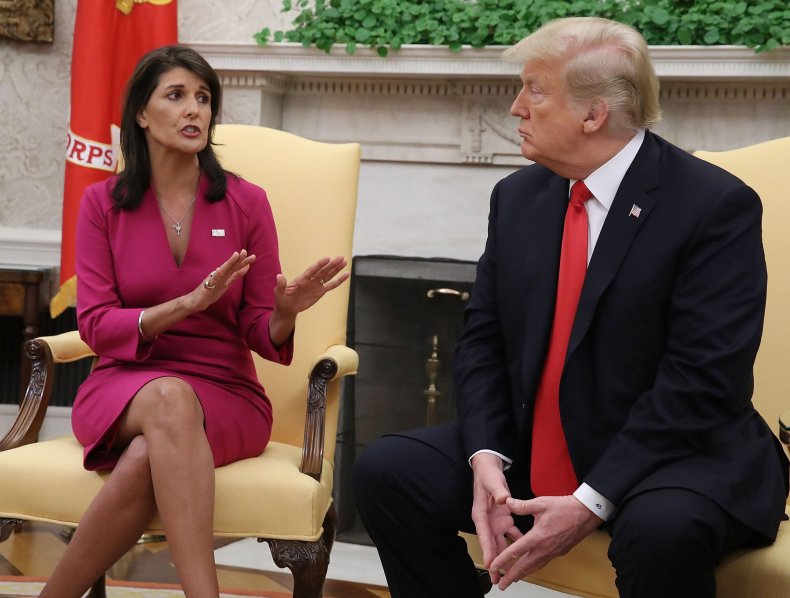 President Donald Trump—who is tasked with finding Haley's replacement—expressed that he thought his daughter would be a wonderful replacement.
"I've heard Ivanka, how good would Ivanka be?" Trump told reporters. "It has nothing to do with nepotism but people who know know that Ivanka would be dynamite ... I'd be accused of nepotism even if there's no one more competent in the world. But that's OK."
While announcing her planned resignation, Haley, too, was complimentary of the first daughter as well as her husband Kushner.
"I can't say enough good things about Jared and Ivanka," Haley said. "Jared is such a hidden genius that no one understands."
The first daughter, however, appeared to rule herself out as the replacement this week, which likely explains her somewhat short odds from Bovada.
She tweeted: "It is an honor to serve in the White House alongside so many great colleagues and I know that the President will nominate a formidable replacement for Ambassador Haley. That replacement will not be me."
Bovada seems to be suggesting Grenell is the favorite to land the job. Grenell has proven to push Trump's agenda in his current role as ambassador to Germany. He stirred up anger, for instance, by telling the right-wing outlet Breitbart in an interview that he wanted to empower conservatives in Europe despite diplomats typically working to avoid partisanship.
"I absolutely want to empower other conservatives throughout Europe, other leaders," Grenell told Breitbart in June. "I think there is a groundswell of conservative policies that are taking hold because of the failed policies of the left."