Who Will Succeed Robert Byrd as West Virginia's Senator?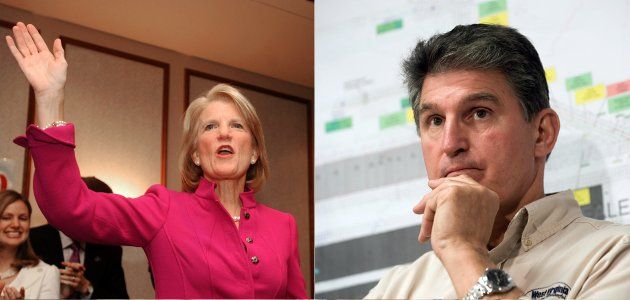 The death of Sen. Robert Byrd signals the end of an era in Washington, where Byrd had served since 1953. But it will have even more serious effects in West Virginia, where he has dominated politics for decades. Although Democrats have a good chance at holding the seat, any new senator will lack Byrd's clout in Washington and lifetime job security at home.
The succession is complicated by West Virginia election law, which (based on the date of the seat's vacancy) calls for the governor to appoint an interim senator, and for the state to call a special election to fill the remainder of Byrd's term, which ran through January 2013. Sounds simple enough, right? But as Reid Wilson and Nate Silver point out, the required timing of that election is open to interpretation. In fact, it might not be held until November 2012, which is when Byrd's term was over anyway. (UPDATE, published 6:30 p.m. ET, June 28: W.Va. Secretary of State Natalie Tennant, a Democrat, has confirmed earlier reports that the state won't hold an election to fill the seat until 2012. That's because the filing deadline for the 2010 election has already passed. As a result, Gov. Joe Manchin will appoint someone to serve the rest of the term, paving the way for a general election in two years.)
That's good news for Manchin, a Democrat who, according to state and national political observers, has long coveted a Senate seat (there's hasn't been an opening for a Dem for some time—not only had Byrd been in the Senate since 1959, but junior senator and Democrat Jay Rockfeller has also been around since 1984). "For years, people have speculated that Manchin would appoint himself," says Neil Berch, an associate professor of political science at West Virginia University. If the secretary of state doesn't call an election before 2012, it would make life easier for Manchin, whose term in the governor's mansion also ends the same year, because he wouldn't have to run against an incumbent. (Manchin's office released a statement on Byrd's death, but had no immediate comment on running.)
Given his designs on the seat, Manchin will likely look for a caretaker Democrat who won't try to stay on in the seat—similar to Paul Kirk, the former staffer in Sen. Ted Kennedy's office who filled Kennedy's seat after his death. The three leading candidates: former governor Gaston Caperton, now president of the College Board; former governor Bob Wise, Manchin's immediate predecessor; or Nick Casey, chair of the state Democratic Party. Casey may be most likely, because he isn't an officeholder and is a proven consensus builder. "The [state Democratic] Party is nearly a two-party system in itself, with fiscal conservatives and fiscal liberals," says Marybeth Beller, chair of the political science department at Marshall University. "Casey's able to bridge that gap pretty well."
On the Republican side, the likely electoral contender is Rep. Shelley Moore Capito, who represents Charleston, the state capital. The daughter of three-term Republican governor Arch Moore, Capito was courted by state Republicans to run against Byrd in 2006, but she declined to do so. A Senate run would not only be a logical step for her, it would also give her the opportunity to avenge her father's razor-thin defeat in a 1978 Senate run. However, she might also be interested in following Moore to the governor's mansion. Reached Monday afternoon, a spokeswoman said Capito felt that politics should be left aside for the time being: "We really need to spend some time mourning his loss. He's a legend in the Senate and a legend in West Virginia."
Even though the Mountain State hasn't voted for a Democratic presidential candidate since 1996, Manchin would still be a strong favorite, says Berch. Capito would face an uphill battle—and is the only GOPer with a shot. Not only are Democrats powerful in state politics—where labor is a powerful presence—but Manchin himself is wildly popular. As Casey, the DNC chair, put it in September 2009, "I'd love to see her run for it, because I think she'd be unsuccessful."
But even if Manchin goes to D.C., it will mean a significant rightward shift for the West Virginia delegation. "Joe Manchin is a strong fiscal conservative and he's a social conservative," says Beller. "He's business-oriented. He's not a strong supporter of social policies like health-care reform. And I don't see Gov. Manchin as being as strong on labor."
Nor will Byrd's successor be such a fierce advocate of congressional power, says Jason MacDonald, an assistant professor of political science at WVU. Byrd, an expert in Senate history, objected to a proposed constitutional balanced-budget amendment has an encroachment on Congress's rights—a stand the more fiscally conservative Manchin likely wouldn't take.
Unsurprisingly, energy may be the most important policy issue. Byrd was never a coal miner, although he was married to a coal miner's daughter, but he was unequivocally a product of a state where coal is king. Late in life, however, his views began to shift. He created a mild firestorm with a December 2009 op-ed which argued that his state needed to acknowledge that climate-change legislation was inevitable and begin to embrace the future. Manchin, however, has been an unstinting opponent of cap-and-trade.
But money will loom over all of these issues. Byrd's ability to bring federal funds to the Mountain State—as represented by the infamous profusion of state facilities named for him—is legendary, and West Virginia is likely to take a serious hit. "The No. 1 truly substantively different thing will be a dearth of federal resources," Beller says. "The senator has always looked to see how federal projects might be located in West Virginia or include West Virginia. That's going to be difficult to replace for a number of reasons," especially seniority.
Indeed, that was the note Nick Casey sounded when Byrd was hospitalized last year. "The way the Senate works, and the way he works for us, we want to keep him there forever." But with that option gone, West Virginia is in for some serious changes.