Who Will Walk Meghan Markle Down the Aisle? Meet the Women Whose Moms Gave Them Away
Days before her wedding to Prince Harry on Saturday, Meghan Markle has confirmed that her father won't be attending. This has sparked intense speculation about who will lead her down the aisle at St. George's Chapel at Windsor Castle, as tradition dictates.
Will her mother, Doria Ragland, who landed in the U.K. on Wednesday, "give her away"? Or perhaps it will be Harry's father, Prince Charles? But rather than pick over rumors, some have viewed Thomas Markle's absence as a chance to consider why the tradition is still observed, and to share stories of having their mothers, other loved ones or no one at all walk them down the aisle.
Below are the stories of women from the U.S. and the U.K., Markle's new home.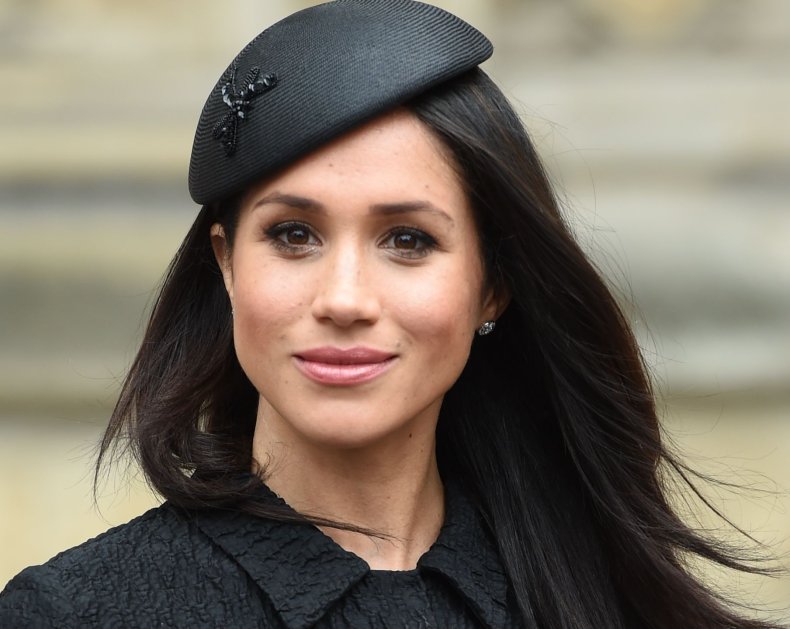 My Father Died When I Was 24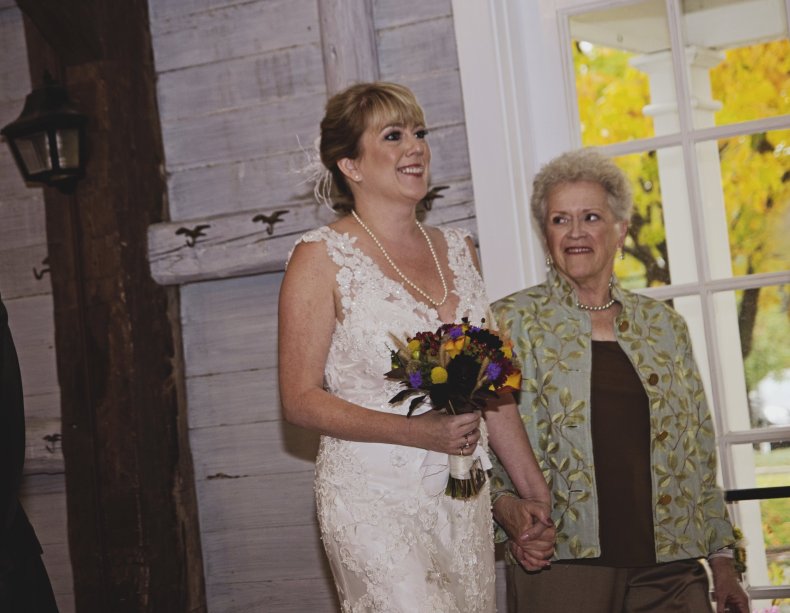 Sarah Vance-Tompkins is a 54-year-old author who lives in Valencia, California. She and her husband, Kevin Tompkins, met in their office and got married in 2012 after a year of talking it over. Her mother walked her down the aisle.
My dad died waiting for a heart transplant when I was 24. My mom and I have always been very close. She has always been there for me. I didn't get engaged or think about getting married until I was 48. By that time, I had moved to California and fallen out of touch with many of my dad's relatives. When I did a brief survey in my mind of the male relatives on my mom's side who could be candidates to walk me down the aisle and "give me away," there were a few, but I didn't have that kind of relationship with any of them. I wanted the person to whom I was closest in the world to be holding my hand when I made the biggest commitment of my life.
Having my mom walk me down the aisle was a perfect fit. I think she thought so too—in fact I think it was her idea. My wedding day was cold, wet and seriously rainy. But when I think back on what I'd change about it—there is absolutely nothing. Especially the joy on my mom's face.
I've been in Michigan for the past month while my mom has been in the hospital and in rehab. The royal wedding has been a subject of much discussion between the two of us. We got up early and watched all the royal weddings: Diana's, Sarah's and Kate's. Maybe it's because Meghan is American, but she has completely stolen my mom's heart. So when it was announced [her father] would be unable to walk her down the aisle this week, my mom immediately said that Meghan's mom should do it. No questions asked.
People Were Shocked When My Mom Gave Me Away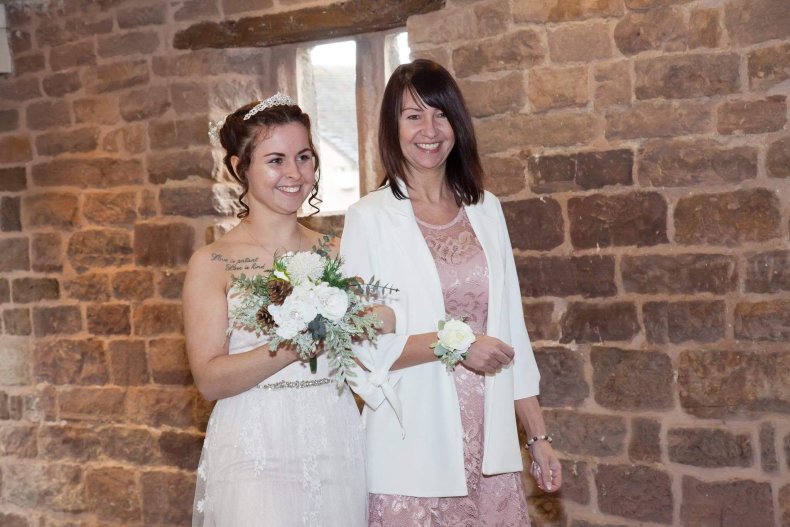 Lauren Marsh, 21, is a schoolteacher trainee. She met her husband, Jordan, at a local church when they were both 14. The couple, from the West Midlands in the U.K., were together for two years before they got married in May 2016. Her mom walked her down the aisle.
My mom and dad divorced when I was young, and although we've been in contact over the years, I didn't feel he could be the one to "give me away." My mom was always there for me, through [high school exams], university, heartbreaks and more. My dad had missed all of that.
It was a huge decision for me, as my mom giving me away is what people will remember from my wedding, it's what's in the pictures my children will see, and it's so meaningful in our changing society. Families are not made of mom, dad and 2.4 children anymore.
Some people expressed shock that my mom gave me away instead of my dad. It was a wonderful feeling walking down the aisle and watching people's faces as they realized it was my mom giving me away. Some people thought I did it to empower women, as my mom raised us singlehandedly. But in truth, she's just my closest friend. Isn't that who you want by your side on your wedding day?
I 100 percent made the right decision. My mom is still such a huge part of my life, whereas my dad isn't. My mom won't let me down.
My Dad Wasn't at My Wedding. It Would Have Made Things Difficult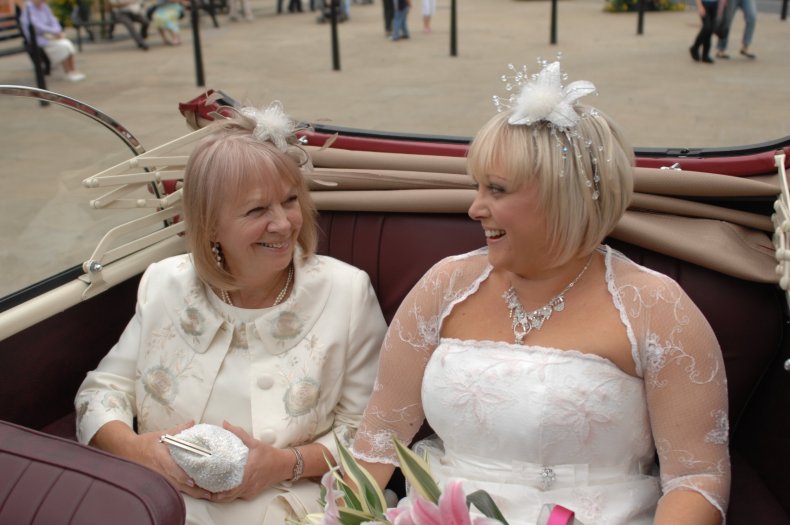 Heidi Lawton, 44, lives in Nottingham, England, with her husband, Phillip, and their two children. She owns a wedding and bridal accessory business specializing in Nottingham lace hankies and garters. She and Phillip married in 2008, when her mother walked her down the aisle.
My mom and dad split up when I was 12 years old, and I have had very little contact with him since then. My mom and I have been through some tough times together, but we have always supported each other. Lots of friends asked me who was going to give me away. But to be honest, it was an easy decision. Mom has always been there for me, and just because she is a woman and not a man why shouldn't she give me away? I felt it was completely the right thing to do. If I had asked an uncle or close friend, it would have felt totally wrong.
Do whatever you feel is right for you. I don't speak to my father at all, so it was very easy not to have him at my wedding. I imagine if he was there but not giving me away it might have made things difficult.
I feel there is too much emphasis on the dad walking their daughter down the aisle. It should be whichever parent, friend or family member the bride wants to do it. Or she could walk down on her own—it's the bride's decision.
Walking Down the Aisle Was a Special Moment With People Who Had Been by My Side My Entire Life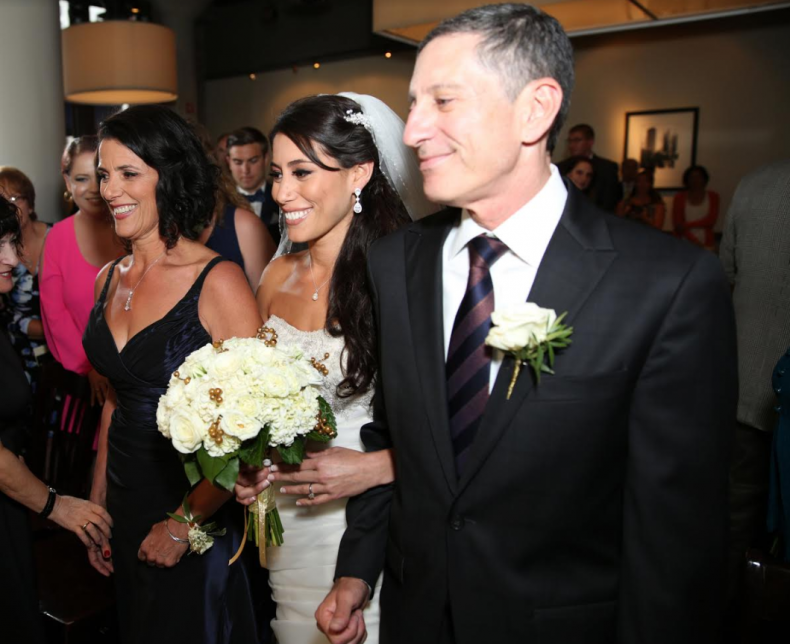 Emma Sarran Webster, 32, is a freelance journalist and contributing editor at Teen Vogue, living in Chicago. She met her husband, Andy Webster, at a Mets game in New York City. They got engaged after three years. Both of her parents walked her down the aisle at their wedding in 2015.
It was never a question for me. When my sister got married seven years earlier, both of our parents walked her down the aisle, and I decided in that moment I would do the same for my future wedding.
I understand fathers walking their daughters down the aisle is an age-old tradition—but so is fathers literally giving their daughters away when they do so. I never thought of that moment as my parents giving me away—after all, they didn't own me to begin with—and I didn't feel the need to follow tradition by only having my dad walk with me either.
I saw the walk down the aisle more as a special moment to share with people who have been by my side my entire life. And for me, those people were both my dad and my mom.
I love both of my parents equally, and my mom has had just as lasting and powerful an impact on my life as my dad. She's an immensely important person to me, and the walk down the aisle was just one of many opportunities I've had in my life to show that to her and to everyone else. I saw no reason why she should sit on the sidelines during this moment, when she never had during any other.
I Walked Down the Aisle Alone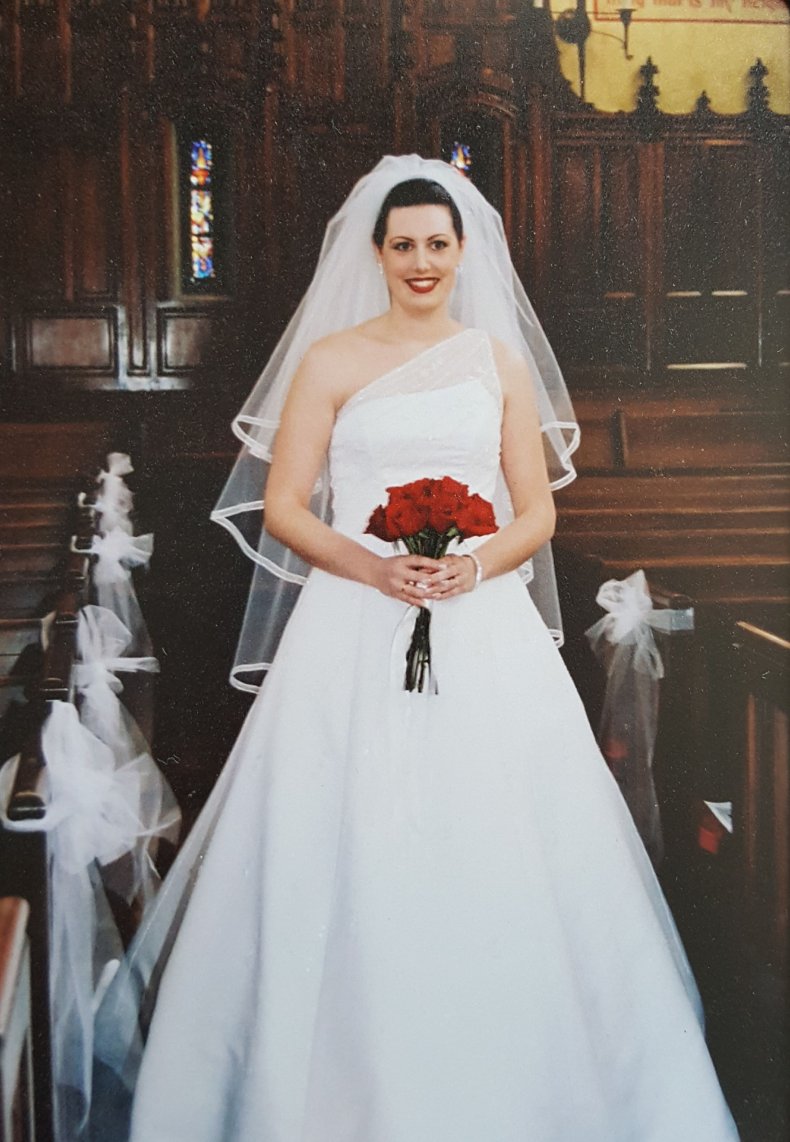 Stephanie Scott, 39, lives in Chicago and is a health care worker and author. She met her husband, Jason Scott, at a friend's party in Chicago. They dated for two years before getting married in 2004. She was unaccompanied as she walked down the aisle.
I walked the aisle solo. I personally felt the tradition of being "given away" by a father did not hold meaning for me, as it wasn't really true. Both of my parents raised me, and my mom has always been a huge supporter. I'd been on my own for a number of years, and the act of being given away did not ring true. I considered having both parents walk the aisle with me, but in an old church with a narrow aisle and a poufy dress, the logistics seemed tricky.
I have a pretty fierce independent streak, so I concluded I may as well take myself down the aisle and meet my parents at the end. The intention was to respect both parents rather than disrespect a tradition.
Walking the aisle by myself felt bold and a little scary. As it was happening, I considered that the traditional use of a partner for the aisle may have had roots in actual support, as in helping the nervous bride not to tip over. But what was done was done. I took measured steps with a big smile on my face and tried not to cry.
I did worry a bit that people would view this as disrespectful to my father. If they did talk, my family did an amazing job of keeping that gossip from reaching me.
After My Dad Died of Cancer, My Mom Was My Rock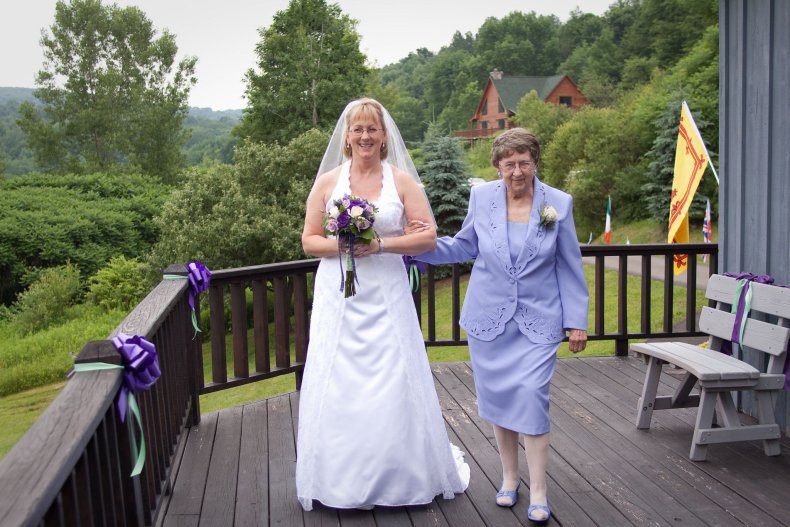 Heidi McCausland, 54, is a catalog and e-commerce designer from Maine. She met her husband, Dave, online in 1998. They got engaged in 2009 and married a year later. Her mother walked her down the aisle.
My father passed away in 1994 from cancer, and there really wasn't another male member of our family whom I was as close to or had done as much for my family or myself. My mother was a piano teacher and a homemaker, but she was the rock of our family. My two sisters and I rallied around her to assist in any way we could after my father passed. I moved home again as she was having back issues and took care of her for five years. When I met my future husband, it was an extremely difficult decision to move 650 miles away from New York to Maine to be with him and leave Mom. I spoke with her almost every day after I moved.
When Dave asked me to marry him, we made the decision to have the wedding in New York and in a location that was easy for my mom to get to and for her to navigate. I know she was honored to walk me down the aisle, and I was tickled at how nervous she was to perform this simple task. You'd think we were going to be walking down the nave at Westminster Abbey.
My mom raised me as a single parent. I never met my dad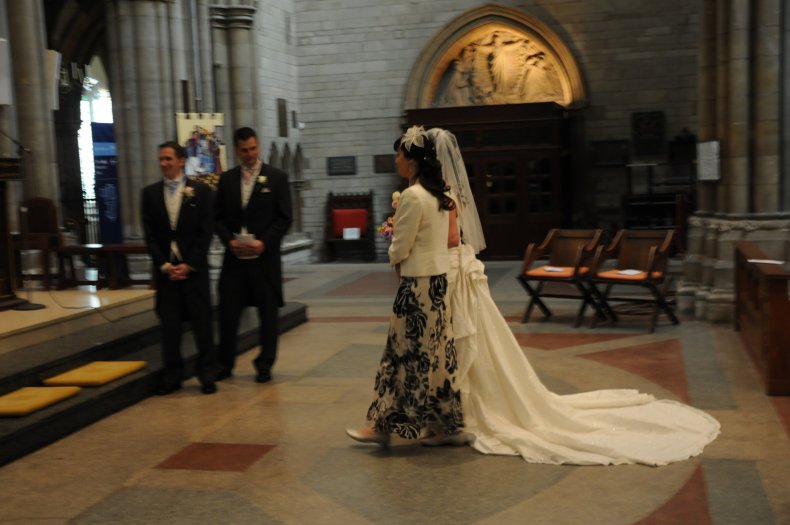 Rachael Beresford is 39 and lives in Horsham, near London. She met her husband, Martin Beresford, at a bar through mutual friends. They were together for 10 years before they got married in 2008. Her mom walked her down the aisle.
My mom raised me as a single parent. My father was never on the scene, and I have never met him. I wanted a traditional white wedding, and it was fabulous: a wonderful choir and all the traditional trimmings.
I had considered walking down the aisle alone, but I didn't have the nerves of steel for that. The woman who had been there for me for every moment of my life was the only right choice to stand by my side and walk with me as I started a new chapter.
People who knew us well felt very overwhelmed. Mom's friends, who knew the difficulties she had faced raising me as an only child, were quite emotional, and tears were shed.
It felt beautiful. It was joyous. I was so proud to have my beautiful mom with me at that special time.
This piece was updated to include Rachael Beresford's account.