Who Will Win the Midterms? What Latest Senate Polls Indicate About Democrats' Chances
With less than two weeks until midterms, Democrats are holding onto increasingly small hope that they'll be able to take back the Senate from Republicans, who currently hold a two-seat majority.
The battle will certainly be uphill. Democrats have to defend 10 seats in states that voted for President Donald Trump while gaining two additional seats in traditionally red states.
There's no room for error, but flipping the Senate is possible. A prominent Republican strategist told Newsweek that he believes it's more likely that Democrats win the House than Republicans win the Senate, and October is a month known for its political surprises.
Below are some of the most contentious Senate races and where they currently stand.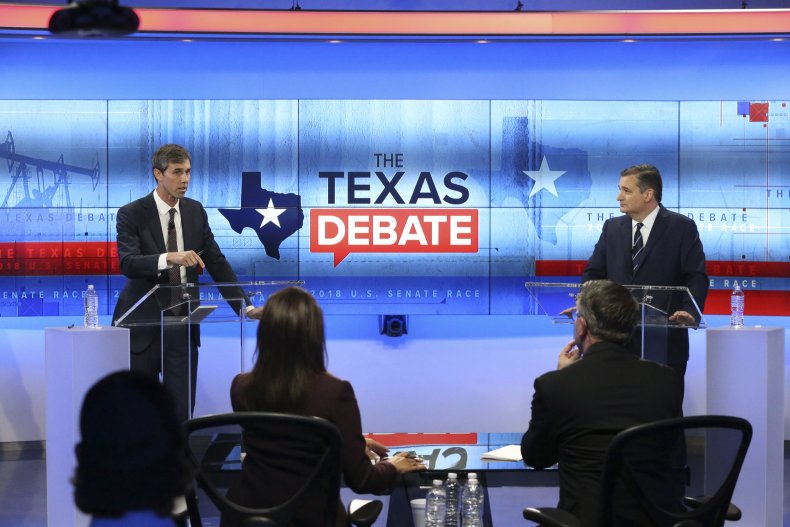 Tennessee
It's been three decades since a Democrat has won a Tennessee Senate race. Former Nashville Mayor and Governor Phil Bredesen believes he can break the left's losing stream.
Polls generally have his Republican opponent, Representative Marsha Blackburn up by around 6.5 points (a recent Vanderbilt poll did put Bredesen up by one point), and Real Clear Politics says the race leans Republican. But Bredesen does have Taylor Swift on his side. The superstar wrote a long Instagram post endorsing the candidate last month and encouraged her fans to get out and vote. Voter registration reportedly spiked in the 24 hours following Swift's post, according to vote.org.
Trump won Tennessee by 26 points in 2016, but Bredesen has a very high likability rating in the state—he just has to convince Republican voters to cross over party lines.
Florida
The Florida Senate race is a toss-up with incumbent Democrat Bill Nelson leading Trump-pal and former governor Rick Scott by about 3.5 points. Before October, Scott held an advantage over his opponent, whom he called "confused" and a "socialist." But when Nelson started spending heavily in the state, that advantage quickly dissipated.
Nelson is a moderate, southern Democrat who has served in public office since 1978 and tends to keep his head low in the Senate. Scott is a high-profile Trumpian Republican, who has nonetheless tried to keep the president at a safe distance for fear of alienating moderate voters. The battle between the two candidates will reveal how strong the president's pull is in the swing-state that he calls home for much of the winter.
Indiana
Indiana is home to another toss-up race with incumbent Democratic Senator Joe Donnelly barely maintaining a lead over his Republican competitor, Mike Braun.
Donnelly maintained a strong lead through the summer but his advantage has since receded. Analysts believe the drop is largely because of his "no" vote on Supreme Court Justice Brett Kavanaugh, which his Republican opponent grabbed onto and campaigned on. Trump won Indiana by 16 points in 2016.
Texas
Republican Senator Ted Cruz maintains a single-digit, but not insignificant, lead of 7 points in what is one of the most-watched Senate races in the country. Cruz's opponent, however, El Paso Congressman Beto O'Rourke, does not accept money from PACs or corporations and has raised the most money in a Senate race ever.
O'Rourke has also gained endorsements from legendary Texas country singer Willie Nelson, who wrote a song for the candidate, and has become a national figure in the Democratic Party.
Early voting began on Monday in Texas, and record numbers of voters have already headed out to lock in their votes. O'Rourke claims that polls don't accurately represent the young, first-time voters who will be supporting him this November.
Arizona
The race to replace retiring Republican Senator Jeff Flake in Arizona is another nail-biter, with Democratic candidate Kyrsten Sinema trailing behind Republican (and friend of Trump) Martha McSally by less than one point.
Arizona is a Republican state, but is not particularly fond of Trump who regularly insulted the late Senator John McCain and who beat Hillary Clinton by less than four points there in 2016.
Nevada
Democrats are targeting the Nevada race between incumbent Senator Dean Heller and Democratic contender Jacky Rosen as a way to gain a new seat this year. Heller currently leads in the polls by less than two points and has born the brunt of a number of Trump insults. The president even threatened to primary Heller last year but the two have since bridged their divide with Heller embracing the president's rhetoric. Still, his credibility with the Republican base is not as strong as it could be.
Nevada has skewed red in recent years, but it is still a left-leaning state and Heller nearly lost his re-election campaign in 2012, making him vulnerable.
North Dakota
It appears as though Democrats will lose a Senate seat in North Dakota.
Republican candidate Kevin Cramer currently leads incumbent Heidi Heitkamp in the polls by more than 10 points. Trump is incredibly popular in the shale-rich state and has campaigned on behalf of Cramer.
Trump's eldest son, Donald Trump Jr., will stump and raise funds for Cramer on October 30, exactly one week before the midterm elections. Trump and Vice President Mike Pence have both made stops to the colder Dakota on behalf of the candidate.
West Virginia
Longtime West Virginia Senator and centrist-Democrat Joe Manchin faces a challenge from Republican contender Patrick Morrisey, but maintains a relatively strong lead in the polls, up by 12 points in recent surveys.
Manchin voted "yes" on confirming Kavanaugh to the Supreme Court, which helped him in the Trump-happy state. But with under 50 percent of the vote, the race is not a guaranteed win.
Missouri
Democratic incumbent Claire McCaskill could lose her seat this November in a state that voted for Trump by 19 points in 2016. The senator is polling behind her Republican competitor, Josh Hawley, by about 0.2 points, making the election a total toss-up and one of the closest in the country.
Undecided voters likely support Trump, but McCaskill has said that there are a lot of Trump-McCaskill voters and she's going after their support. She's hammering the message of affordable, accessible health care and avoiding discussing controversial issues like gun control and Kavanaugh.