Who is William Barr? Trump Reportedly Set to Appoint Former George H.W. Bush Attorney General to Replace Jeff Sessions
President Donald Trump's top candidate to succeed ousted Attorney General Jeff Sessions is reportedly William Barr, who served as the attorney general under late President George H.W. Bush.
Barr is the leading candidate to head the Department of Justice, according to The Washington Post on Thursday. Since Sessions was forced to resign from the top cabinet position shortly after the midterm elections, the role has been filled by acting Attorney General Matthew Whitaker, whose temporary appointment has been met with criticism.
Barr served in the Bush administration from 1989 to 1993, starting out as an assistant attorney general in charge of the Office of Legal Counsel before becoming the deputy attorney general in 1990. When nominating Barr to serve as attorney general in 1991, Bush hailed the lawyer as "a man that I respect enormously."
When leading the Justice Department, Barr oversaw the agency's response to the country's savings and loan crisis, the investigation of the Pan Am 103 bombing and America's counterterrorism strategy during the first Gulf War.
After leaving the Justice Department, Barr served as the general counsel and executive vice president of Verizon Communications but retired from the role in 2008. He is now Of Counsel at Kirkland & Ellis LLP. A graduate of Columbia University, where he graduated in 1973 with degrees in government and Chinese studies, Barr worked in the Central Intelligence Agency from 1973 to 1977. In 1977, he received his law degree from George Washington University before working in the Reagan administration as a member of the White House Domestic Policy department.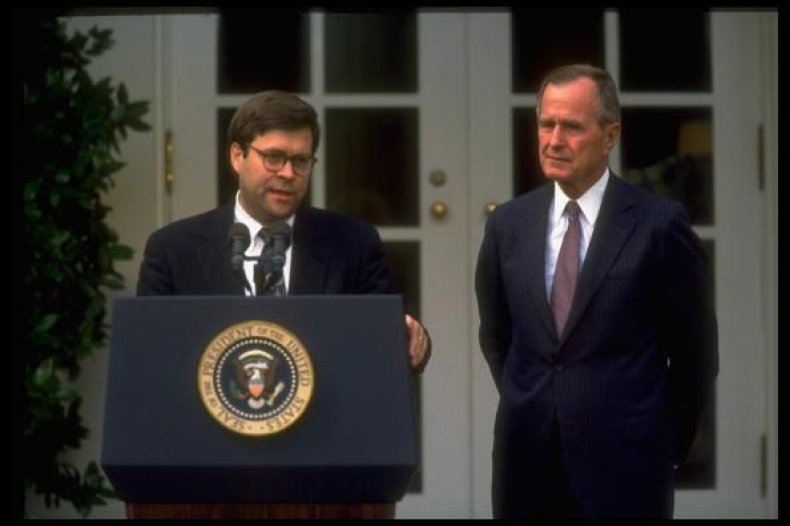 Sources familiar with the matter told the Post that Barr is a "really serious contender, and possibly the front-runner" for the position of attorney general. Those advising Trump on the issue said that the president views Barr as someone who is familiar and well-versed in the Justice Department and the demands of the job.
Other candidates rumored for the position include South Carolina Senator Lindsey Graham, former New Jersey Governor Chris Christie, Health and Human Services Secretary Alex Azar, Deputy Secretary of State John Sullivan and retired federal judge Janice Rogers Brown.
Sessions stepped down from Justice Department in November after leading the agency since the very beginning of the Trump administration. Trump made no secret of his disdain for his attorney general after Sessions recused himself from special counsel Robert Mueller's Russia investigation. Trump repeatedly called Sessions a "weak man" and reportedly did not call Sessions when he was forced out of the position.
In his resignation letter, Sessions took one final jab at the president, writing: "Most importantly, in my time as Attorney General we have restored and upheld the rule of law—a glorious tradition that each of us has a responsibility to safeguard."