Who Won the Biden-Sanders Democratic Debate? Analysis and Highlights of the 11th Democratic Debate in Washington D.C.
Bernie Sanders and Joe Biden had the most contentious debate of their primary battle in front of just three CNN moderators on Sunday night as Americans practicing social distancing tuned in from their living rooms. And it was a strange one. Because of the COVID-19 pandemic, their first head-to-head showdown proceeded with no audience, the two men in their 70s walked on stage and elbow bumped, before then taking to their podiums, which were six feet apart, to commence a night of debating each other from across the stage.
Biden is now the Democratic frontrunner, and his path toward the nomination is cementing. Without a fundamental change to the race, Sanders' campaign and the progressive ideological wing of the primary will fade this election season.
Biden stepped on the stage tonight with momentum—he's about 150 delegates ahead—but by the end of the night, Sanders walked away the winner of the debate after having savaged Biden's decades-long Senate voting record. The Vermont senator demonstrated strength in his rhetoric on healthcare, climate change and foreign policy. But much of the debate consisted of him aggressively holding Biden to account over his patchy history on everything from Social Security cuts to same-sex marriage to the Defense of Marriage Act. Though still a win, Sanders' performance is unlikely to change the trajectory of the race.
The early stages of the debate were dominated by COVID-19, a novel virus that has threatened American life and rattled global economies. The first half hour was polite as the two candidates addressed the pandemic, while taking turns criticizing President Donald Trump's response. Sanders landed the strongest hit, telling voters that the first thing he would do to "save American lives" is to "shut this president up right now."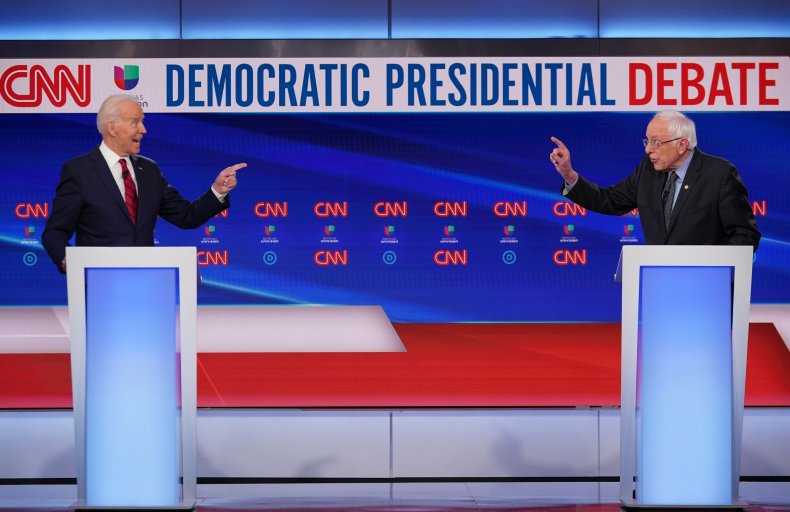 Their long-running dispute over Medicare for All also took center stage Sunday night. After Biden argued that it's not the time for a "political revolution," Sanders strongly held his ground, stating that right now, amid a pandemic, is precisely the time to address the fragility of the country's economy and wealth gap.
"Half of our people are living paycheck to paycheck. We got people who are struggling, working two or three jobs to put food on the table," the Vermont senator said. "What's going to happen to them?"
Expectations for a strong Biden showing were low, given his past gaffes and lackluster performances. But the vice president had one of his strongest performances to date—second to the Nevada debate. He was relaxed, clear and focused, particularly when it came to touting his own electability.
Biden's biggest moment of the night came when he offered voters another chance to make history with him. "If I'm elected president, my cabinet, my administration will look like the country and I committed that I will pick a woman to be my vice president," he said. By committing to name a female vice president as his running mate, a Biden 2020 presidency would see the first woman elected to federal executive office. Before the Trump administration, Biden served as vice president for former President Barack Obama, the first black commander-in-chief of the United States. Sanders considered the same, saying "in all likelihood," he would, too.
Biden also made headlines tonight by vowing to nominate an African American female to the Supreme Court. Whether these two pledges will cut through to viewers amid the influx of coronavirus news remains to be seen.
Because of the COVID-19 pandemic, the debate didn't have an audience and the animosity that exists between supporters of Sanders and Biden was missed. But on stage, when the two men weren't challenging each other, they made the case for their respective ideological wings.
Sanders is the progressive warrior urging Americans to elect an ambitious change-agent. He wants to fundamentally remake how power is exercised within U.S. politics and to empower a generation of disenfranchised and disengaged voters. And Biden is the champion of Washington-based pragmatism who believes in a call to unity and a return to politics the way it was before Trump.
Biden leaned a little further to the left tonight, telling voters he adopted Elizabeth Warren's bankruptcy reform proposal and introduced a plan guaranteeing free college tuition for families who make under $125,000. "This is the first opportunity we have had to make substantial change in what we couldn't get done. I supported her proposal. She should get credit for having introduced it," the former vice president said. Sanders used the concession as an opportunity to call him out for having a hand in passing the 2005 bill that he now wants to overturn.
"Look, this is a little bit about leadership as well. Joe talked about bankruptcy. Joe, you helped write that bankruptcy bill," Sanders shot back, before noting that he's held the same policy positions for decades.
The Elbow Bump
If there's one thing Democrats and Trump have both promoted, it's social distancing amid the coronavirus outbreak. But as the president continues to shake hands on national television, Sanders and Biden took the stage and demonstrated they're serious about... not touching. Instead, Biden lifted his elbow, which was then met by Sanders' elbow. We're calling this the elbow bump.
In light of the virus, their lecterns were also distanced further from each other. Roughly six feet apart.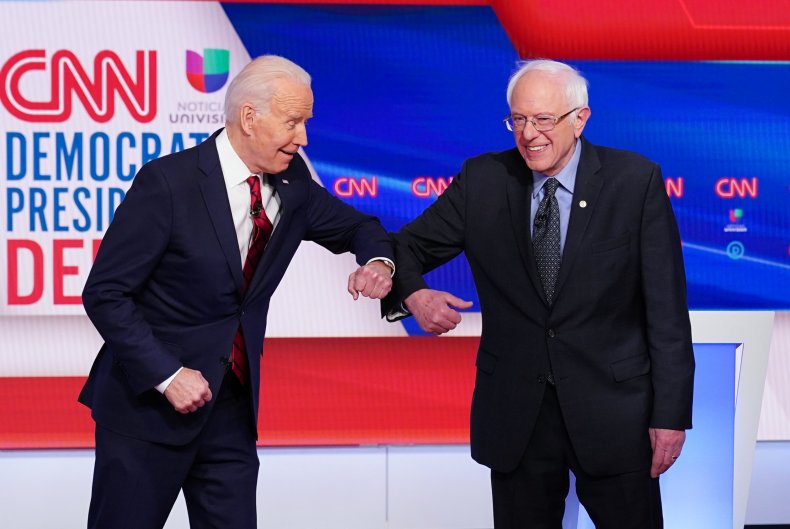 Biden, 77, and Sanders, 78, Talk Coronavirus Precautions
When addressing concerns over their age and the coronavirus, Biden and Sanders both disclosed the precautions they were taking to avoid testing positive, which included canceling events, washing their hands and not touching their face.
"I am using a lot of soap and hand sanitizers," Sanders said. "I wash my hands I don't know how many times a day with hot water and soap," Biden added.
Sanders also revealed that his entire campaign team is now working from home. And Biden appeared to reference the heart attack Sanders suffered late last year by saying, "Fortunately, I don't have any of the underlying conditions."
Sanders Calls Biden Out Over His Social Security Record, Tells Americans to go to "The YouTube"
The sharpest exchange of the night happened after Sanders suggested Biden mislead the public over his record on social security and sternly urged him to "tell the truth," adding that "we all make mistakes."
But Biden refused.
"I never voted to cut Social Security," he said, "I voted to protect it." This was his fatal flaw of the evening. After Biden's denial, Sanders told viewers to "go to the YouTube right now." Several clips then quickly went viral on Twitter showing Biden supporting freezes on social security benefits.
Sanders Accidentally Calls Coronavirus Ebola and Biden Accidentally Calls It SARS
Both candidates made gaffes tonight when addressing the spread of COVID-19 by calling it a previous virus.
"No one is in a position where they have a significant financial disability as a consequence of this SARS, or this particular crisis," Biden said.
Later, Sanders also misnamed the virus that has killed over 6,500 people and infected more than 150,000 worldwide. "The ebola crisis, in my view, exposes the dysfunctionality of our health care system," he said.