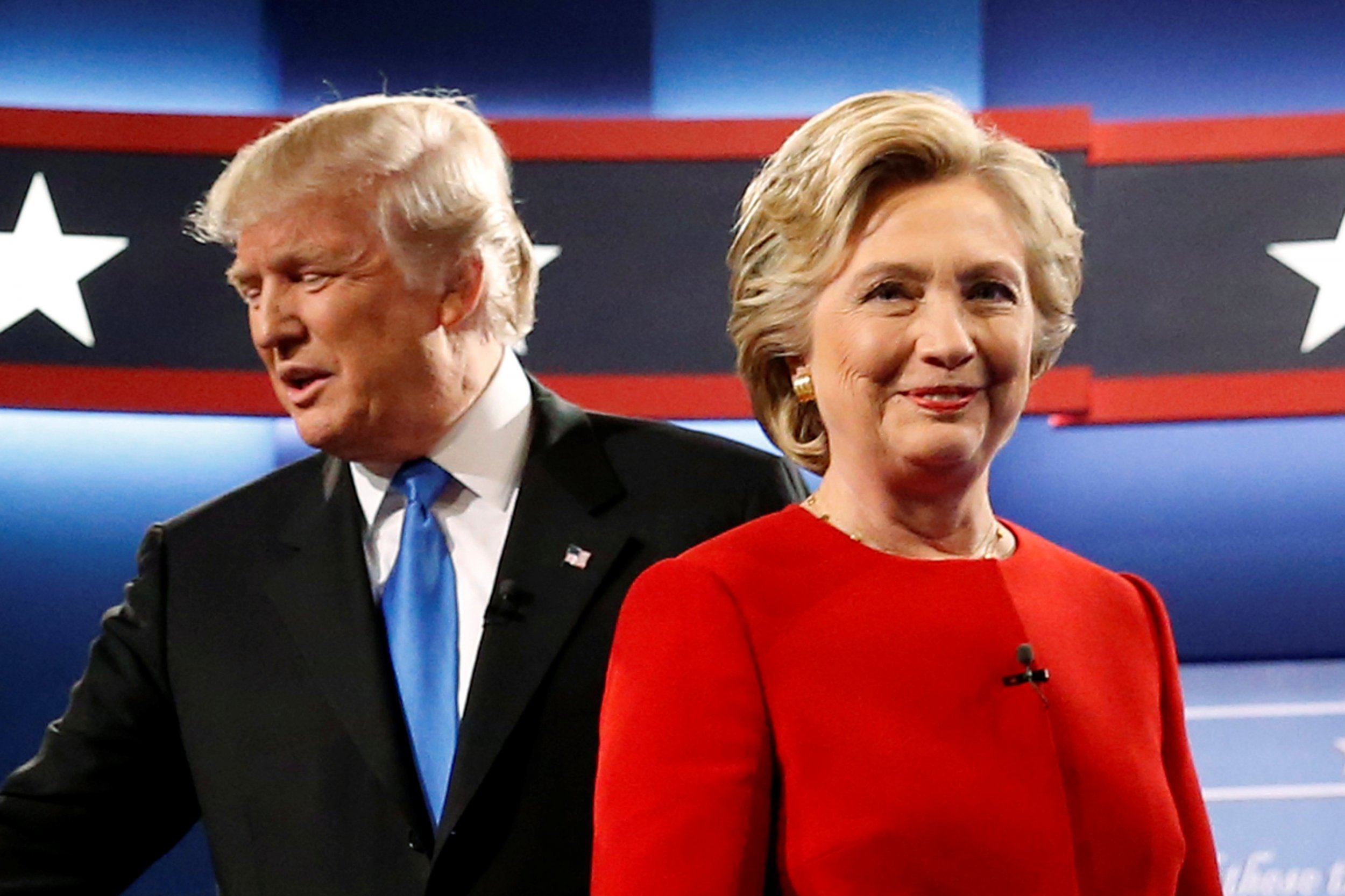 This article first appeared on the American Enterprise Institute site.
At 9 p.m. on Monday, September 26, Hofstra University hosted the historic first presidential debate between Democratic candidate Hillary Clinton and Republican candidate Donald Trump. From Hempstead, New York, multiple major news outlets—including NBC, ABC, CBS, PBS, CSPAN, Fox, CNN, MSNBC, CNBC and Univision—and a Twitter live stream broadcast the 90-minute event to an audience some predicted at 100 million or more.
As of the afternoon on Monday, multiple polls showed Clinton and Trump neck and neck. Bloomberg reported a 46-46 tie between the two main party candidates, whereas adding in Green Party candidate Jill Stein and Libertarian Gary Johnson gave Trump a 2 percentage point lead.
Meanwhile, Quinnipiac showed Clinton up one in both such contests, Monmouth and NBC/SM gave Clinton the edge, and the Los Angeles Times/USC poll gave it to Trump.
Members of American Enterprise Institute's Political Corner—Karlyn Bowman, Timothy Carney, Norman Ornstein and Ramesh Ponnuru—quickly dissected the debate for us. Their main takeaways are below.
Clinton had a strong opening, and she held on to her lead throughout the debate because she addressed the questions directly and was more organized in her responses and better prepared than Trump. She seemed cool, calm and collected throughout. He was none of those things, although he improved as the evening wore on.
Even when he made compelling arguments—and he made quite a few—he didn't necessarily win the point because of a generally undisciplined, scattershot approach, frequently repetitive answers to the questions and too much focus on his businesses.
Toward the end, she seemed to be a little too self-satisfied. He could still win this election, but he didn't win the first debate.
The biggest factor in the first debate was what never got addressed.
Clinton has been the co-head of a foundation whose donors simultaneously gained access to her State Department. Trump used his foundation's funds to pay fines incurred by his businesses.
The Clinton Foundation and the Trump Foundation were never mentioned in tonight's debate.
Clinton has consistently stood behind her unauthorized invasion of Libya, which paved the way for the Islamic State group's growth and expansion. Libya was mentioned, but neither Trump nor moderator Lester Holt asked Clinton to defend her position.
Immigration was the center of Trump's campaign, but it never came up. They had a lengthy discussion of national security, but neither Trump nor Holt brought up border security.
While cable commentators have declared Clinton the winner of the debate, the pertinence of the whole evening is dubious, considering how some of the most salient issues were never addressed.
Each candidate had fundamental goals this evening. Trump's was to look even modestly like a president, in carriage and temperament, along with showing a modicum of basic knowledge of policy. Clinton's was to show a calm and reassuring demeanor, with some warmth and emotion, while also showing the competence to be president.
The bottom line to me: Trump failed miserably on all fronts; Clinton exceeded expectations. To be blunt, I have never seen a more lopsided debate.
After the first 15 minutes or so, where Trump was focused on a strength and trade, he made Admiral Stockdale look like a champion debater. He was angry, rambling, fidgety and often simply incoherent. On fundamental policy knowledge, he did not even know what first use is.
He won't lose support from his core, but I think this will help her move some on-the-fence voters in her direction, and I suspect will make it even easier for her to solidify support from educated white women and from African-Americans. If so, even if the gains are at the margins, that will be all she needs.
If Clinton were aiming to disqualify Trump, she failed. She got under his skin a few times, but he never blew up. He kept repeating the same points, but it came across as message discipline rather than ignorance.
But maybe that's the wrong way to look at it. Even the polls that show him slightly ahead—and most of them still don't—show that Americans think she is qualified for the job and he isn't. It is a testament to her other weaknesses that this set of perceptions has not been enough to put her ahead.
But it is Trump's most serious vulnerability, and I don't think he did much to address it last night.
Karlyn Bowman is senior fellow and research coordinator at AEI. Alex Brill is a research fellow at AEI. Timothy Carney is visiting fellow, Culture of Competition Project, at the American Enterprise Institute. Norman Ornstein served as co-director of the AEI-Brookings Election Reform Project and participates in AEI's Election Watch series. He also served as a senior counselor to the Continuity of Government Commission. Ramesh Ponnuru is a visiting fellow at the American Enterprise Institute, a senior editor for National Review and a columnist for Bloomberg View.