Who Won the Democratic Debate? Analysis on the Winners, Losers and Highlights
Democratic frontrunner Elizabeth Warren dominated the Democratic debate in Ohio on Tuesday night, putting in another strong debate performance and notching up more speaking time than any other candidate.
Going into the debate, Warren had earned herself a double-digit lead over former frontrunner Joe Biden, whose debate performance fizzled somewhat despite scathing comments towards President Donald Trump, who has repeatedly suggested he and his son Hunter should be investigated over previous Ukraine business interests.
According to a CNN tracker, Warren spoke for a total of 22 minutes and 58 seconds—more than six minutes longer than Biden, and around 15 minutes longer than the candidate who said the least—Tom Steyer.
As well as spending more time speaking than the other candidates, Warren managed to fend off attacks from fellow Democrat hopefuls over her Medicare-for-All plan, which was described as a "pipe dream" by Amy Klobuchar and faced concerns over its affordability (indeed, a recent study from the Urban Institute and Commonwealth fund put a price tag of $32.01 trillion on a Medicare for All program over 10 years, although this is not based on any specific candidate's proposals, The Hill reported).
Speaking about Warren's healthcare plan, which is similar to that proposed by Senator Bernie Sanders, Pete Buttigieg, whose debate performance made him one of the standout winners of the night, said: "Your signature, senator, is to have a plan for everything. Except this. I don't understand why you believe the only way to deliver affordable coverage to everybody is to obliterate private plans."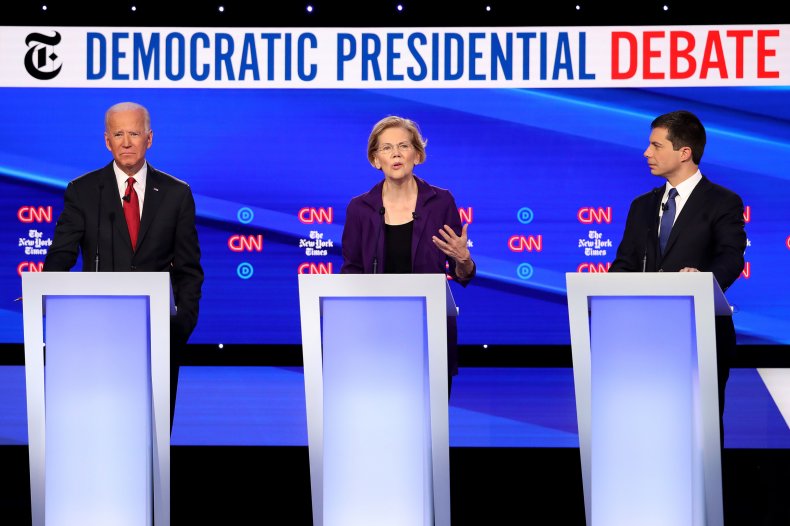 Warren a force to be reckoned with
Given her role as frontrunner, Warren was likely to have anticipated being a big target for other candidates, with Democratic strategist and Principal at strategic communications firm Gordon Group Michael Gordon telling Newsweek ahead of the debate that Warren had the most to lose going into the event.
However, Warren's resolve in the face of attacks from the other candidates reiterated her strength in previous debates and suggested to opponents that she will not be easily rattled in the face of adversity.
Since breaking ahead in the polls, Warren has proved to be a force to be reckoned with and outstrips most other candidates in donations, prompting Gordon to tip her as likely to win the nomination.
The chart below, provided by Statista, shows the number of minutes spoken by the candidates in the October 15 Democratic debate.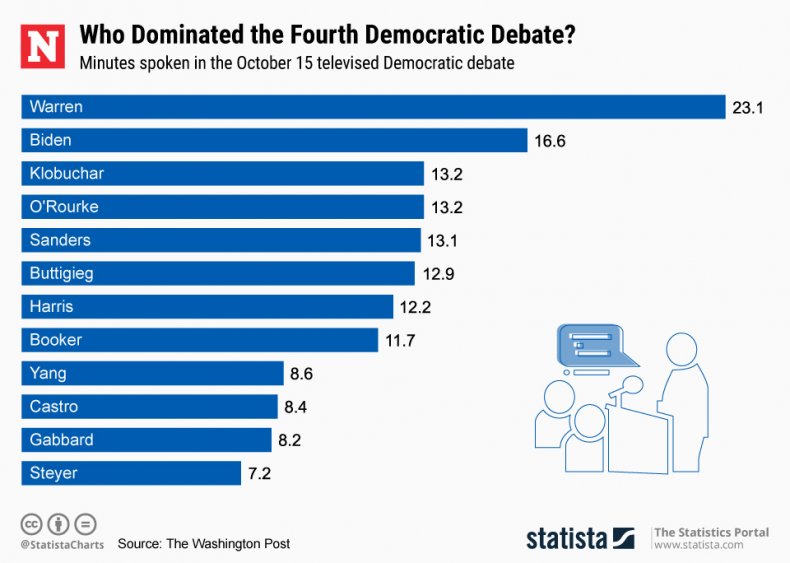 Buttigieg and Sanders impress
Despite an obvious focus on frontrunner Warren, other candidates impressed on Tuesday—in some cases more so than Warren—with South Bend Mayor Buttigieg making an aggressive play for debate time.
His exchange with Beto O'Rourke on the latter's gun buyback proposal was widely discussed on social media following the debate, with Buttigieg suggesting O'Rourke's proposal didn't detail how it would get weapons off the streets.
And while many had expected Bernie Sanders to put in a weak performance following a health scare several weeks ago, the Vermont senator brought an energy to the debate that put him among the success stories of the night.
Joking with fellow candidates, including a one-liner response to Cory Booker's quip about medical marijuana, "I'm not on it tonight," Sanders demonstrated a steely resolve not to allow his health to dominate the debate. He did, however, thank the public and his fellow Democratic hopefuls for their support following his stint in hospital.
Biden flounders
Failing to impress in yet another debate was former frontrunner Joe Biden, whose unsteady performance suggests debates do not show his best qualities.
The former Vice President defended his son Hunter's business in Ukraine following unsubstantiated attacks from President Donald Trump ahead of the debate, suggesting that the focus should be on the impeachment inquiry.
He also came out swinging at Trump, describing the president as "erratic" and "crazy" but not making a strong enough case for his own place at the head of the pack, which he previously led in the polls.
California's Kamala Harris, whose campaign began with huge momentum but has floundered in the polls recently, made several inroads into the debate on impeachment and reproductive rights—but ultimately found it tough to get a foothold on a crowded debate stage with a record 12 hopefuls.
"There are states that have passed laws that will virtually prevent women from having access to reproductive health care, and it is not an exaggeration to say women will die," Harris said.
"Poor women, women of color will die because these Republican legislatures in these various states who are out of touch with America are telling women what to do with their bodies," she added, also lamenting the fact that women's healthcare has not been discussed enough in the debates.
Her comment became the third most tweeted about moment of the debate, with Biden taking the second most tweeted moment when he decried the troop withdrawal from northern Syria as "the most shameful thing any president has done in modern history in terms of foreign policy."
Meanwhile the most tweeted about moment was Julián Castro's comment on police violence.
"I am not going to give these police officers another reason to go door to door in certain communities, because police violence is also gun violence, and we need to address that," Castro said.
The next Democratic debate will be held on November 20.