Italy and England played soccer for two hours, but it still didn't decide the winner of the 2020 European Championships. They went to a shootout to break the 1-1 tie, and Italy won the coveted trophy on the final kick with a save.
It's the first time the European title was decided by a shootout since Czechoslovakia defeated West Germany during 1976.
Sunday's game at Wembley Stadium went through two extra periods before the shootout began. Italy shot a dart into the left side of the net before England tied it up with a shot in the same place. England blocked Italy's second shot before Harry Maguire found the upper right part of the net to give England a 2-1 lead.
Italy's third shot was good when Domenico Berardi found the top middle, and it was tied, 2-2, after three shots when England's next shot went off the left post.
Italy took a 3-2 lead and then blocked England's fourth shot. Italy's Jorginho could have won it on the fifth shot, but it was blocked. Then Bukayo Saka, who is one of the youngest to ever play in the Euro, had his shot blocked by Italy goalkeeper Gianluigi Donnarumma, and Italy celebrated its first title since 1968, when they defeated Yugoslavia.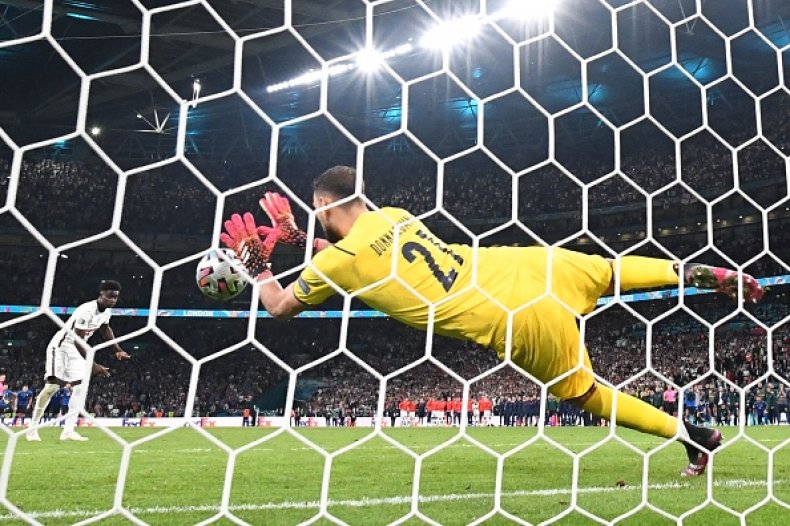 The win sent the Italians into a frenzy at the home stadium for the English, although Italy was one of the official host countries of this year's tournament.
England sent its home crowd into excitement when Luke Shaw scored just two minutes into the game. England held its 1-0 lead all the way until halftime, and then for 22 minutes of the second half before Italy's Leonardo Bonucci tied the game. Bonucci's goal came just 12 minutes after he was given a yellow card.
The teams remained tied at the end of 90 minutes, and then still at 1-1 after two, 15-minute extra periods.
Portugal was the defending champion from 2016, when they defeated France in the final.
The Royal family made headlines on Sunday for the reactions of Prince George during the match.
Prince George of Cambridge, who is the son of Prince William and Catherine, showed the highs and lows of watching international soccer. And he melted the hearts of both Britain and the world.
The family was part of the raucous crowd at Wembley Stadium to watch England play Italy in the 2020 European Championships.
There are various clips of Prince George circulating around the web, including the country's national anthem, England's lone goal in regulation, and the heartbreak of defeat by losing the championship. After Italy won the 1-1 match on shootout kicks (3-2), William comforts an apparently sad George.