Who Won the First Presidential Debate Between Trump and Biden? Analysis and Highlights
The two-man presidential debate produced three losers. Donald Trump failed to condemn white supremacy; Joe Biden failed to create any excitement; and moderator Chris Wallace failed so completely that Wolf Blitzer felt compelled to apologize to America for the debacle.
The 90-minute debate at Case Western Reserve University in Cleveland was supposed to focus on six key topics—the candidates' records, the Supreme Court, COVID-19, race and violence, the economy and the integrity of the election—but the topic that really took center stage was "please stop interrupting." Much of the candidates' hard-fought-for time at the microphone was spent challenging their opponents' comments on their records on health care, nationwide unrest and the future of America.
From the first response to the first question, the two battled for air time. They interrupted each other to the point that host Wallace, who had hoped to be "invisible," ended up debating Trump himself in trying to enforce the rules.
"I hate to raise my voice but why should I be different than the two of you?" Wallace told the candidates. "I think the country would be better served if we let both people speak without interrupting."
Biden set the tone early on in calling Trump a "clown" and "the worst president America ever had," but mainly stayed calm. He got heated when the president targeted Hunter Biden, the veep's son, on his military history and business dealings.
The first topic was the Supreme Court, and the two spent most of the 15 minutes accusing each other of skewing the truth.
Biden warned confirming Judge Amy Coney Barrett would cause the dismantling of the Affordable Care Act, thereby stripping 20 million people of their insurance and forcing women to potentially pay more money for health care than men. Trump pushed back by describing Biden's health care plan as the "S" word—"socialism"—that would leave 180 million people with private health care out in the cold.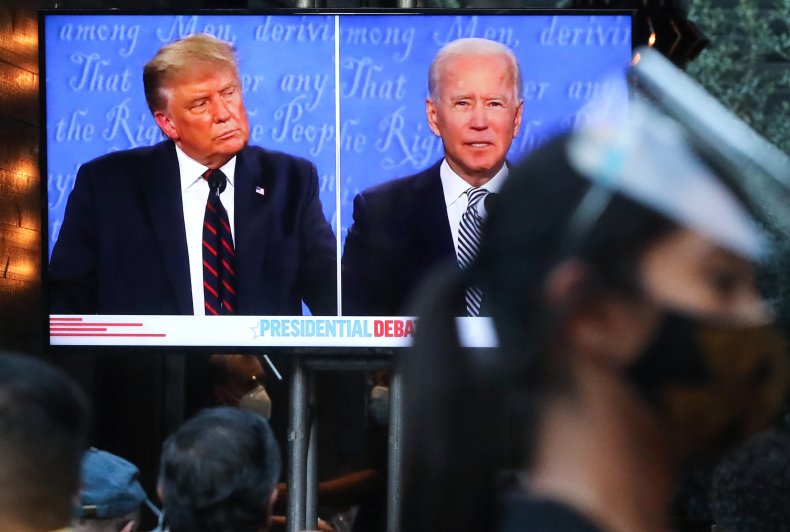 Trump deflected attacks on his coronavirus response by praising his administration's ability to ramp up testing, ensure adequate numbers of ventilators and push out a vaccine in record time. But voters don't give him high remarks on his handling of the pandemic, and Biden hit him for not providing adequate funding to keep businesses afloat and safely reopen schools. In attacking Trump's "lies"—a word he used more than once about the president—Biden reminded voters that he once said businesses might be able to reopen in time for Easter and that warm weather would fight the virus.
America's had more than 7 million cases of the new coronavirus, a higher case count than any other country, and over 205,000 people died. Trump's been accused of seeming indifferent to the deaths, an image he tried to soften by repeatedly saying, "one is too many." The death toll would have been higher had he bowed to pressure from Biden and other Democrats not to shut down travel from China, Trump said.
Polls give Trump a slim lead over Biden on his ability to handle the economy, although the majority of people polled don't consider the economy strong right now. Trump chalked up the downturn to the "China plague," and said as president, Biden would shut down the economy and "destroy our whole country."
When considering which candidate would be best for the economy, Moody's Analytics reported Biden's policies, that are rooted in increasing jobs through innovation and promoting "made in America"—a theme that struck a chord with the White House—would result in a better economy and more job gains. Biden cited Moody's seven million job increase statistic during the debate, a prediction Trump pushed back on. He told Biden he's done "more in 47 months than you've done in 47 years," a jab at the former vice president's career-politician resume, and said a Biden administration would cause companies to export jobs overseas causing "a depression the likes of which you have never seen."
Although the entire night was filled with interruptions that kept voters from getting a clear picture of what each candidate stands for, one of the most explosive topics was "race and violence."
The death of George Floyd at the hands of Minneapolis police ignited protests and a nationwide conversation about race, policing and justice. Some of the protests turned violent, with looting and rioting. Establishing himself as a president advocating for "law and order," Trump threatened state and local officials with federal law enforcement if they failed to regain control of their cities. In accordance with a memo issued by Trump, three cities—New York City, Seattle and Portland—have been deemed "anarchist jurisdictions," a designation that Trump's memo said put federal funding at risk.
Trump badgered Biden over his inability to say the words "law enforcement" because it would mean losing "his radical left supporters," and in a challenge that may have backfired, asked him point blank if he was supportive of law and order. The Democratic challenger—who positioned himself as the platform of the Democratic party, not the "radical left" Trump accused him of appeasing—affirmed that he was in favor of law and order, adding the caveat of "with justice where people get treated fairly."
"I am the Democratic Party," Biden said in distancing himself from the party's left wing.
Taking a more middle ground stance in a possible attempt to win over disenfranchised Trump supporters or Independents, Biden dismissed defunding the police, credited the "vast majority" of officers for being good and honorable and dismissed that violence in the name of protest was acceptable. Amid interruptions from Trump asserting he had the support of law enforcement, Biden called for more transparency, community policing and giving officers resources to help talk people down when responding to calls.
The two sparred over Trump's ban on racial sensitivity training, a move he said he made because it was "racist" and involved people teaching Americans to "hate our country." Biden called Trump the "racist," and told him it was no longer 1950 so the "dog whistles" the president used "are not working anymore."
Trump's unlikely to win Black voters but he's attempting to siphon off support from Biden enough to keep him in office. He hit Biden hard for his work on the 1994 crime bill, contrasting it with his "First Step" act that enabled some offenders to be released from prison.
In the most memorable debate moment, Wallace asked Trump if he could denounce White supremacists and militias. Trump said, "Proud Boys stand back and stand by," a comment that immediately went viral, denounced by the mainstream but celebrated online by the Proud Boys and their supporters.
The final segment of the night looked towards the results of the election. The two battled over the reliability of mail-in ballots. Only Biden pledged to accept the results regardless of win or lose. But nobody had kind words about Wallace, talked over and ignored, reduced to begging the president to follow the rules. He was the night's biggest loser—if you don't count voters who were hoping to learn anything new.