Who Won 'Jeopardy!: The Greatest Of All Time Tournament' Night One?
The first installment of Jeopardy!: The Greatest of All Time aired on Tuesday night, and it lived up to fans' expectations with rapid-fire answers and a tight and close race.
While James Holzhauer took a quick lead, Ken Jennings stuck close behind him, and the two rarely trailed one another by more than 10,000 throughout the program—at the first commercial break, only 800 separated them.
Not a single missed answer occurred during the first segment of the game. That changed in the second round. While it was Brad Rutter who hit the show's first Daily Double, he could never quite catch up to Jennings or Holzhauer, and in the second round, lost everything by betting he could correctly identify the person addressed by Catherine the Great in a letter written to her lover—Prince Grigory Potemkin —and did not succeed.
Rutter ultimately ended up back at zero twice during the second round after failing to bargain successfully on two Daily Double questions, he was unable to identify the two New Orleans "B" streets Louis Armstrong named songs after. Rutter guessed Bourbon and Beale; the answer was Bourbon and Basin. He also failed to correctly guess a double-named philosopher born in 1842 who said that the value of a concept is in its practical consequences. Rutter guessed Jean-Paul Sartre and the correct answer was William James.
Jennings, too, went all in on his Daily Double—and doubled his score with the answer "Lewis and Clark Clifford Odets" when asked to name "Louisiana Purchase Explorers, joined by LBJ's secretary of Defense and a 'Golden Boy' Dramatist."
During an interview with Alex Trebek, Jennings said being on the stage "felt like home." Rutter said that he felt as if he hadn't lost a step.
"I can get experience losing to Brad Rutter just as easily as Ken can do it," joshed Holzhauer.
All three men correctly identified the page and quote from the Bible over which Calvin Coolidge was sworn into office, "In the beginning was the word." Jennings was in the lead when they reset the scores, with Holzhauer in second and Rutter trailing.
In the third round, Jennings correctly identified the name of the woman encountered by the hero in A Connecticut Yankee in King Arthur's Court who shares the hero's last name—Morgan LeFay—but missed a clue related to Elvis Presley. Ultimately, Holzhauer ended the round in the lead with 15,000, Jennings following with 12,000 and Rutter trailing at 10,000.
Everything came down to the final category, which was astronomers. The question: The only human whose remains lie on the moon; his name was given to a comet that crashed into Jupiter in 1994.
Rutter gave an incorrect answer (Hale), ending up with 0 but a game total of 10,000. Jennings answered correctly (Shoemaker), and his two game total with 63,400. Holzhauer ended up with 63,200 with a correct guess—just 200 shy of Jennings' total, meaning that Ken Jennings won the first episode in the tournament.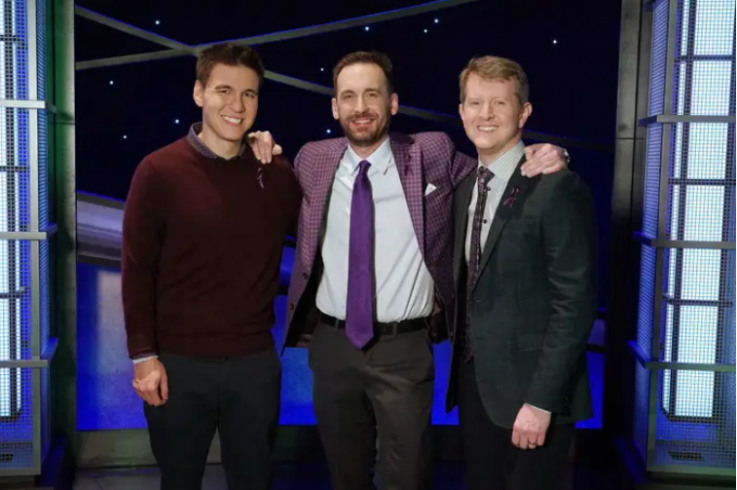 Ken Jennings holds the record for the longest winning streak in the show's history—74 wins, stretching from 2003 to 2004, comprise his still-unbroken record, and $2,520,700 in prize money make him the second-highest-earning Jeopardy! contestant of all time.
Jeopardy's! all time earning record is still held by Brad Rutter, who, during his five-day winning streak in 2000, won $55,102 as well as two cars. Over several appearances in Jeopardy! tournament settings, Rutter has won $4,888,436, also making him the highest earning American game show contestant of all time. Rutter has never lost to a human opponent during regular play.
James Holzhauer, meanwhile, holds the record for the highest amount of money earned in a single Jeopardy! game—$131,127. Over 33 appearances for the show, he won $2,714,416.
Who Won 'Jeopardy!: The Greatest Of All Time Tournament' Night One? | Culture