Who Won 'Jeopardy!: The Greatest Of All Time Tournament' Night Three?
Night three of Jeopardy!: The Greatest of All Time gave viewers some quick action with a game that was rather tighter than last night's. With James Holzhauer and Ken Jennings each bearing a victory, would it be Brad Rutter's night to shine?
Unfortunately for Rutter, while he definitely made a good showing, no one could catch up to Ken Jennings.
Holzhauer picked up the first Daily Double again, and, making his classic "all in" gesture, correctly answered, "Ötzi" to the question, "Thought to be 5,3000 years old, a mummified neolithic 'iceman' given this first name was found in the alps in 1991." That put him ahead of the pack once again, and at the first commercial break Holzhauer was ahead at 7,600 points. But Jennings was only 400 points behind at 6,000, and Rutter with 3,400.
But for Rutter, it was a much better showing than he'd had all tournament long...eventually. In round 2, Rutter hit a Daily Double and answered incorrectly with "the plague"—rather than "melancholia"—to the question "This condition was thought to arise from an excess of black bile, the origin of its name," once again dropping to zero.
Jennings, meanwhile, scored with another "all in", correctly betting the farm on answering "Nullification" to "This 1832-33 crisis ended when South Carolina backed down from its efforts to void federal law."
Before the first half's Final Jeopardy! round, Jennings was in the lead with 25,600, Holzhauer followed with 13,600 and Rutter once again bringing up the rear with 8,800.
The category for the midpoint's Final Jeopardy! was U.S. Political History. The clue was, "These 2 now-defunct parties each gave the U.S. 4 presidents in the 19th century." All three guessed correctly with "What are Whigs and Democratic Republicans?" All three bet the farm, and all three doubled their scores: Jennings to 51,200; Holzhauer to 27,200 and Rutter to 17,600.
The second half proved to be more difficult for all three men, who lingered at zero for a surprisingly long time. But the dulcet tones of Christopher Plummer, who provided the clues for a full category, started to perk their scores back up.
Holzhauer again picked up the first Daily Double of the new game, but this time he guessed incorrectly, offering "diamonds" to the question "This birthstone is used in abrasives for polishing and grinding; the color pairs with gold in an official one for Florida State." The correct answer was "garnets."
At the commercial break, it was Jennings with 6,000, Holzhauer with 4,200, and Rutter with 600.
Post-break, Rutter found a Daily Double and correctly answered "The Grand Coulee Dam" to "The 1935 bill authorizing this humongous concrete dam mentions the Columbia basin compound", doubling his score. He also grabbed the second, and correctly answered "Medea" to "A pas de deux based on music by Samuel Barber premiered in 1975 with Baryshnikov as Jason and Carla Fracci as her," doubling his score again and finally allowing him to pass Holzhauer on the scoreboard.
At the break, Jennings was in the lead with 17,600, Rutter in second with 10,000, and Holzhauer in third with 7,400.
It all came down to the category 21st Century Oscar Winners, and the answer "These 2 foreign-born directors have each won 2 best director Oscars, but none of their films has won best picture."
Holzhauer wrote "Who is the GHOST—Greatest Host of Syndicated TV—Alex Trebek" And he'd jokingly crossed out Pat Sajak's name, which Alex noted. "What?" joked Holzhauer.
"I wish you had risked more points," joked Trebek. The answer lost Holzhauer 908 points.
Rutter bid 4133 points, and wrote "Who is Knes El Hombre—Eagles Super Bowl LII Champs."
"Ladies and Gentlemen," said Trebek, "I would like to welcome you to the Jeopardy! comedy hour."
Jennings joked that he was going to do a "tight five minutes on airline food." He guessed one director's name—Ang Lee—correctly, but his second guess was Gonzalez-Inapparitou, a misspelling of Alejandro González Iñárritu, director of Birdman and Amores Perros. The correct response was Lee and Alfonso Cuaron, and Jennings lost 1,200 points.
But Jennings' stellar first round score meant he won the game, with 67,600 points, making the second match his. Holzhauer came in second with a total of 33,692 and Rutter was in third with 23,467.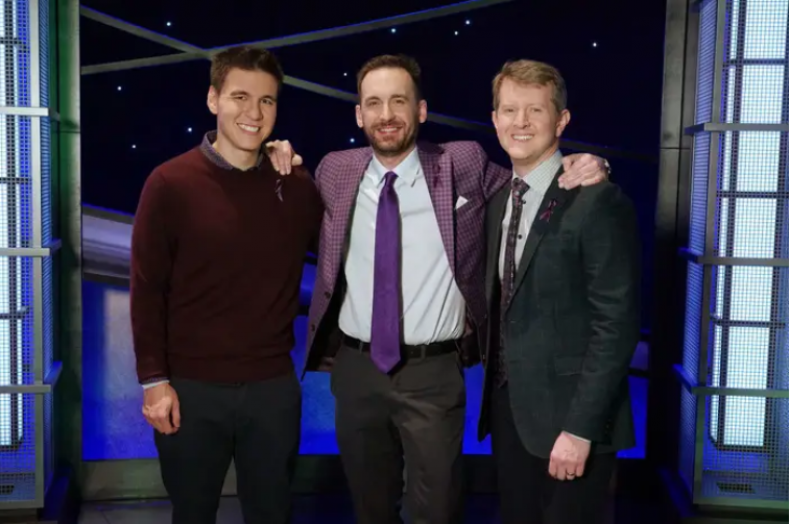 Ken Jennings holds the record for the longest winning streak in the show's history—74 wins, stretching from 2003 to 2004, comprise his still-unbroken record, and $2,520,700 in prize money make him the second-highest-earning Jeopardy! contestant of all time.
Jeopardy's! all time earning record is still held by Brad Rutter, who, during his five-day winning streak in 2000, won $55,102 as well as two cars. Over several appearances in Jeopardy! tournament settings, Rutter has won $4,888,436, also making him the highest earning American game show contestant of all time. Rutter has never lost to a human opponent during regular play, though he did lose to the IBM computer Watson in a special episode.
James Holzhauer, meanwhile, holds the record for the highest amount of money earned in a single Jeopardy! game—$131,127. Over a string of 33 appearances for the show, including tournament play, he won $2,714,416.