Who Won 'Jeopardy!: The Greatest Of All Time Tournament' Night Two?
The second night of Jeopardy!: The Greatest of All Time resulted in results quite consistent with the first episode, with Holzhauer leading the pack, Jennings trailing him, and Rutter still at the back of the group. But there was more banter and joking as the men settled into their grooves.
Holzhauer generally dominated the first half of the episode, at one point leading Jennings by 3,000 points. It was he who discovered the first Daily Double, successfully naming "The Monkey's Paw" when asked "W.W. Jacobs came up with pretty much the opposite of a lucky rabbit's foot with this story of a dad, a son and 3 wishes gone bad."
He also managed to pull out the answer to the Daily Double question "This second-largest port of France once had a longer name that included 'De Grace,'" knowing the name of the port was "Le Havre."
When host Alex Trebek asked the contestants about nerves and how they play the game, Rutter said, "I'm just focused on the next clue and the next response."
"You kind of know how the game is going to work," Jennings said.
"I hate fun," said Holzhauer jokingly. "I know I have to set the bar super high and hope they can't clear it."
Questions were more frequently missed in Wednesday's episode. Three were missed in the first round, one in the second and one in the third. All three of the competitors didn't recognize the end of Willy Wonka's speech to Charlie Bucket near the conclusion of the 1971 film Willy Wonka and the Chocolate Factory, failing to provide the "Good day, sir!" to the question's "You stole Fizzy Lifting Drinks!...So you get nothing! You lose!"
Jennings managed to catch up to Holzhauer by betting it all on a successful Daily Double gambit, correctly guessing "Leibniz" in response to the question "This German developed calculus independent of another wise guy."
"Has James [copyrighted] this?" he asked, pushing his metaphorical chips into the center of the pile to suggest he was "all in."
"He now owns 10 percent of whatever you do," Rutter joked back.
Jennings also joked that he'd broken his buzzer during a passionate impression of Dustin Hoffman as Ratso Rizzo in Midnight Cowboy. "I'm walkin' here!"
The first half's Final Jeopardy! question was answered correctly by all three. The question was "Its second line is 'All the powers of old Europe have entered into a holy alliance to exorcise this spectre; Pope and Czar, Metternich and Guizot," and the answer was "The Communist Manifesto."
Jennings even added a jaunty hammer and sickle drawing to his answer.
"How do you do that?" Rutter asked Jennings.
"It's pointing the wrong way," said Holzhauer.
"You get no extra points for your artwork," said Trebek.
At the halfway mark, Holzhauer led with 44,314 points, Jennings was right behind him with 40,000, and Rutter trailed with 14,400.
Rutter finally hit a lucky break by snagging a Daily Double during the third round, successfully doubling his score by answering "The Tudor line begins its 5-monarch rule of England" with "What is the 1480s?" But at the break, Jennings led with 6,800, Holzhauer right behind at 6,400 and Rutter trailing at 3,800.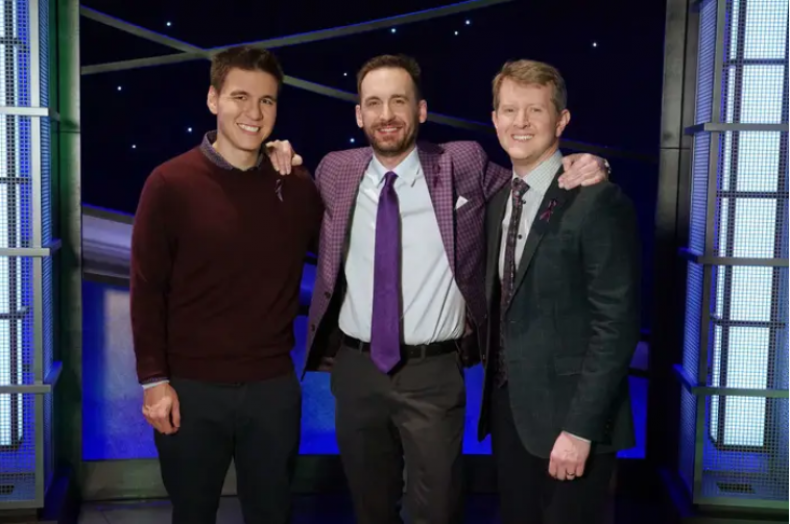 Rutter hit the next Daily Double, but missed answering "22" to the question "You can learn your ethnicity using DNA in your autosomes, non-sex chromosomes; most people have this many sets of autosomes." This sent him back to 0 for the round, and he ultimately ended up in negative numbers, concluding with -3,600 points.
Holzhauer hit the second Daily Double—but managed to successfully answer "Gaborone" to the question "Rhino tracking at the Mokolodi Nature Reserve is something to try on a visit to this capital city."
Before Final Jeopardy! for the episode, the totals were: Holzhauer 22,800, Jennings 21,200, Rutter -3,600. And once again, it all came down to this final round and the category 19th Century Leaders.
The question: "Tall, lanky Joel Barlow was an ambassador carrying messages between these two world leaders, both mocked for being short."
Due to being in negative numbers, Rutter was not allowed to participate in Final Jeopardy.
Jennings incorrectly answered "Napoleon and Monroe" and lost 3,800.
Holzhauer guessed correctly: "Napoleon and Madison," winning the second match.
The totals: 82,414: Holzhauer, 57,400: Jennings, 14,400: Rutter.
Ken Jennings holds the record for the longest winning streak in the show's history—74 wins, stretching from 2003 to 2004, comprise his still-unbroken record, and $2,520,700 in prize money make him the second-highest-earning Jeopardy! contestant of all time.
Jeopardy's! all time earning record is still held by Brad Rutter, who, during his five-day winning streak in 2000, won $55,102 as well as two cars. Over several appearances in Jeopardy! tournament settings, Rutter has won $4,888,436, also making him the highest earning American game show contestant of all time. Rutter has never lost to a human opponent during regular play, though he did lose to the IBM computer Watson in a special episode.
James Holzhauer, meanwhile, holds the record for the highest amount of money earned in a single Jeopardy! game—$131,127. Over a string of 33 appearances for the show, including tournament play, he won $2,714,416.