Who Won 'Jeopardy! The Greatest of All Time' Tournament? What Happened on the Final Episode
With Ken Jennings up two games after a fast-paced week one, it was up to James Holzhauer (who won one game during the first week of competition) and Brad Rutter (who had lagged behind both men in third place during the tournament) to catch up and battle their way back to the front of the pack.
But Tuesday's episode repeated many of the familiar motions of the previous three episodes, with Jennings leading, Holzhauer mainly in second, and Rutter in third, occasionally dipping into negative numbers.
Jennings leaped to the front of the pack early in the game, leading with 3,800 by the time he hit the first episode's Daily Double.
"I want royalties," Holzhauer joked, as Jennings made another "all in" pushing gesture before he successfully came up with the question "Who is Imhotep?" to the answer, "A vizier to Djoser, this Egyptian was one of the few mortals to be completely deified and was worshipped as the god of medicine."
"I hope you won't take offense, Ken. But so often when you respond, you respond in a questioning manner as if you're not sure, and then you delight in the moment. It's wonderful to see," host Alex Trebek noted.
"A lot of the times it's a guess. I just like to hear your reassuring voice, Alex," Jennings joked.
At the first break, Jennings stayed in the lead with 12,800 points, Holzhauer was in second with 4,400 and Rutter was in the rear with 2,400.
The men took a moment to banter—Jennings' children, who were young when he first appeared on the show, are now teenagers, and Holzhauer joked to Jennings that his interests were gambling and sports when he entered college.
"Things turned out okay for me!" he said.
In the second round, Rutter hit the second Daily Double of the episode—and lost it all when he bet everything on the answer "Who is Faraday?" instead of "James Clerk Maxwell" to the clue, "One of Britain's greatest minds was this 19th century physicist and author of A Treatise on Electricity and Magnetism."
"Darn," remarked Rutter.
"Darn is right!" agreed Trebek.
The third Daily Double was all Jennings', and he successfully answered "What is The Rose Tattoo?" to the clue, "In this 1951 play, Serafina's dead husband sports the title ink on his chest."
At the halfway mark and with the first Final Jeopardy! question looming, the score was Jennings 32,800, Holzhauer 22,800 and Rutter 2,000.
The first Final Jeopardy! question was from the category "It's All Greece to Me." The answer: "This area of Greece, home to Pan, is synonymous with a rural paradise; it's setting for Virgil's Shepherd poems the Eclogues."
Rutter guessed "Bucolia," and lost his entire 2,000 point score.
Holzhauer guessed correctly with Arcadia and bet 11,381, increasing his score to 34,181.
Jennings bet it all and also guessed Arcadia, doubling his score to 65,600.
"The end of the match is not a foregone conclusion," noted Trebek.
Cue the second round, and the scores all being wiped to zero. "Hey," said Holzhauer, "Brad's score's still on there," earning "oohs" from the audience.
"It's gotten to be that kind of competition, hasn't it?" joked Trebek.
The first Daily Double was hit by Jennings, who answered the clue "(1,000/2) - 350 to this rock singer who was also a 1997 Golden Globe Nominee" incorrectly with the question "Who is Charles Lindbergh?" sending him back to zero. The correct answer was Courtney Love.
"Seattle's gonna love me, they're not fans," laughed Jennings.
"Your score's still on the board," joked Trebek, pointing to Jennings' 0.
At the first break it was Holzhauer 8,200, Jennings 5,600, Rutter 1,000.
"Nothing changes. Oh. One of you will go home with a million dollars," joked Trebek, as he inaugurated the last round's questions.
Jennings hit another Daily Double, this time giving the right question, "Who was Adlai Stevenson?" to the answer "In 1900, 3 years after leaving the vice presidency, he welcomed a grandson given the same name, later a candidate for president."
Holzhauer doubled his score after giving the right question—"What is Chad?"—to the answer "This big landlocked African country was surprised to be added to the USA's 2017 travel ban, but was removed from the list in 2018."
"A one and a two—Lawrence Welk," said Trebek later when the men missed a question, getting groans from his contestants at his impression.
At the break, the scores were 44,000 Holzhauer, 23,000 Jennings and 1,400 Rutter.
The Final Jeopardy! category: "Shakespeare's Tragedies."
"As a precaution, we brought the trophy out—just in case we need it," said Trebek, as it loomed on the desk beside him.
The answer was: "He has 272 speeches the most of any non-title character in a Shakespeare tragedy."
Rutter answered "You're the best, Alex."
"It's true, and I should get credit for it," he said. His non-answer left him with 1,400 after he bet nothing.
Ken Jennings answered "Who is Iago (from Othello)?" Though he was correct, Jennings wagered zero, keeping his score at 23,000.
Holzhauer wagered his 44,000 on the guess "Who is Horatio?", losing it all.
In the end, Jennings won the contest's million dollar prize, with Holzhauer and Rutter each earning $250,000 as the runners up.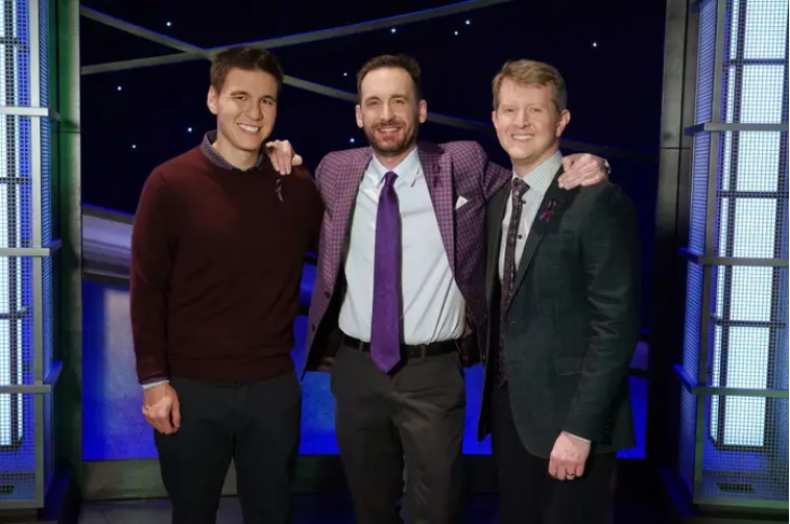 Ken Jennings holds the record for the longest winning streak in the show's history—74 wins, stretching from 2003 to 2004, comprise his still-unbroken record, and $2,520,700 in prize money make him the second-highest-earning Jeopardy! contestant of all time.
Jeopardy's! all time earning record is still held by Brad Rutter, who, during his five-day winning streak in 2000, won $55,102 as well as two cars. Over several appearances in Jeopardy! tournament settings, Rutter has won $4,888,436, also making him the highest earning American game show contestant of all time. Rutter has never lost to a human opponent during regular play, though he did lose to the IBM computer Watson in a special episode.
Professional gambler James Holzhauer, meanwhile, holds the record for the highest amount of money earned in a single Jeopardy! game—$131,127. Over a string of 33 appearances for the show, including tournament play, he won $2,714,416.