New Hampshire will be the second state to officially weigh in on the 2020 election as voters head to polls on Tuesday to pick the Democrat they want to see nominated for president.
The New England state's first-in-the-nation primary is the next stop for candidates after the Iowa caucuses but could have a much bigger spotlight after vote reporting problems plagued the Midwestern state.
As of midday on Thursday, Iowa still hadn't declared an official winner though Bernie Sanders and Pete Buttigieg were in a virtual tie with over 95 percent of precincts reporting. Democratic National Committee chairman Tom Perez called for a recanvass in the state, declaring on Twitter that "enough is enough."
The lack of verified results, while frustrating for candidates and the public, may not have a big impact on New Hampshire. The Granite State doesn't always follow Iowa's lead in choosing their preferred presidential nominee. The last time New Hampshire voted for the same Democratic candidate as Iowa was in 2004, when John Kerry was running for the White House.
Though when combined, the two states together have a good history of predicting the eventual nominee. It's extremely unusual for a candidate not to win either state but still emerge with the party's nomination, but it's also common for the nominee to lose at least one of them. For example, in 2016 Hillary Clinton won Iowa but lost New Hampshire.
Since 1976, New Hampshire voters have given a first-place finish to five eventual Democratic nominees out of nine contests: Jimmy Carter in 1976 and 1980, Michael Dukakis in 1998, Al Gore in 2000 and John Kerry in 2004. But only one of those candidates (Carter) went on to win the general election and become president.
But pollster Andrew Smith, a political scientist at the University of New Hampshire, warned against looking at the Granite State's election record to predict what will happen in 2020.
"You can't go back and look what's happened in the past to see what's going to happen in the future. The state is so different from year to year," Smith said.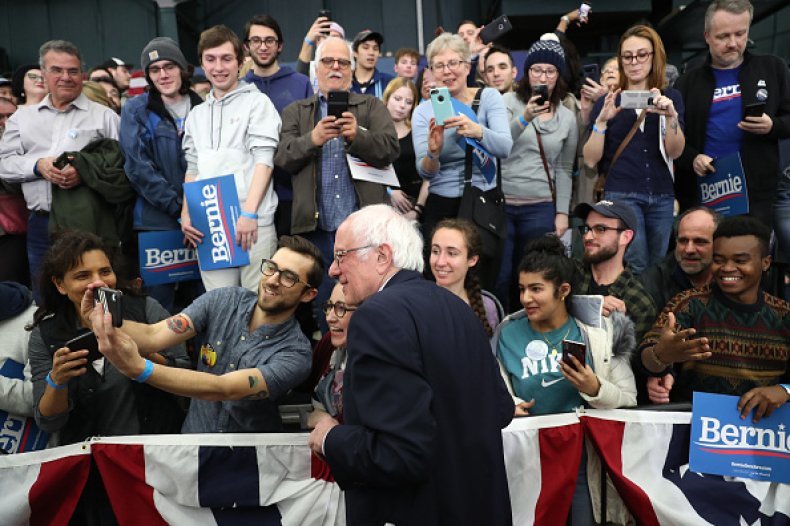 New Hampshire is one of the more difficult early-voting states to poll or predict. That's because it allows undeclared residents (those who aren't registered with a political party) to vote in either the Democratic or Republican primary. It also has one of the highest population turnover rates in the country, which means that the people voting in an election is significantly changed from one cycle to the next.
But this year could be a repeat of 2016. Sanders won New Hampshire in the last election cycle, defeating Clinton by 20 percentage points. Now, with just days until the primary begins, Sanders is once again leading the polls.
The Vermont senator was in first place in a Monmouth University poll released on Thursday with 24 percent support from likely voters. Buttigieg was in second with 20 percent support and Joe Biden rounded out the top three slots with 17 percent support.
The Monmouth survey came on the heels of the latest Boston Globe/WBZ-TV/Suffolk University poll, which also showed Sanders on top. In that survey, Sanders is at 25 percent and Buttigieg at 19 percent. Trailing behind are Biden and Warren, with 12 percent and 11 percent support, respectively.
Sanders is moving full steam ahead in New Hampshire amid the Iowa chaos. On Thursday, the senator declared a "very strong victory" in the Midwestern state, citing his advantage over Buttigieg in the popular vote.
"When 6,000 more people come out for you than your nearest opponent, we here in northern New England call that a victory," Sanders said in a press conference.