President Donald Trump stayed relatively cool and collected, which was probably Job #1 for him at Thursday night's debate. But he fell down on Job #1.5—to talk about the economy, the economy, the economy. It's the issue on which Trump ranks highest with voters, and 56 percent of people in Gallup's recent survey say they're better off than they were four years ago.
But while the president's demeanor was focused, his message was not. Throughout the debate he failed to redirect the conversation to his economic achievements, and it wasn't until his final statement that he highlighted the low unemployment numbers achieved before the pandemic. Instead, he spent precious minutes retailing allegations of corruption against Hunter Biden, former Vice President Joe Biden's son—which Biden parried calmly if not particularly convincingly—and repeating the charge that Biden had eight years as vice president and didn't get anything done.
The big question is whether the debate changed any voters' minds. The percentage of undecideds this year is small, and more than 47 million votes have already been cast in any case. Voters who were leaning towards Trump but were disconcerted by his jumpy, aggressive behavior at the first debate were probably comforted Thursday night, as were voters who wanted one more dose of reassurance that Biden has the energy for the job.
(One new thing viewers may have learned is that two minutes—the time allowed to each candidate to hold forth on questions—can feel very long. If you complained after the first debate about all the interruptions, you may want to take that back after having to listen to Trump and Biden without interruption.)
The first topic covered was the pandemic, with Biden attacking Trump's handling of the crisis and the president emphasizing that the death toll could have been higher. Trump said Biden would close down the whole country, while Biden worked to sell a nuanced response about the need to open the economy safely. The president insisted that a vaccine was coming very soon (sooner than experts have said). He also denied having criticized Dr. Anthony Fauci, director of the National Institute of Allergy and Infectious Diseases.
A person with 200,000 deaths on his hands should "not remain president of the United States of America," Biden said. He said he would encourage mask-wearing, move toward rapid testing and set up a national standard and funding for reopening schools and businesses.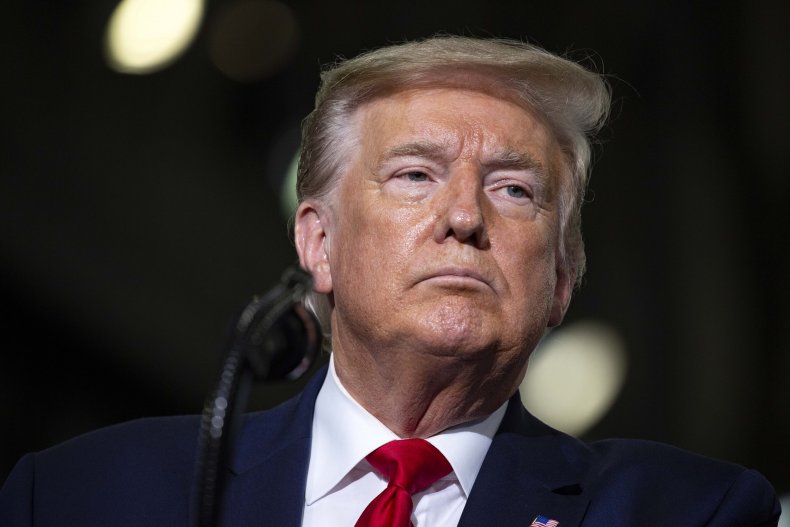 Although it was not an officially listed topic, Trump hit Biden over reports about his son's international business deals. Recent emails and text messages published in a New York Post story alleged Hunter used his father's role as vice president to leverage his position arranging deals in Ukraine and China. Messages also purport to say a percentage of a deal was going to "the big man," which has largely been taken to be a reference to Biden. Trump couldn't resist using the phrase against him. He also accused the Biden family of "getting rich [off their connections]. They're like vacuum cleaners," he said.
"That's not true," Biden responded.
The Biden campaign has denied one of the alleged meetings took place, citing the former vice president's official schedule, and dismissed the report as a smear campaign. However, going into the debate, Biden had yet to outright deny the allegations, instead offering "no response" to a reporter when asked.
"Nothing was unethical," Biden told debate viewers on Thursday in reference to his son's role on Burisma's board. The vice president used the moment to remind voters of Trump's impeachment. He noted during the hearings people testified under oath that Biden carried out American policy and did his job "impeccably" and that no one said his son did anything wrong in Ukraine.
"This is a Russian plant," Biden said. "Five former heads of the CIA say what he's saying is a bunch of garbage, nobody believes it except him and his good friend Rudy Giuliani."
Biden's failure to outright deny the allegations left the issue unresolved, but it's not clear that voters really care.
Trump faced a China issue of his own this week when the New York Times reported tax documents showed he held a bank account in China. Controlled by Trump Internationals Hotels Management L.L.C., the New York Times reported it paid $188,561 in taxes in China between 2013 and 2015. Alan Garten, a lawyer for the Trump Organization, told the Times the bank account was opened to "pay the local taxes" while the company explored "the potential for hotel deals in Asia."
Ahead of the debate, the Trump campaign complained that it wasn't focused enough on foreign policy and the president said he was on top of reports that China, Russia and Iran were interfering with the election, telling voters "I knew all about that." Biden vowed to make them "pay a price" if he's elected, while Trump credited himself with being the president who's been toughest on Russia.
In a rare appearance, climate change was an official topic. While Trump had little to offer voters in the way of future plans, it may not have made any difference. Critics of the Trump administration have regularly hit the president for not acknowledging the science behind climate change and doing little, if anything, to fight it. Undecided voters whose top issue is climate change likely weren't seriously considering voting for Trump. For his part, Biden walked a careful line on fracking—a key issue in Pennsylvania.
Thanks to moderator Kristen Welker's firm hand, the mute button and the candidates' largely adhering to the rules, the final debate may have given undecided voters somewhat more information than the first debate. But it's unlikely that voters on either side ended the low-energy evening overflowing with enthusiasm for their chosen man.
Still: if the polls are right, it was Joe Biden's debate to lose, and it doesn't look like he did.