Who Won the Sixth Democratic Debate? Analysis of the Winners, Losers and Highlights
The nearly three-hour marathon that was the sixth Democratic debate in Los Angeles—there are another six left, by the way—has ended with Senator Bernie Sanders coming out on top. The progressive candidate left the debate stage continuing his better-than-Elizabeth-Warren run. He failed to rack up any viral memes along the way, but that's not his style. He's about touting his policies and luckily for him, Thursday's debate was far more about substance than bickering, especially compared to those that preceded it.
The losers: Senator Elizabeth Warren and South Bend, Indiana Mayor Pete Buttigieg. Buttigieg defended himself from attacks in all directions. He took some hits and at times came off as too rigidly prepared. Warren brutally went after Buttigieg about a fundraiser he held in a wine cave, but her performance wasn't enough to steer herself back on track as the progressive frontrunner. It's unlikely that either will gain or lose any ground from their performance.
Sanders spoke for a total of 20 minutes and 2 seconds, according to an NBC News tracker, placing him in first place in terms of speaking time. As other 2020 Democrats targeted Buttigieg's rising candidacy, Sanders remained focused on his signature policies. Perhaps he learned his lesson that picking fights with Joe Biden will only result in Warren surging ahead. However, at one point he did jokingly point out that Biden has "received contributions from 44 billionaires" while "Pete, on the other hand, is trailing. You've only got 39 billionaires contributing."
He received applause when he said America should divert much of the money they are spending on weapons to fight climate change: "Maybe, just maybe, instead of spending $1.8 trillion a year globally on weapons of destruction, maybe an American president—i.e. Bernie Sanders—can lead the world, and instead of spending money to kill each other, maybe we pool our resources and fight our common enemy—which is climate change."
We have to talk about Andrew Yang and Amy Klobuchar, who both tied for second place. The smaller debate stage worked to flatter the minor candidates, elevating Yang, Klobuchar and billionaire Tom Steyer's credibility. It showed that if you can survive to the final rounds, you'll have an opportunity to get another look from viewers—and they took it.
Biden, who's been leading the Democratic field in most polls since he entered the race, was able to play to some of his strengths, especially when it came to China. He toned down the gaffes tonight and we even saw flashes of humor as he dealt with some tough questions, including ones about his age and how some in the Obama administration misled Americans about the Afghanistan war. He said he disagreed with the Pentagon about the troop surge.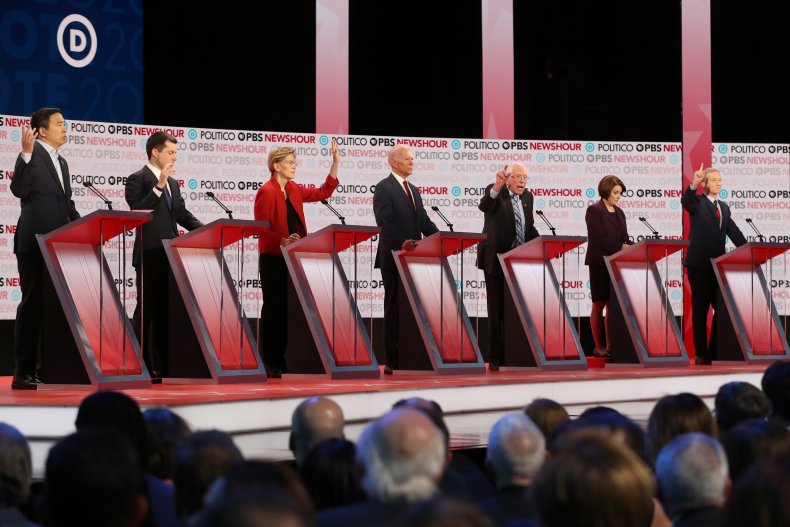 Buttigieg Gets Slapped Around
One of the most exciting moments of the night—and one of the few times that the candidates attacked each other—was the back and forth between Buttigieg and Warren over the former's closed-door fundraisers with big-money donors.
The scuffle started when Warren pointed out Buttigieg's recent closed-door fundraiser that took place in a California "wine cave."
"Billionaires in wine caves should not pick the next president of the United States," Warren said.
But that wasn't the only argument Buttigieg had on the stage. Later in the debate, Klobuchar and Buttigieg sparred over experience.
"Showing our party that we can actually bring people with us, have a wider tent, have a bigger coalition and, yes, longer coattails, that matters," Klobuchar said.
"If you want to talk about the capacity to win, try putting together a coalition to bring you back to office with 80 percent of the vote as a gay dude in Mike Pence's Indiana," Buttigieg fired back.
Yang Is Nice and Relatable: "If You Leave Too Many Men Alone for a While, We Kinda Become Morons"
Yang began his closing statement with a nod towards his humble outsider status. "I know what you're thinking, America: How am I still on this stage with them?" he said.
He was the first to answer the final question of the debate, a pretty strange one that appeared to baffle some of the candidates. When asked by PBS Newshour's Judy Woodruff whether he would like to ask one of his opponents for forgiveness for anything or offer them a gift, he said he was grateful that Warren picked up his book, before offering copies to the other candidates.
Some social media users argued that his remarks about the inequity for female politicians was the quote of the night. "If you get too many men, and leave us alone for a while we kind of become morons," he joked.
Biden Declines to Commit to Serving Second Term
When the question of age came up, Biden boasted of his experience—"more experience... than anybody on this stage"—he had experience.
But when Politico's Tim Alberta pointed out that Biden would be 82 by the time he finished a hypothetical first term and asked if Biden would commit to a second term, Biden said he wouldn't.
"No, I'm not willing to commit one way or another! Here's the deal: I'm not even elected one term yet, so let's see where we are, let's see what happens. But it's a nice thought," Biden said.
Warren Expertly Flips Age Question
Shortly after Biden's answer about a potential second term, Alberta turned the question to Warren. He pointed out that, if elected, she would be the oldest president ever inaugurated.
"I'd also be the youngest woman ever inaugurated, as well," Warren replied to laughs and cheers from the audience.
Moderate Lane Gets Competitive With Strong Klobuchar Performance
After seeming lost on the debate stage through the summer and autumn, Klobuchar found her voice as a moderate candidate with a more relaxed and assured debate performance.
With Biden having a stronger, but not dominant debate and Buttigieg coming under fire from the progressive candidates, Klobuchar highlighted her resume and began to make an electability argument as a senator from a purple state, who can "bring in the rural and suburban areas, particularly in the Midwest."
Klobuchar took the opportunity to contrast her experience and electoral track record with Pete accusing her of mocking "100 years of experience" in the last debate and adding "I just think that you should respect our experience when you look at how you evaluate someone who can get things done."