Who Won 'Too Hot To Handle' Season 3 and How Much Money Was Left at the End?
Just six months after Too Hot To Handle Season 2 came to an end, 10 new sexy singletons entered the villa on the Turks and Caicos Islands—ready for sun, sea and plenty of sex. However, they quickly learned they were on the Netflix dating show Too Hot To Handle, so kissing, sex, heavy petting and self-gratification were banned.
The contestants, chosen for their tendency to have only casual relationships, are tasked with finding meaningful connections instead. Every time they break one of the strict rules laid down by virtual assistant Lana, the $200,000 cash prize drops. Only one couple can be crowned the winners. Here's who won Too Hot To Handle Season 3 and how much money was left at the end.
Who Won 'Too Hot To Handle' Season 3?
Georgia Hassarati, Nathan Soan, Harry Johnson and Beaux Raymond found themselves in the final of Too Hot To Handle Season 3.
In the end, British couple Harry and Beaux were crowned the winners by their fellow contestants.
Harry, a 29-year-old tree surgeon from Middlesbrough, and Beaux, a 24-year-old legal secretary, met on the first day of Too Hot To Handle and, after a rocky start, remained strong throughout the competition.
At first, Harry had eyes for Georgia and even told Beaux he was more attracted to the Australian bombshell.
Beaux also wasn't that interested in Harry initially and was open to getting to know other people.
As the days passed, however, Harry began to realize he had feelings for Beaux that were more than friendship. They were even the first couple to be given the green light by Lana to break the rules, after building a "meaningful" connection that wasn't purely physical.
In fact, they didn't break the rules as a couple but, in a hilarious moment, Harry did cost the group $4,000 after he took himself aside for some self-gratification.
It was Harry who admitted first that he had feelings for Beaux. As the weeks progressed, he even confessed that he was falling in love with the legal secretary.
By the 10th episode, Harry and Beaux were boyfriend and girlfriend and topped off their journey by being declared the winners.
Speaking together after their victory, Beaux joked: "I can't believe it."
Harry then spilled that he was in love with Beaux. He told the cameras: "We went from nothing to being in love"—much to Beaux's surprise.
Runner-up Nathan said: "Runner-up never felt so good. Couldn't be happier for Harry and Beaux, they definitely deserved it. If I could have voted, I would have voted for them. They've gone from leaps and bounds from being friends to lovers."
Georgia added: "So happy. I genuinely feel the best people won."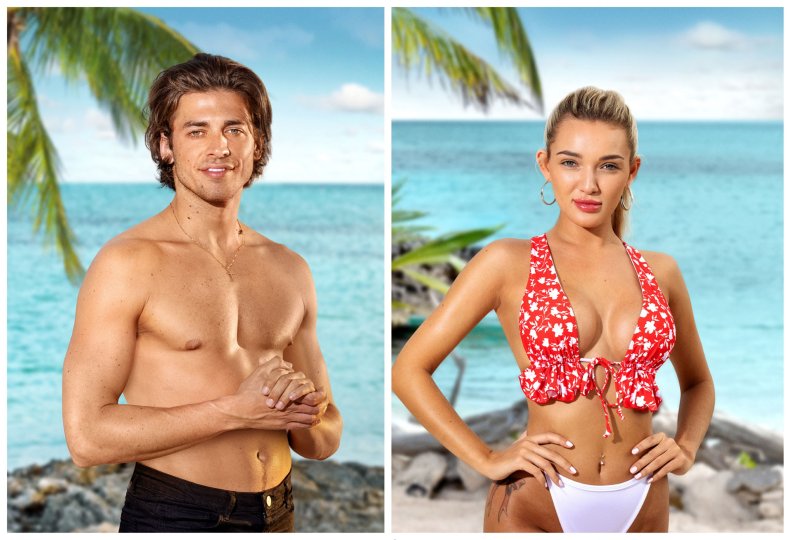 How Much Money Was Left at the End of 'Too Hot To Handle'?
Season 3 winners Harry and Beaux took home $45,000 each.
Technically, at the end of Too Hot To Handle, the entire group was in debt to Lana.
When Lana was introduced in Episode 1, the group had $200,000 on the table. Within nine minutes, the rules had been broken by Georgia and Izzy Fairthorne—and the infractions kept continuing.
Episode by episode, at least one rule would be broken by at least one couple, if not more. In one night alone, Nathan and Holly Scarfone racked up a bill of $69,000.
By the end, the contestants were $54,000 in debt to Lana. Then, in a big twist, Holly and Nathan—the villa's biggest offenders—saved the day.
Nathan left the villa to attend an intensive therapy session under the guise that he had been booted from the villa for good. Upon his return, he and Holly were given a second attempt at the chastity test they had failed earlier in the season. They were tasked with spending the night together away from the other contestants. If they managed to control their sexual urges, the prize pot would be $90,000.
Nathan and Holly passed the chastity test and Harry and Beaux lived happily ever after … hopefully.
Too Hot To Handle Season 3 is streaming on Netflix now.