Who Won 'The Voice' 2019? Season 17 Finale Results & Recap
The Voice 2019 winner will be revealed tonight. Who will reign as Season 17's winner? Who got eliminated? Find out everything you need to know about the second night of the season finale, here.
It's the final episode of The Voice Season 17. Tonight, fans will learn which of the Top 4 contestants earned the most votes and won the not only the title of The Voice Champion but the $100,000 grand prize and record deal. The finale starts at 9 p.m. ET and is expected to run for two hours.
Before we get down to the results of Monday night's final performance round, viewers will be treated to a few special performances including Maelyn Jarmon, who won The Voice last season, and former coach Jennifer Hudson. Lady Antebellum, Black Eyed Peas, Dua Lipa and many others are also slated to hit the stage throughout the night.
Near the end of the show, voters' choices will be announced and The Voice host Carson Daly will reveal the iTunes streams each contestant racked up. Once all of America's votes and iTunes streams are tallied, a winner will be named.
The Season 17 finale is particularly exciting for coaches Blake Shelton, Gwen Stefani, Kelly Clarkson and John Legend, as the finale episode marks the first time since Season 7 each coach has helped a contestant from their team get to the finals. Of course, only one person can take home the title.
As the show airs, we'll be updating this post with live updates of all the performances and results as they occur. Once a winner is determined, we'll update that information too. In the meantime, catch up on the Top 4 artists' performances from last night's show here.
The Voice 2019 Results: Who Won Season 17?
Results are in for The Voice 2019 Winner. Here is the lineup:
Rose Short (Team Gwen) - 4th Place
Katie Kadan (Team John) - 3rd Place
Ricky Duran (Team Blake) - 2nd Place
Jake Hoot (Team Kelly) - WINNER of The Voice Season 16
A complete live-blogged recap for Tuesday night's show can be found below.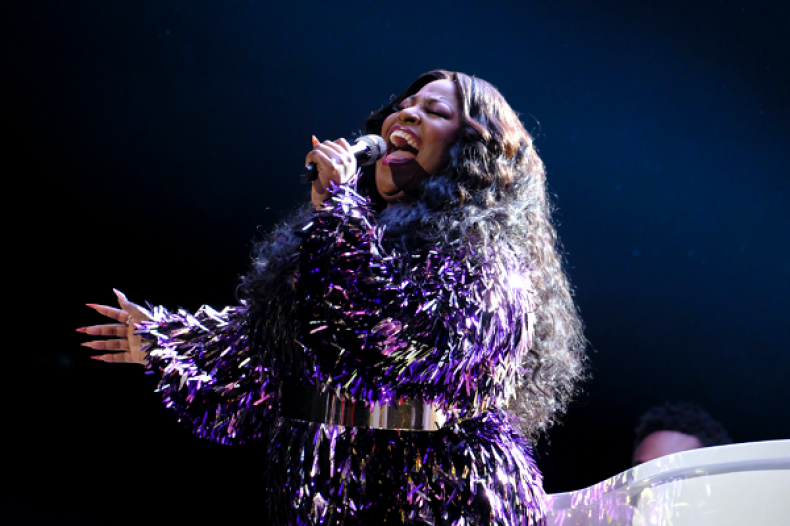 What Songs Were Performed During The Voice Season 16 Finale? [LIVE BLOG]
9: 00 p.m. - The season finale kicks off with a cute little behind-the-scenes video of Gwen Stefani getting dressed. She can't find anything to wear, but luckily her boyfriend Blake Shelton comes to the rescue. The hilarious little take is oozing with holiday vibes and feels like a mash-up of Gwen's recent NBC Christmas special and Project Runway.
9:04 p.m. - Carson takes the stage and introduces the coaches. He mentions some of the special performances scheduled for the night including Jennifer Hudson, Maelyn and many others. First to hit the stage are Season 17 contestants Alex, Will, Max and Shane with a cover of "Gimme Some Lovin'" by Spencer Davis Group.
9:08 p.m. - After a 60-second commercial break, Carson announces the next performers to take the stage. It's our good friends, the multi-platinum-selling group Lady Antebellum.
9:13 p.m. - Carson thanks Lady Antebellum for coming on the show. Then he shares a prerecorded video of Kelly Clarkson's "mom" style of coaching. She tries to read a bedtime story to former contestants Hello Sunday, force her team members to take cough drops and she even coerces Top 4 frontrunner Jake Hoot to recite an "I'm great" mantra before taking the stage.
9:16 p.m. - Carson reveals a few more artists set to hit the stage like Yolanda Adams, Black Eyed Peas, Dua Lipa and plenty of others before tossing to commercials.
9:20 - Back from commercials, Carson announces the next round of performances. It's Black Eyed Peas and J Balvin. They're performing their newest collaboration "RITMO (Bad Boys For Life)" and they've got a little help from dance crew iLuminate.
9:24 p.m. - Carson thanks Black Eyed Peas, J Balvin and iLuminate for their lit up performance. Then he unveils a prerecorded video of Top 4 finalist Katie Kadan throughout her journey on the show. Katie says she's so thankful to have made it on John Legend's team, calling her time on the show working with him one of the best experiences of her life.
9:26 p.m. - Carson announces the next performance and its none other than Katie. She's singing a cover of Cher's "Believe" with Adam Lambert.
9:30 p.m. - Katie and Adam's performance get the seal of approval from the coaches and the audience. Everyone is on their feet applauding them. Before heading to commercials, Carson says we'll hear from Top 4 contestant Rose Short after the break.
9:34 p.m. - After a quick commercial break, it's straight to a pre-taped video of Rose and her coach Gwen. The pair have become good friends over the course of the show, and the video captures plenty of moments of the ladies goofing around, dancing and laughing together. Gwen says she's excited to know Rose while Rose thanks Gwen for helping her become the woman she's always wanted to be.
9:36 p.m. - Carson brings the next set of performers to the stage. Rose is singing one of her favorite songs, "In the Midst of It All," alongside one of her favorite gospel singers, multi-Grammy-winner Yolanda Adams.
9:40 p.m. - Carson says there's still a lot of music to get through, and, of course, we still have to find out the winner of The Voice. But first, commercials!
9:44 p.m. - Carson returns to the stage after the break and announces the next round of performers. It's Season 17 contestants Kat, Marybeth, Cali and Gracie with a cover of "Neon Moon" by Brooks & Dunn.
9:48 p.m. - Carson says Maelyn is still up to perform along with Dua Lipa and many others. Plus Top 4 finalist Ricky Duran will hit the stage with one of his all-time favorite singers.
9:52 p.m. - Carson brings the next performer to the stage. It's Dua Lipa with her newest single, "Don't Start Now."
9:56 p.m. - Carson thanks Dua Lipa for her stellar performance. Then he unveils an adorable video of Ricky and his coach Blake. Blake says he and Ricky have so much in common, and it's obvious they're two peas in a pod. Ricky says he's so grateful for the opportunity to work with Blake.
9:58 p.m. - Ricky hits the stage with his favorite artist Gary Clark Jr. They're singing Gary's hit song "Pearl Cadillac."
10:01 p.m. - We're halfway through the show, and there's still a bit more to see before a winner is announced. Carson says Little Big Town and Jennifer Hudson are among the next wave of performers set to hit the stage after commercials.
10:05 p.m. - Carson returns to the stage after the break and reveals auditions for next season will soon be underway in 2020. Then he introduces Season 16's winner, Maely, who's singing "Have Yourself a Merry Little Christmas."
10:09 p.m. - Maelyn's gotten everyone in the Christmas spirit with her beautiful rendition of the holiday classic. Carson thanks her for coming on the show and asks her to give the Top 4 some words of encouragement that may help settle their nerves while they await their fates backstage.
10:14 p.m. - Carson throws it straight to a video of Kelly and Top 4 finalist Jake Hoot, who she says was "born to be a country singer." The video shares a few intimate moments captured between the two over the course of the season, revealing an inspiring and fun friendship that has blossomed between the duo. "I'm a hooter for life y'all!" Kelly said.
10:16 p.m. - Carson brings the next act to the stage, and it's Jake with one of his country music idols, Little Big Town. They're singing their latest hit single, "Over Drinking."
10:19 p.m. - Carson thanks Little Big Town for being on the show and wishes them happy holidays. He says Luke Combs is still set to hit the stage along with former The Voice coach Jennifer Hudson, but that won't happen until after a quick commercial break.
10:24 p.m - Back from commercials and Carson introduces the next performer of the night, Jennifer Hudson, who is singing the song "Memory," from the movie Cats.
10:29 p.m. - Carson thanks J-Hud for that incredible performance. However, the tone quickly changes when he starts picking on Blake. Carson shares a video montage of the many times Blake's fellow coaches have called him a liar. The video unfolds like the movie Liar Liar, with Blake being unable to tell a lie.
10:32 p.m. - After the video, Carson brings Season 17 contestants Hello Sunday, Myracle and Joana to the stage. They're singing The Supremes' "You Keep Me Hangin' On."
10:36 p.m. - Carson says Luke Combs is slated to hit the stage next. The Voice winner will soon be announced too, but first, we're taking another quick break.
10:40 p.m. - Carson returns from commercials and thanks the band and camera crew for all their hard work and support throughout the season. Then he announces the next performer, Luke Combs, who is singing his hit song "Even Though I'm Leaving."
10:45 p.m. - Now it's time to pick on John. Carson throws it to a cute little video of all the coaches dealing with John after he was named People magazine's Sexiest Man Alive. Kelly thinks his new title has gone to his head, while Gwen claims John's too humble for all of that. Blake thinks John's jealous that he was voted Sexiest Man Alive after him.
10:48 p.m. - Finally, Carson brings the Top 4 finalists Jake, Ricky, Katie and Rose up to the stage. We're officially getting to it folks!
10:49 p.m. - Carson gives each of the contestants a moment to say their final words to the judges.
10:51 p.m. - Carson reads the name of the artist in fourth place. It's Rose Short.
10:52 p.m. - Carson reveals Katie Kadan is the third-place finalist. That leaves Ricky and Jake. We won't find out which of the two is the winner until after commercials.
10:57 p.m. - Ricky and Jake are still on stage and Carson thanks them both for sharing their lives with all of us. Before announcing the winner, Carson asks the guys' coaches Blake and Kelly to say their final words to the contestants. Both are very proud at how far Ricky and Jake have come.
10:59 p.m. - Carson reveals the name of The Voice Season 17 winner. It's Jake Hoot.