WHO Says 'World's Worst Measles Epidemic' Has Killed Over 6,000 People in the DRC
The Democratic Republic of the Congo (DRC) is in the midst of the "world's worst measles" epidemic, with the current death toll now exceeding 6,000.
According to the World Health Organization (WHO), there have been approximately 310,000 suspected measles cases since the start of 2019. One-in-four are reported to have been in children under five-years-old.
Matshidiso Moeti, WHO Regional Director for Africa, said they were doing their "utmost" to bring the epidemic under control. "Yet to be truly successful we must ensure that no child faces the unnecessary risk of death from a disease that is easily preventable by a vaccine" she said in a statement.
The WHO says a combination of malnutrition, weak public health systems, insufficient access to healthcare and low vaccination rates have intensified the situation in the DRC.
While there are programs to try and increase vaccination coverage⁠—according to the WHO, more than 18 million under fives were vaccinated in 2019—it still remains relatively low.
According to the United Nations Children's Fund (UNICEF), coverage was at 57 percent in 2018.
To be fully effective, WHO says measles vaccine coverage should be at least 93 to 95 percent. This is when a community can achieve herd immunity—the idea that if a high enough proportion of people are immunized, a contagious disease will not be able to spread easily.
One of the major hurdles facing health professionals in the area is a lack of funding. According to the WHO, $27.6 million has already been assembled—but a further $40 million is needed to fund a six-month program to increase vaccination coverage and bolster other measures intended to curb the outbreak, including health education and community engagement.
"Thousands of Congolese families need our help to lift the burden of this prolonged epidemic from their backs," Amédée Prosper Djiguimdé, from the WHO office in the DRC, said in a statement. "We cannot achieve this without adequate finances."
Along with the measles epidemic, the country is also facing the second largest Ebola outbreak in documented history. According to the latest update from the WHO from January 6, there are more than 3,300 confirmed infections and over 2,200 deaths from Ebola since an outbreak was declared on August 1, 2018.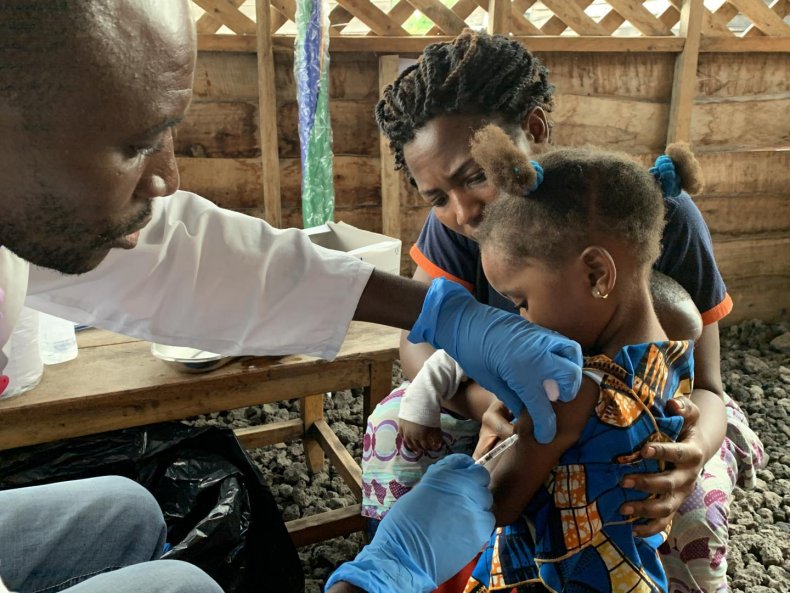 While measles is a preventable disease thanks to a safe and effective vaccine, global rates have shot up recently, increasing by 300 percent in the first three months of 2019, compared to the same period in 2018.