Who Would Qualify for a Second Stimulus Check? Pelosi, Mnuchin Agree on Payments as House Prepares to Vote on Bill
Speaker Nancy Pelosi put a hold on voting on a House stimulus package to keep the door open to additional conversations with Treasury Secretary Steve Mnuchin about a bipartisan plan. While the substance of the packages differ, one commonality of the plans is another round of stimulus checks.
Mnuchin was hopeful the two sides of the table could reach an agreement on every provision in a forthcoming plan, but they failed to strike a deal after a lengthy meeting on Wednesday. House Democrats planned to pass a $2.2 trillion package—which would likely fail in the Senate—but held off voting on it until at least Thursday to give a bipartisan plan that could pass both chambers another shot.
Nearly five months after the House passed the Democrat-led Health and Economic Recovery Omnibus Emergency Solutions (HEROES) Act with support from one Republican, legislators introduced a pared-down version of the bill. The price tag for the package was set at $2.2 trillion—a $1.2 trillion decrease from the package passed in May.
Among the provisions in the bill is another round of stimulus checks largely in line with the Coronavirus Aid, Relief, and Economic Security (CARES) Act that overwhelmingly passed both chambers in March. Eligible individuals with incomes under $75,000 would receive $1,200 and joint filers with incomes of $150,000 or less would receive $2,400.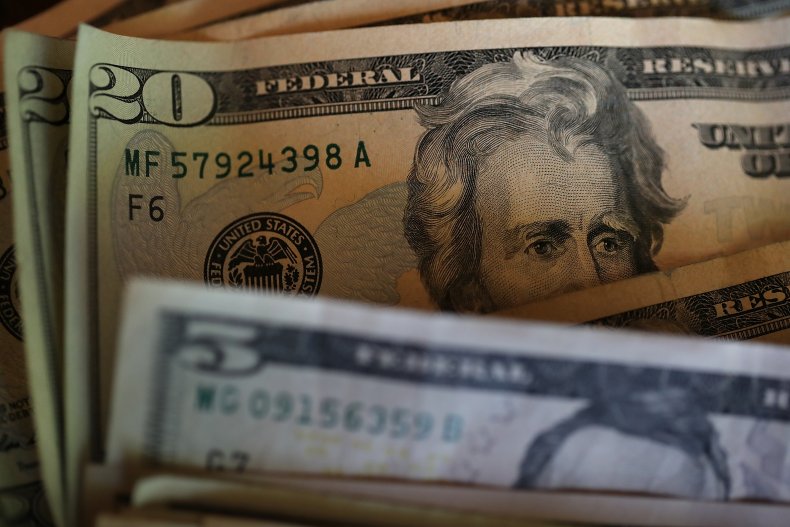 It also allocated $500 payments for each qualifying dependents, regardless of age. The original HEROES Act also had payments for dependents of all ages, but each payment was $1,200 with a three-dependent cap. The CARES Act limited eligibility for dependents to only children under 17 years old.
Only one Republican—Representative Peter King—voted in favor of the HEROES Act in May, while other Republicans have come out against the bill. House Republican Whip Steve Scalise called the HEROES Act 2.0 "no better than the last bill that failed the American people." He criticized the bill for allocating funding for undocumented immigrants while it reduced funds from the first package for police by $600 million.
In a memo to House members urging them to vote "no" on the package, Scalise said the bill recycled the "same socialist wish list" that was offered in the HEROES Act, The Hill reported. Senate Majority Leader Mitch McConnell has taken a similar position to Democrat-led proposals, so any vote that does come in the House is likely to be partisan and not come to a vote on the Senate floor.
Mnuchin told Fox Business on Wednesday evening that it was a "productive" meeting with Pelosi, during which he revealed a "very detailed" proposal. It was the first time the two sides "seriously reengaged" in stimulus relief negotiations and while $2.2 trillion was off the table, he said they were willing to do a "fair compromise" in the neighborhood of $1.5 trillion. Additional talks are needed to reach an agreement on a full package, but one provision that the two sides see eye-to-eye on is the issue of stimulus checks. Mnuchin didn't reveal specific details about who would qualify for stimulus checks, but said they would be "similar to last time."
President Donald Trump supports payments of the "exact same amount" as the CARES Act, Mnuchin said in earlier interviews, and a Republican-led package had a provision that expanded $500 payments for dependents—from children to those of all ages. So it's possible those who received a payment the first time around could see another one, plus additional payments for those within their care.
Newsweek reached out to Pelosi for comment, but did not receive a response in time for publication.