Who Is Zackari Parrish? Deputy Killed in Colorado Shooting; Six Others Wounded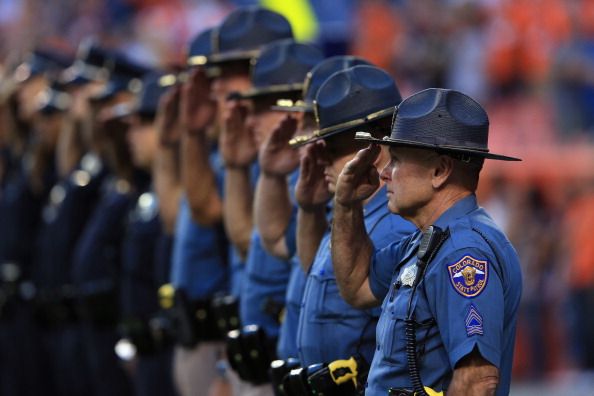 Deputy Zackari Parrish died in Sunday's shooting in Denver and four other law enforcement officers and two civilians were wounded, the Douglas County Sheriff's Office reported.
The 29-year-old Parrish is survived by wife Gracie and two young daughters, according to a GoFundMe page that has so far raised more than $160,000 for his family members. "Zack fed off adrenaline," the page reads. "From snowboarding in the backcountry, to his job as a Douglas County police officer. Zack didn't back down to any challenges or fear." Despite working the graveyard shift, the page said, he always made time to play with his daughters.
Parrish first worked in sales before he "fulfilled his dream of becoming a law enforcement officer."
The officer died responding to a shooting in a Denver suburb. A man barricaded himself in a room in an apartment complex before opening fire, shooting a total of five officers and two civilians. Police later shot and killed the suspect, 37-year-old Matthew Riehl, on the scene. Riehl reportedly fired more than 100 rounds.
The Douglas County Sheriff's Office held a procession for Parrish Sunday evening. It began at Littleton Hospital, where some of the injured were being treated, and made its way down the local I-25.
"It was very difficult to go see Zack for the last time today," Douglas County Sheriff Tony Spurlock told reporters on Sunday. "He was doing his job, and he was doing his job well, and his life was taken this morning." He added: "This is a tragic day that we will be feeling for a long time. Zack was a good kid, smiley kid. He was eager to work, eager to serve."
President Donald Trump on Sunday tweeted about Parrish and the other injured officers and civilians—at least three of whose injuries are not critical, according to a hospital spokesperson.
"My deepest condolences to the victims of the terrible shooting in Douglas County @DCSheriff, and their families," Trump wrote. "We love our police and law enforcement—God Bless them all! #LESM."