Who Is Zalmay Khalilzad? Biden's Envoy for Afghanistan Resigns After Messy Troop Withdrawal
Zalmay Khalilzad, President Joe Biden's envoy to Afghanistan, has resigned three years after former President Donald Trump appointed him to broker a peace deal with the Taliban.
Khalilzad, one of a small number of former Trump administration officials who remained when Biden took office, submitted his resignation letter to Secretary of State Antony Blinken on Monday.
In the letter, he wrote that the "reasons for this are too complex and I will share my thoughts in the coming days and weeks, after leaving government service," according to The New York Times.
Although Khalilzad played a significant role in this year's chaotic U.S. military withdrawal from Afghanistan, he has downplayed his part in the operation.
Earlier this month he was excluded from participating in the first formal talks between the U.S. and the Taliban since the withdrawal, according to Reuters.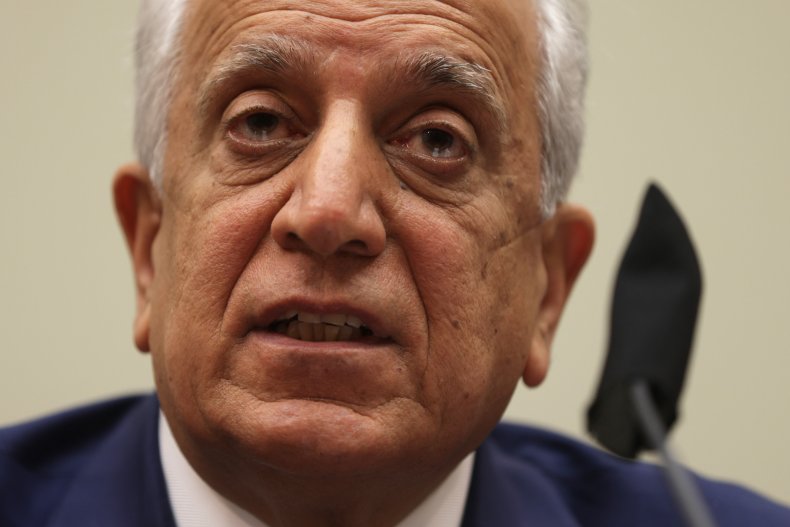 Blinken offered "gratitude for his decades of service to the American people" in a statement issued after the resignation.
He added that Khalilzad's deputy Thomas West would be taking over the job.
Khalilzad, 70, was brought into the Trump administration in September 2018 as the Special Representative for Afghanistan Reconciliation, a role specifically created to help shape a U.S. military exit from Afghanistan.
In February 2020, Khalilzad reached an agreement with the Taliban that ultimately led to this year's withdrawal.
U.S. officials who spoke to Reuters on the condition of anonymity reportedly criticized Khalilzad's negotiation tactics, maintaining that he had conceded "leverage to the militant group, continuously undermined the Afghan government, and had little interest in hearing different viewpoints within the U.S. government."
Khalilzad was born in the northern Afghan city of Mazar-i-Sharif and grew up in the Afghan capital Kabul. He first visited the U.S. as a high school exchange student and became an American citizen in 1984, five years after earning a doctorate at the University of Chicago. A long career in diplomacy followed, with Khalilzad serving in multiple administrations beginning with that of former President Ronald Reagan.
Former President George W. Bush appointed Khalilzad U.S. Ambassador to Afghanistan in 2004. He became U.S. Ambassador to Iraq the following year. In 2007, Khalilzad was appointed U.S. Ambassador to the United Nations, a role he continued in for a short time under former President Barack Obama.
Khalilzad also has extensive experience in the private sector, serving as the president of his own consulting firm Khalilzad Associates from 2009 to 2018 and filling a prominent role at the RAND Corporation from 1993 to 2000.
Newsweek reached out to the White House for comment.