It's been a pretty damn amazing run for Croatia's manager Zlatko Dalic. He has led his side to their first-ever World Cup final—that'll put the Croats up against France—scheduled to take place on Sunday.
It's remarkable that he's even coaching the team at all. Dalic took over the Croatian job from former coach Ante Čačić toward the very end of World Cup qualifying. Prior to that, Dalic was a little-known figure coaching well away from the glitz and glamor of European soccer, with Al Ain in the United Arab Emirates. Only after Croatia secured a spot in the World Cup by defeating Greece did Dalic earn the job full-time. It was, to say the least, an unlikely ascent to international glory.
Now—after dispatching Denmark, Russia and England in three consecutive overtime matches—Dalic is 90 minutes away from cementing his place in Croatian soccer lore. He has said his squad would be ready for the heavily favored French side.
"We've entered the final today," Dalic said just after their win over England in the semifinals, according to UAE news service the National. "We're going to celebrate, to rest and then we will prepare for France. We're facing another daunting task, but it's going to be a fantastic match. We are ready for it. I am sure everybody will enjoy watching that match. I have huge respect for France."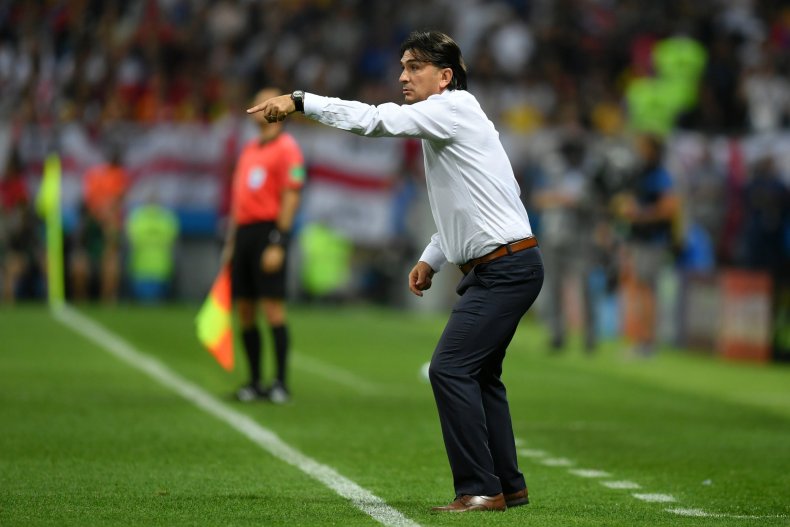 And despite Croatia having played what amounts to an entire extra game—because of three overtime matches—Dalic said after the England win that tiredness would be no excuse for a down performance in the final.
"This is fantastic. Two players played with half a leg, but it didn't show. In extra-time nobody wanted to be substituted. This shows character and is what makes me proud. Nobody gave up," Dalic said, according to Agence France-Presse (AFP). "We prepared to get to the final and we want to play it. Going to extra-time might be a problem along with the fact France have had an extra day to recover but there will be no excuses. ... We have to play as if this were the first game in this tournament."
Dalic, 51, has been just what Croatia needed, leading the team to eight wins, three draws and two losses in his short tenure as coach. On Sunday, he has a chance to do something nobody in Croatia has ever managed, just about a year-and-a-half after a relatively unceremonious departure from a little-known club in the Middle East.
"We've definitely written ourselves into history, given the conditions and infrastructure back home, we are a miracle," Dalic said, according to Reuters. "This is maybe one of the greatest sporting achievements of any Croatians. This is a global success and I'm very glad it's happened under my management."
About the writer
Reporter, covering a bit of everything.