Whole Foods Employee Quits After Allegedly Accusing Woman of Stealing in Viral Video
TikTok has become a platform for everything. While some use the app for light-hearted content, others have used it as a way to document and expose when things go wrong.
In a video that has now gone viral, a user posted footage to the app of a Whole Foods employee who had allegedly accused a customer of stealing from the store. The video, which appears to be reposted, was posted from the account @losworld.dg. It is not clear which location of the chain the video is filmed at.
"This man right here runs to my car, scared the s**t out of me...Accusing me of stealing a steak," the customer is heard saying in the video.
The camera is pointing at a Whole Foods employee who is holding what appears to be a wrapped steak in one hand and his name tag in the other.
"And I'm resigning right now miss, I'm sorry," the employee said while speaking to who appears a store manager.
The employee then also hands the two other people in Whole Foods uniforms a receipt.
"Here is the receipt, and I apologize," he said.
The customer said the employee opened her car and took the meat from her. At the very end of the video, one of the Whole Foods employees asks for the video to stop.
"If he opened her car door and grab her property he should be arrested," one user commented on the video.
"He resigning because he knew he was going to get fired for that because he violated company rules," another commenter wrote.
Other commenters highlighted that it was not the employee's job to go after her even if he did think she was stealing.
"...bro this is a loss preventions job," one wrote.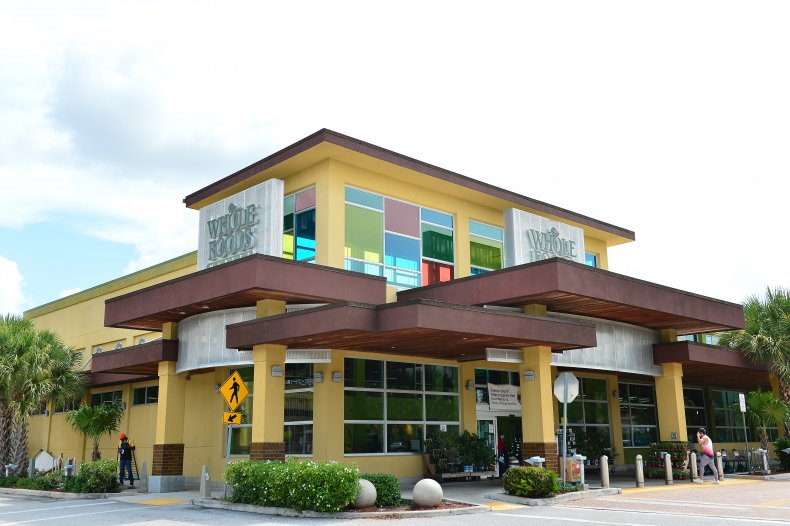 Another commenter who claimed to be a former employee of the company said that Whole Foods informs employees not to do anything except inform a manager if they see someone stealing.
Whole Food Market confirmed to Newsweek that the incident is being investigated and that the individual is no longer employed by the company.
TikTok has also been used in the past by employees of large chains like Dunkin', Subway and Starbucks to "expose" practices observed at work.
In one video in April, a TikToker exposed that Dunkin's "Sweet Cold Foam" was in fact made by the brand Reddi-Wip as well what appeared to be a pre-packaged avocado mixture for the coffee shop's Avocado Toast, Newsweek previously reported. The employee claimed she was planning on quitting which is why she was making the videos.
In another video, a TikToker who claimed to work at Subway revealed what the chain's meat looked like before it was added to sandwiches.
"[L]ook like cat food," one user commented according to previous reporting by Newsweek.
Newsweek reached out @losworld.dg for comment.