Whole Foods Employees Protest Policy Banning Black Lives Matter Face Masks
Whole Foods employees are being sent home for wearing Black Lives Matter face masks. Stores across the county are not allowing masks with the phrase, with reports of employees being sent home in New Hampshire, Pennsylvania, and Washington.
Two employees, Lylah Styles, and Kayla Greene, of Whole Foods in Bedford, New Hampshire, said they were sent home multiple times for wearing masks and sneakers with phrases including "I can't breathe" and "Black Lives Matter."
Whole Foods is owned by Amazon, which is donating $10 million to social justice groups in support of the Black Lives Matter movement.
But Styles told the Concord Monitor: "With Amazon, they make money off of the movement, so it doesn't make sense why their employees can't wear stuff to support that, because it's driving traffic to their sites."
A Whole Foods spokesperson told the Monitor in an email: "All Whole Foods Market Team Members have signed acknowledgments of our longstanding company dress code, which prohibits any visible slogans, messages, logos or advertising that are not company-related, on any article of clothing, including face masks."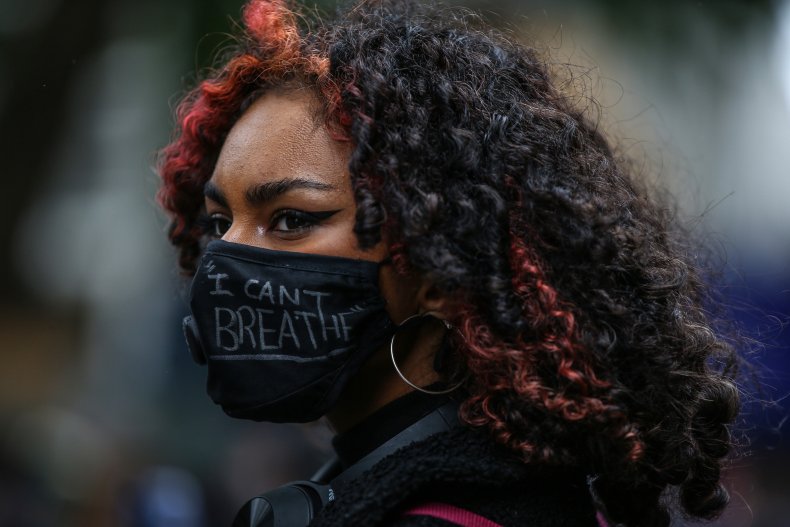 In Philadelphia, Whole Foods employees protested outside the store for the right to wear clothing items and accessories with the phrase: "Black Lives Matter." Employees at the store also reported being sent home for the same reason as the New Hampshire employees.
One employee claims she was fired for social media posts that criticized the store management for giving food to police during the city's Black Lives Matter protest.
However, a Whole Food spokesperson told the Philadelphia Inquirer that: "The Team Member was presented with evidence that showed clear violation of our policies against behavior and language that is threatening, vulgar and obscene towards a Team Member and was separated as a result.
"[The employee's] actions were specifically directed towards an individual in the workplace and perceived as a safety threat. They were brought to our attention by fellow store Team Members."
Following reports of Whole Foods employees being sent home, employees at a Cambridge, Massachusetts, store decided to wear "Black Lives Matter" masks to work, according to The Boston Globe.
They were told by the manager to wear a different mask or go home, and so seven employees walked out. The next day, at least twelve employees were sent home for refusing to change their masks.
But Savannah Kinzer, the employee who initiated the movement at the Whole Foods store in Cambridge said they will continue wearing the masks: "We are normalizing the BLM statement not just for the company but for each individual that walks through our store's doors.
"We can't just put a label on this and say we care and not let our own workers wear stuff in support of the movement. Until we see it as a white person's problem and not a Black issue that white people have to empathize with, racism will persist."
Newsweek has contacted Whole Foods for comment.