Twitter Users Defend Whoopi Goldberg After She Made Bella Thorne Cry Over Nude Photo Leak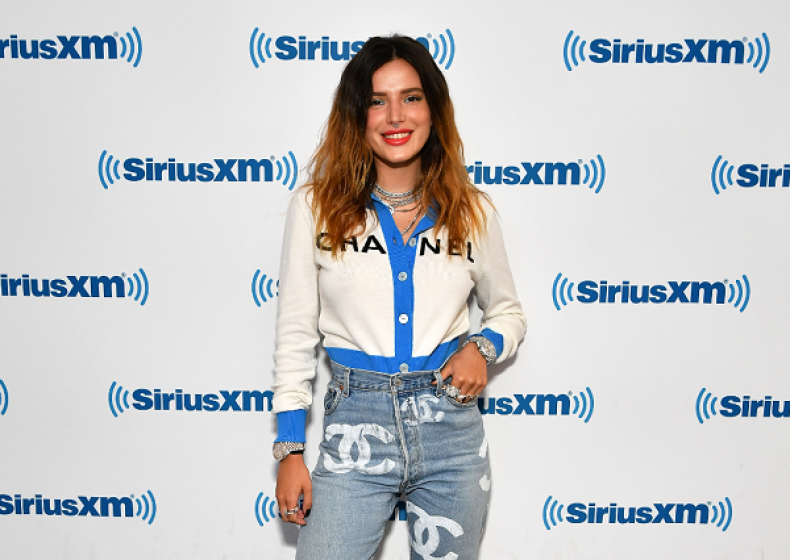 Bella Thorne tearfully addressed Whoopi Goldberg's comments regarding her nude photo leak in an Instagram on Tuesday. However, some people on social media thought The View co-host's comments were justified.
Thorne's social media was hacked over the weekend and several explicit images of the singer and actress were shared on Twitter. The incident sparked a debate on Monday's episode of the ABC daytime talk show, during which Goldberg criticized famous people like Thorne for taking naked photos of themselves in the first place.
"If your famous, I don't care how old you are—you don't take nude pictures of yourself," Goldberg said.
Goldberg's co-host Sunny Hostin expressed empathy for the Famous in Love star and other women who were exposed due to hackers. "It just saddens me that these kids have to go through this," she said. "For someone to extort her or threaten her with posting these pictures, it's terrible."
Goldberg disagreed. "Once you take that picture it goes into the cloud and it's available to any hacker who wants it, and if you don't know that in 2019 that this is an issue, I'm sorry. You don't get to do that," Goldberg said.
The 63-year-old's comments weren't taken lightly by Thorne, who later blasted Goldberg in an open letter and videos shared on Instagram Stories. "Dear whoppi [sic], I have loved u for so long but honestly I'm so displeased and saddened by your response to my leek [sic]. Blaming girls for taking the photo in the first place? Is sick and honestly disgusting," Thorne wrote.
She continued: "So what a girl can't send her boyfriend that she misses photos of her that are sexy? Things he's already seen? I as a women [sic] should be so scared walking around by home, being on my phone, doing anything."
"Is that what u want our women to be like? Scared of the masses for their sexuality?? Is that what u want? I don't. I'm offended for anyone out there who has ever taken a sexy photo. I am offended for Jennifer Lawrence who feels publicly raped. I am offended for every person who has committed suicide for someone leaking their nudes. Ur [sic] view on this matter is honestly awful and I hope u change u mind set as u are on a show talking to young girls," Thorne wrote.
While there were some people who supported Thorne's criticism, a number of people defended Goldberg's stance. Others suggested Goldberg wasn't trying to shame Thorne for the images but was merely expounding on how common Cloud hacking and nude leaks have become in today's climate.
Dozens of celebrities have been victims of photo hacks and leaks in recent years including Hunger Games star Lawrence, Ariana Grande, Kirstin Dunst, Selena Gomez, Kate Upton and several others.
There were also those who suggested Goldberg's rhetoric fell in line with misogynistic views towards women wearing suggestive clothing who experienced harassment from men. "Saying, 'well if u didn't take the picture' is no different than saying if u didn't wear short skirts or if u weren't drinking...stop blaming victims for the action of predators...whoopi," wrote Twitter user @bkchick13.
See a few more reactions to Goldberg and Thorne's dispute below.