Whoopi Goldberg, Sean Hannity Fans Spar Over Gun Control Debate
A war of words has erupted between fans of Whoopi Goldberg and Sean Hannity on Twitter, as the debate around gun laws in the United States continues in the wake of the latest school shooting.
The Fox News host waded into the debate around gun laws following the massacre in Uvalde, Texas, last week that saw a gunman kill 19 elementary school children and two adults.
There have been widespread calls for a ban on assault rifles amid the latest tragedy, with Republican opposition to gun reforms potentially loosening as the country mourns.
Taking to Twitter, Hannity, a Republican, tweeted an article from outlet Rumble that quoted Goldberg saying: "I'm gonna punch somebody" if another Republican offers thoughts and prayers for mass shootings.
Though Hannity did not comment himself, the tweet opened up a forum of debate between his and Goldberg's followers.
"My thoughts are with those who were tragically killed by an insane young man. My prayers are for everyone. Guns don't kill people. People kill people. If they don't use a gun they wait for a parade and use a car. Let's get to the root of the issue, mental health," reads one argument.
While another added: "As much as I don't agree with Whoopi, she has a point. Thoughts and prayers don't bring back loved ones. What can be done is taking action so tragedies like that don't happen again."
Another person, agreeing with Goldberg added: "All these people here more mad at Whoopi than at mass shooters is mind blowing."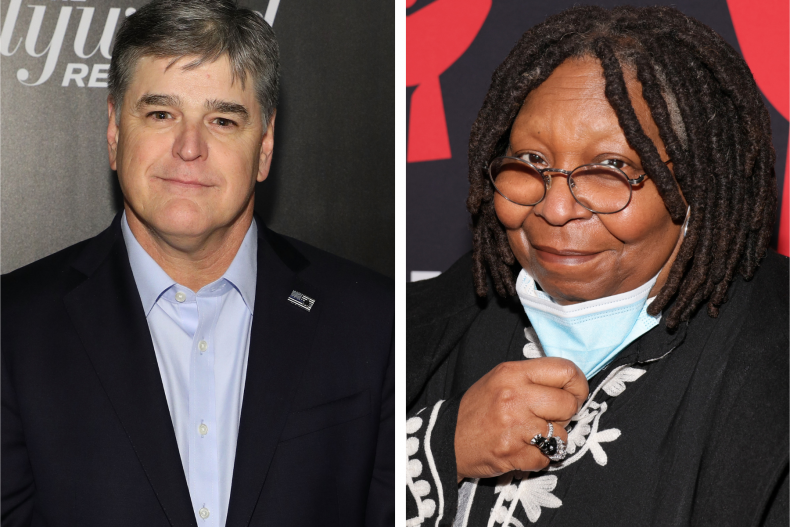 While another disagreed, adding: "Can't accept that only Christian prayers are the only answer! Lack of families as a traditional family & not having Christian values/prayers in schools has lead us where we are today! Evil comes into open doors!"
Goldberg made her "punch" comments last week during an episode of The View on May 25 after several Republicans offered their "thoughts and prayers" to victims of the shooting.
"Why are we always at square one with this? And I swear to God if I hear another Republican senator talk about their heart being broken, I'm gonna punch somebody. I can't take any thoughts and prayers."
"If your thoughts and prayers were with everybody, you would have done something by now. It's not like anybody's not trying to make something happen. What the hell is going on?" she added.
This argument comes amid a viral video of NRA CEO Wayne LaPierre being mocked over "thoughts and prayers" rhetoric.
Canadian Prime Minister Justin Trudeau has already announced new gun control legislation for his country, including a national freeze on handguns.
"It will no longer be possible to buy, sell, transfer, or import handguns anywhere in Canada once this bill becomes law," Trudeau said Monday. The legislation also aims to fight gun smuggling and trafficking by increasing criminal penalties and strengthening border security measures.