Most of the guests who appeared on a recent episode of Newsweek's podcast The Diplomat to discuss comments Whoopi Goldberg made last month about the Holocaust told host Jason Greenblatt they believe Goldberg's apology was authentic but wish more effort had been made to turn the incident into a public teaching moment.
Goldberg, a co-host of the ABC daytime talk show The View, said on a January 31 episode that the Holocaust was "not about race" but was "about man's inhumanity to other man." Goldberg issued an apology after her words drew swift criticism and was suspended from the program for two weeks, but public debate about her comments and the extent to which they reflect a wider lack of knowledge about the Holocaust has continued.
Yossi Gestetner, the executive director at the Orthodox Jewish Public Affairs Council, was one of 12 guests to speak with Greenblatt for a taping of The Diplomat released earlier this week. Goldberg's comments reflected an "extremely insane view" of the Holocaust, Gestetner told Greenblatt, and questioned what the public's response would have been like if a conservative news host had been the one to make the comments.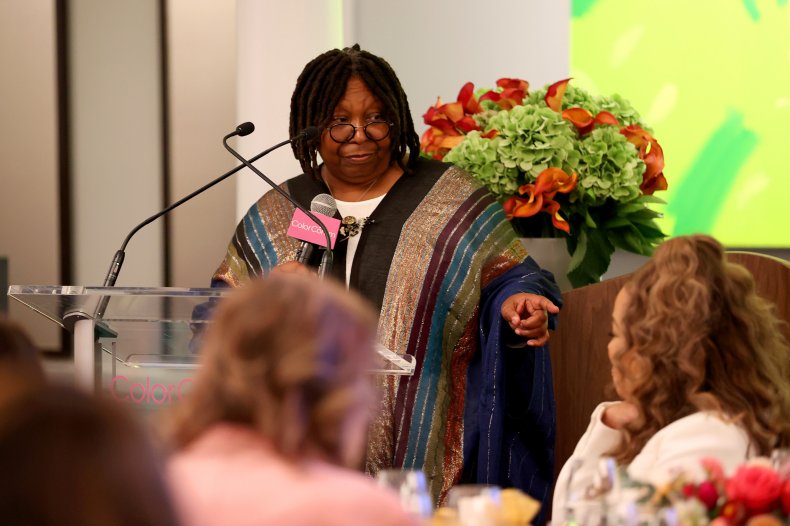 Rabbi Shmuley Boteach, founder of the World Values Network, began his discussion with Greenblatt by pointing to recent surveys that indicate a majority of Americans have not heard of Auschwitz, the largest concentration camp in Nazi Germany.
"Clearly, we're doing a terrible job of communicating the memory of the Holocaust, because the fact that someone as educated as Whoopi Goldberg, who has been a friend of the Jewish community, and kind of even changed her name to a Jewish name—'Whoopi Goldberg,' that was not her birth name—the fact that she could get this so wrong—and I don't think it was done out of malice—just shows the growing ignorance," Boteach said.
Boteach added that he does not believe Goldberg is antisemitic and said he is "a big believer in apologies."
"I would have preferred for The View not to have suspended Whoopi Goldberg and instead to have said, 'You know what? We're going to devote an entire week to Holocaust education on The View,' because that would have been helpful," Boteach said. "Punitive measures—how they're going to help, I just don't know."
Rabbi David Wolpe, the Max Webb Senior Rabbi at Sinai Temple, also said he did not believe Goldberg intended to be antisemitic and took issue with her suspension on two levels.
"One problem I have is, it is much better to have the person in public, to have them talk to other people in public, to have them publicly educated, to see the process of unlearning and learning the truth, than it is to make them disappear," Wolpe said.
"The second problem I have is, when the two weeks are over and she comes back, it's like it's gone," he continued. "And it shouldn't be gone, because the deeper part of this is it's part of a general resurgence of antisemitism."
Rabbi Marvin Hier, founder, CEO and president of the Simon Wiesenthal Center, read Greenblatt excerpts on the podcast from a letter Adolf Hitler wrote saying the Jewish people "are definitely a race and not a religious community."
Hier said he "can't understand" Goldberg's comments, noting that she was previously honored by the Simon Wiesenthal Center in New York. He said he wished Goldberg had been "more explicit" in her apology and said it "would have been called for" if ABC had taken "stronger action."
"But still, let me make it very clear: The Simon Wiesenthal Center does not believe that Whoopi Goldberg is an antisemite," Hier said.
Abraham Foxman, the former national director of the Anti-Defamation League, told Greenblatt he thought Goldberg's comments were partly a reflection of ignorance but said he believes they also reflected "an element of antisemitism." Even so, he said he is "opposed to cancel culture" and suggested an alternate path ABC could have taken in the wake of Goldberg's comments.
"If I were ABC, if they called me, I would say to them, 'Mandate her to go for two or three days to the U.S. Holocaust Museum to study, to learn.'"
Daniella Greenbaum, a former hot-topics producer at The View who penned an article about Goldberg's comments for The Washington Post earlier this month, told Greenblatt she does not think Goldberg's suspension was the "right answer."
"To me, the harder work that ABC could be doing is saying, 'Let's unpack that. Let's work to combat that actual reality that this is a thing that's out there. We are a news program. We talk to millions of people every day. We could actually be doing the hard work of unpacking that, engaging in that and educating on those misconceptions,' rather than just saying 'We're going to suspend someone,'" Greenbaum said.
"There are other actions that would actually be much more meaningful," she added.