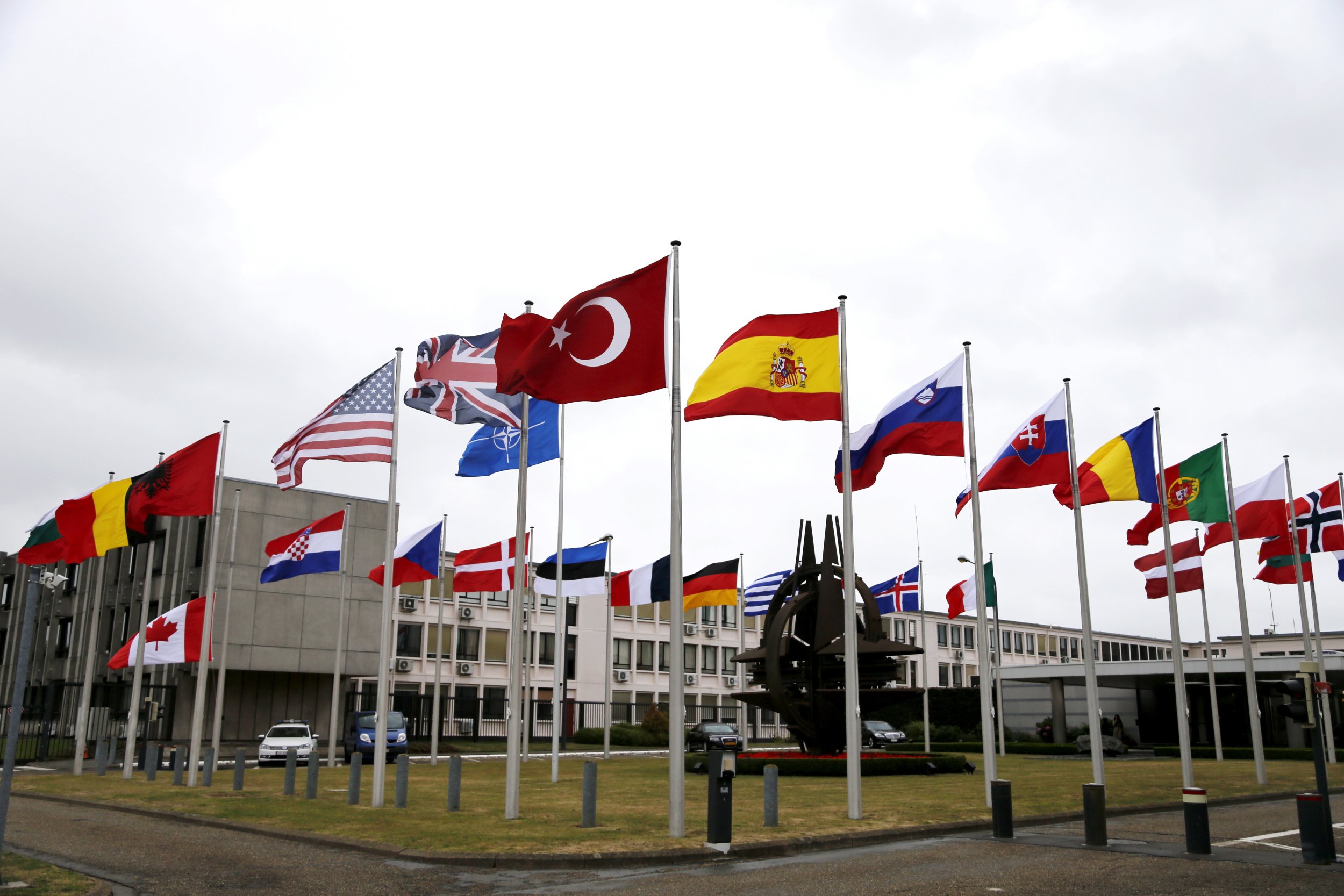 For many members of the NATO alliance, Russia's invasion of eastern Ukraine has had two positive effects.
The first is that NATO has returned its attention to Europe after focusing for so long on the faraway war in Afghanistan. Back home, the organization has established six command centers in Eastern Europe with the aim of supporting 5,000 troops and boosting the defenses of what has been a neglected area of the alliance.
The second consequence is that the war in eastern Ukraine is making all NATO members finally confront their decline in defense spending—even though there is little political will in many finance ministries to increase defense budgets.
But there is one issue that NATO members prefer not to deal with head-on. It is the future enlargement of the 28-member alliance.
"Of course the open-door policy is always there," a NATO diplomat told Carnegie Europe, referring to the principle that membership is available to any country that can undertake the commitments of accession. "But the attitude toward future enlargement is changing," he added, speaking on condition of anonymity because the issue is very sensitive inside NATO.
Enlargement of NATO eastward during the late 1990s and the 2000s was not a given. Some of the big Western members didn't want to antagonize Russia. But Javier Solana, who was the alliance's secretary general from 1995 to 1999, went out of his way to reassure the Kremlin that NATO expansion posed no threat to Russia's security.
Those expansions, which brought into the alliance the former Communist countries of Eastern and Central Europe and the Baltic states, marked a shift in NATO's perception of enlargement. It was about knitting the Euro-Atlantic structures together. It was about completing the reunification of Europe.
From a security point of view, membership was a huge psychological benefit for the new allies. From NATO's strategic point of view, the short-term benefits were questionable until serious defense reforms took hold among the new members and they could pull their weight.
In contrast, when NATO admitted Greece and Turkey (both in 1952) and Spain (in 1982), it did so for strategic and ideological reasons. After all, these countries joined during the Cold War and were essential to America's security interests in Western Europe and the Mediterranean area.
Now, NATO members have to deal with two competing considerations about future enlargement. One is the strategic value of admitting new members. The other is how Russia would react, especially with regard to Georgia and, down the road, Ukraine.
"The question several allies are raising is whether membership of any new country in the alliance can contribute to the overall security of the alliance. If not, they will have to think twice about admitting it," another NATO diplomat said.
Montenegro is a case in point. NATO rebuffed this Western Balkan country during the alliance's September 2014 summit in Wales, even though it had met most of the criteria for joining. Since then, Montenegro's government has embarked on an intense lobbying campaign inside NATO so it can be admitted at the alliance's Warsaw summit that will take place in July 2016.
As to whether Montenegro, a small and not very wealthy country, would enhance NATO's overall security, the added value is questionable. But Montenegro's strategic location in this part of the Balkans, combined with its government's Atlanticist outlook and commitment to joining the EU, could serve NATO's interests. Moreover, Montenegro's NATO accession would quash plans by Russia to build a naval base in the republic.
Russia, which has a sizable economic influence in Montenegro, would balk at the country joining NATO. Moscow has already warned the government in Podgorica against moving closer to the EU and NATO, advice that Montenegrin Prime Minister Milo Đukanović has brushed aside. Moreover, all alliance members know that Russia's real worry is NATO's relationship with Georgia.
Georgia has done everything possible to meet the criteria for joining NATO. Apart from reforming its armed forces to a very high standard, the country has been actively engaged in several NATO missions. Yet for all that, NATO as a whole is opposed to admitting this country, which is strategically located between the Black Sea, Russia, Turkey, Armenia and Azerbaijan.
The reason is that several NATO countries are not convinced that Georgia would add to NATO's security, despite its strategic location. Bluntly, countries such as Germany and France but also Poland fear that Georgia might at one stage invoke Article 5 of the NATO treaty, which obliges the allies to come to the defense of another ally under threat.
Georgia is vulnerable. Russia's occupation in August 2008 of South Ossetia and Abkhazia—together comprising about a fifth of Georgian territory—has made it increasingly difficult for Georgia to persuade NATO to grant it a Membership Action Plan, which would put the country on the road to accession.
"If a country such as Georgia joins NATO, we have to be ready to defend it," an Eastern European diplomat said. "Would we be willing to take on Russia?"
Added to that is Russian intimidation of NATO, as Russia's permanent representative to NATO, Alexander Grushko, made clear. "Any political game concerning NATO expansion into Georgia and Ukraine is filled with the most serious, most profound geopolitical consequences for all of Europe," Grushko told the LifeNews television channel.
But it was Russian expansion into Georgia and Ukraine that changed Europe's post–Cold War security architecture. And it is Russia that is trying, as ever, to veto any further NATO expansion.
Judy Dempsey is a nonresident senior associate at Carnegie Europe and editor in chief of Strategic Europe. This article first appeared on the Carnegie Europe site.