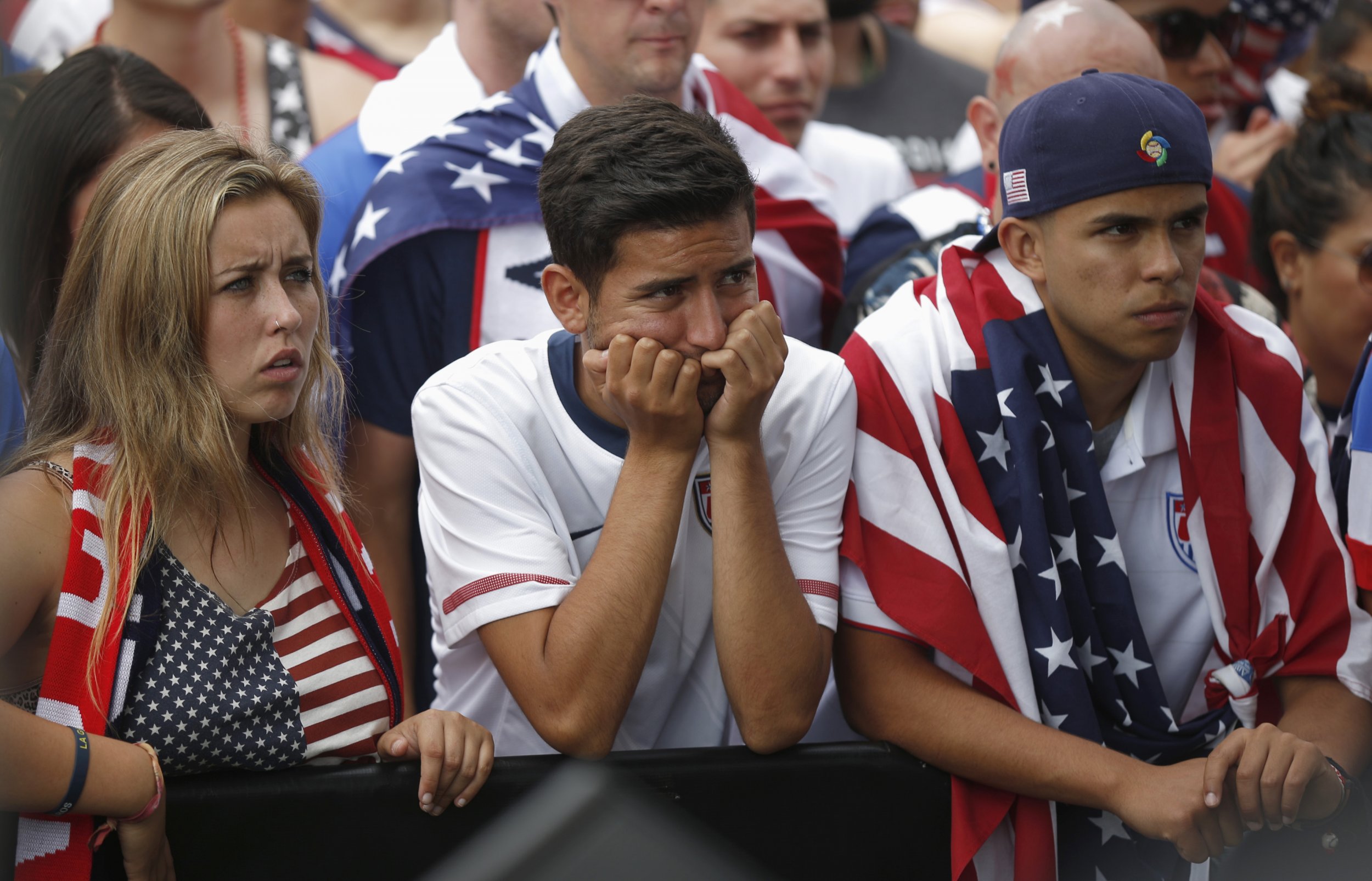 Domingo did not wear his uniform to work last Sunday.
Domingo did not wear his uniform to work last Sunday --a sentence that is one degree more confusing if you are bilingual-- because he is the head food runner at a popular outdoor cafe adjacent to the Hudson River in Manhattan. And food runners at this cafe wear orange T-shirts, which on that day would have been anathema to Domingo, since his beloved Mexico were slated to face the Netherlands -- Oranje --in a round of 16 knockout game at the World Cup.
Instead, Domingo wore a white Mexico jersey. His colleague, Jesus, a fellow Mexican immigrant who is a bartender at the cafe as well as a licensed pilot, wore a green jersey in support of El Tri. Domingo would spend two hours last Sunday afternoon clearly conflicted, not due to his sartorial choice, but because our spacious cafe was packed to the gills with World Cup fanatics, rendering him no time to both perform his job and watch the match.
Perhaps that somewhat dulled the pain, as Mexico's 1-0 lead evaporated in the final 15 minutes and the Dutch won, 2-1. Eighty-six Mexico, as they say in the business.
According to the U.S. Department of Homeland Security, the nation with the greatest influx of legal immigrants in 2012, the most recent year in which statistics are available, was Mexico with 146,406. The next two nations on that list, China and India, have numbers that when combined only equal Mexico's total. But it is too facile to dismiss the month-long World Cup frenzy overtaking America this summer like a Sharknado as nothing more than a flurry of red, yellow and green cards. It is far more pervasive than one ethnic immigrant group, much more so than immigration in general.
Tuesday afternoon's Round of 16 knockout match between Belgium and the United States drew a 9.6 overnight rating on ESPN, making it the highest-rated World Cup match in the history of the cable sports network. It is possible that as many as 20 million viewers tuned in to see goalkeeper Tim Howard block a World Cup-record (dating back at least 50 years, or since they began tallying such items) 16 shots on goal.
On a Tuesday afternoon.
At NFL stadium venues in cities where the United States Soccer Federation would once never have thought to host a World Cup qualifier for fear of sparse attendance, tens of thousands of fans streamed in to view the game en masse on giant screens. Some 25,000 flooded Soldier Field (and, okay, the screen cut out after the national anthem, which may just have been the ghost of George Halas telling World Cup pilgrims that he will surrender the term "football" to them when they can pry it from his cold, dead hands). At AT&T Stadium in Arlington, Texas, home of the Dallas Cowboys (America's Team!), an estimated 20,000 fans showed up. In Kansas City, thousands of fans chanted "I believe that we will win!" with a religious fervor not usually scene outside a city square in the Middle East.
To invoke the name of another, far less popular ESPN weekday program, numbers never lie.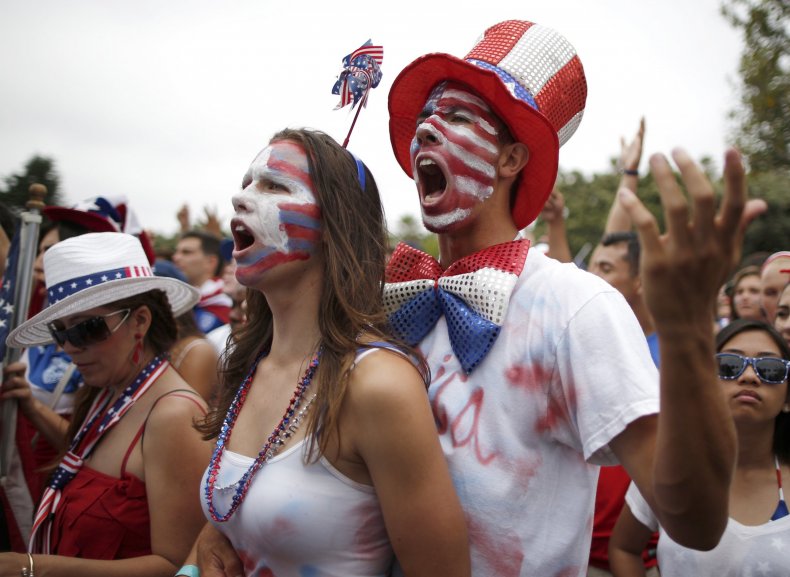 Let's discuss USA-Belgium and the World Cup at large for a moment, shall we? How the United States fared in Brazil is all a matter of perspective. Jurgen Klinsmann's club advanced beyond the group stage and lost by the score of 2-1 in the round of 16 for the second consecutive World Cup. In one sense, no progress.
One could also note that after Clint Dempsey's goal in the opening minute of the opening game against Ghana, the Yanks were thoroughly outplayed in three of their four contests. Only against Portugal did the United States go toe-to-toe, or instep-to-instep, for the entirety of the match. And while Tim Howard performed brilliantly, nay, historically, against a Belgian team known as the Red Devils, he only did so because his teammates left him no other choice. In that other football, no one ever wants to award the game ball to the punter.
On the other hand, every nation that the U.S. men played considers football, and has for decades, to be its No. 1 sport. Even Ghana. The Yanks defeated Ghana and drew even with a Portugal squad that has one of the two or three most gifted strikers in the world, Cristiano Ronaldo. Even more astoundingly--and all of this accomplished, by the way, without its own most potent offensive player, striker Jozy Altidore, who strained his hamstring just 20 minutes into the opening match versus Ghana--for as overwhelmed as the U.S. appeared to be against Belgium, and they were, they should have stolen that match.
In the 93rd minute Geoff Cameron lofted a pass into the box that Jermaine Jones headed directly onto Chris Wondolowski's right foot. Clear and simple, Wondo shanked it high from six yards out. Convert that kick and hold off a Belgian push for one final minute and the frenzy for Saturday's quarter-final match versus Argentina would have sent Ann Coulter directly to her underground lair for the entire Fourth of July weekend. Alas…
ESPN's Men in Blazers, the cheeky British ex-pat duo of Michael Davies and Roger Bennett, like to say that soccer is "America's sport of the future--as it has been since 1972." And there is truth to that. In the late 1970s my Irish-American neighbors would drag me along to Giants Stadium to join 75,000 other cult worshippers who watched the New York Cosmos play. The Cosmos' roster was the greatest collection of over-the-hill gang footballers ever assembled: Pele, Giorgio Chinaglia and Franz Beckenbauer, arguably the greatest players Brazil, Italy and Germany have ever produced, all playing together in the twilight of their careers in front of a wealthy but relatively uneducated fan base. It would be like taking Mick Jagger, Bruce Springsteen and Bono today and making them the house band for the Sultan of Brunei.
Soccer was on the rise then, nearly four decades ago, and the cynics love to remind us that little, if anything, has changed. Chet Coppock, an inveterate and popular Chicago broadcaster, felt the urge to tweet during the World Cup's opening week that Chicago Bears telecasts still pull higher ratings. Coulter wrote a hateful and xenophobic screed equating our nation's growing interest in soccer with moral decay that I'm still not entirely sure was not satire, the product of a bet she lost to Bill Maher. CBS Sports' Pete Prisco tweeted that he had watched two games and pronounced the World Cup "boring," only two tweets after noting that "there's nothing like a no-hitter." ESPN's Keith Olbermann pronounced the nationwide exuberance over the World Cup to simply be a case of the "emperor's new clothes."
Lastly, NBA all-time great Kareem Abdul-Jabbar penned an essay for Time magazine proclaiming, among other things, that "soccer does not fully express the American ethos as powerfully as our other sports." I have neither the time nor the inclination to deconstruct all of Jabbar's sophist arguments here, but examine this paragraph:
Is there something fundamentally different about watching soccer that turns people away by the millions? Apparently so. For one thing, there's a lot of movement but not much action. American audiences see people kicking the ball to a teammate, only to have it intercepted by the other team. A lot. To the average American used to the hustle of basketball, the clash of titans in football, the suspense of the curve ball in baseball, or the thrilling crack of the slapshot in hockey, the endless meandering back and forth across the soccer field looks less like strategy and more like random luck. It lacks drama. Of course, that's not true at all, but that is certainly the perception.
The "suspense of the curveball"? Seriously? Also, Abdul-Jabbar says that the "endless meandering back and forth across the soccer field looks less like strategy and more like random luck" before adding, "of course, that's not true at all, but that is certainly the perception."
Actually, Kareem...it's not the perception. People who watch soccer --soccer fans --understand that such endless meandering is no more random than the fact that some pitches fly straight and true to toward home plate while others possess "the suspense of the curve ball." Your sentence is as intellectually dishonest as my saying, "A Negro could never play quarterback in the NFL because he is just not intellectually astute enough to do so. Of, course, that's not true at all, but that is certainly the perception."
Offensive, isn't it?
And another thing: Just because there's scoring throughout an NBA basketball game does not make it any more meaningful. I watched the Golden State Warriors come from 27 points behind in the the third quarter last season to win. In a sense all of those baskets between minutes one and 46 of an NBA game are no more meaningful than those random back-and-forths across a soccer pitch.
Three things here: 1) Is it just a coincidence that all of the aforementioned critics are financially comfortable and above the age of 50? 2) What are they threatened by? There are other types of football being played in the Western Hemisphere this summer --the Canadian Football League and the Arena Football League --and no one has been moved to write or deliver an essay reminding us that they'll never be as popular as the National Football League. And finally, 3) I realize that simply by arguing in defense of football (and by referring to it as football instead of soccer) that I risk being labeled as a member of FC Cult, a member of a supposed movement that will not rest until everyone agrees that soccer/football is an awesome sport and that it will one day be our national pastime. That by informing Kareem and others that to use the MLS as your analogue sport is no more valid than my saying that, although the Super Bowl garnered good ratings in Canada, football will never be popular there because just look at the CFL (the proper analogue is the English Premier League, which has many of the world's top players and airs on Saturday mornings on NBC Sports Net; you're welcome), that by noting this, I invite a rolling of the eyes.
We don't care if you love soccer. We all just wonder why our ardor for it --and, incrementally, it is indeed growing in this country-- incites so many of you to knock it down like a Belgian shot on goal. What is it exactly that bothers you?
In the winter of 2009, at the height of the recession, I was one of millions of Americans laid off from a white-collar job in sports journalism (I used to write for NBC at the Olympics, a quadrennial sports event that troglodytes are not threatened by because they were introduced to it by Jim McKay and, well, Americans excel at the Olympics) and I took a seasonal job at an outdoor restaurant.
I still work there on weekends. I do not absolutely need to do so (though it certainly doesn't hurt) but I continue to do so for many reasons. One reason is that it has given me an appreciation for an America that most journalists and well-educated and/or upper-middle class Americans do not know. I work alongside African-Americans and Mexican-Americans, many of whom would make terrific baseball beat writers, by the way, because unlike most baseball scribes they could actually converse with many of the biggest stars of "our national pastime" in their native language. But that's another story.
I work alongside some of the hardest-working people I have ever met. Maybe your parents or grandparents knew that America --or were that America--but most of us have lost that sensibility. We now worship raw force, size and brute power, be it the MMA or Jadeveon Clowney's hit or SportsCenter's new $125 million set that has 114 monitors (Is it just a coincidence that the Men in Blazers' five-by-eight foot bunker at the World Cup has garnered a more ardent following since both debuted last month?).
We may not like to admit it when when we look in the mirror, but we have become Drago (and I mean Ivan, not Khal). We the people...are too big to fail.
Soccer/football is none of that. A highly-skilled soccer team succeeds not by sheer might, or leviathan force, but rather by synergy. Ask anyone who has worked at a bustling restaurant, or coached the San Antonio Spurs: a successful operation requires highly functioning individuals (it helps to have a bunch of foreigners on the team) whose seemingly random movements are actually the well-coordinated and choreographed parts of a greater mass motion that does have a purpose..
Kind of like…I don't know...manifest destiny.
Uncommon Knowledge
Newsweek is committed to challenging conventional wisdom and finding connections in the search for common ground.
Newsweek is committed to challenging conventional wisdom and finding connections in the search for common ground.
About the writer
John Walters is a writer and author, primarily of sports. He worked at Sports Illustrated for 15 years, and also at NBC Sports where he won two Sports Emmys for his on-air writing at the Athens and Beijing Olympics. He has also worked at AOL Fanhouse and The Daily, as well as waited at a popular Manhattan steakhouse. Walters is the author of The Same River Twice: A Season With Geno Auriemma and the Connecticut Huskies. He is the founder of mediumhappy.com, a pop culture blog that he updates daily. He holds a B.A. from the University of Notre Dame, where he studied pre-med and rowed crew.