Who's Favored to Win Trump and Biden's First Presidential Debate on Tuesday
President Donald Trump and Democratic presidential candidate Joe Biden are set to face off in their first debate on Tuesday, and some odds show the former vice president favored to win.
According to Oddschecker.com, Biden is currently the favorite to win the first debate tomorrow at Case Western Reserve University and the Cleveland Clinic, in Cleveland, Ohio. Odds show Biden being the favorite, at -275 to win, which according to Oddschecker gives the former vice president a 73.3 percent implied probability to win.
On the other hand, Trump currently sits at +200 odds to win the initial debate in Cleveland, according to Oddschecker, which gives him a 33.3 percent implied probability to win.
Despite Biden being considered the favorite to win the first presidential debate, according to Oddschecker, a majority, or 65 percent, of bets this week have been placed on Trump to win, compared to 35 percent of bets that were placed on Biden.
The debate on Tuesday will be moderated by Fox News host Chris Wallace, and the two candidates will discuss a wide range of topics, including the Supreme Court, the novel coronavirus pandemic, the economy, race relations and the integrity of the election.
According to the Commission on Presidential Debates, Tuesday's contest will consist of six 15-minute segments for the candidates to discuss the issues chosen by Wallace, and both Trump and Biden will be given two minutes to respond to the opening question as well as being able to respond to each other.
In addition to the first debate on Tuesday, Biden's running mate Kamala Harris and Vice President Mike Pence will also face off in a debate on October 7, and two more presidential debates are scheduled for October 15 and October 22.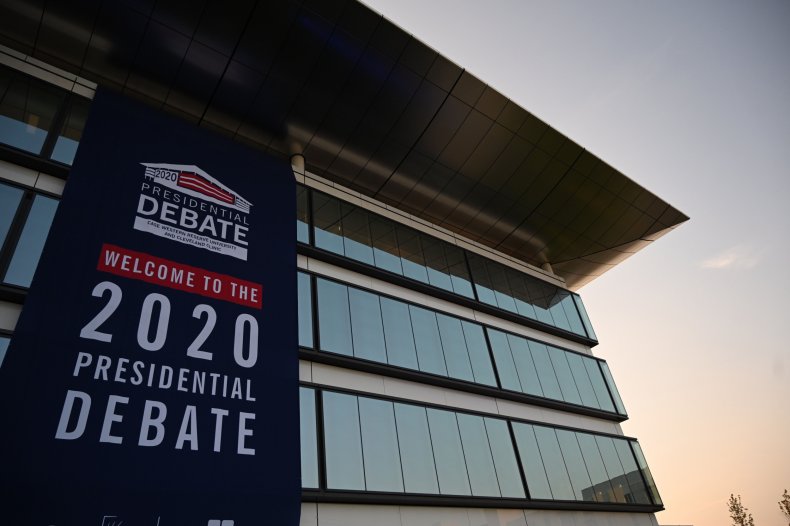 The first debate comes as Biden leads Trump in national polls, but his lead has dipped in a few key swing states. Real Clear Politics' average of several recently conducted national polls shows Biden ahead of Trump by seven points, but he is only ahead in by an average of 3.8 points in six key battleground states.
Real Clear Politics shows that in late July, Biden's lead over Trump across battleground states was much higher, but it has dipped in recent weeks, and a few individual polls have shown Trump with the advantage.
In an email sent to Newsweek, Tim Murtaugh, communications director for Trump's campaign, wrote:
President Trump prepares for debates every day by being president and building an excellent record to run on for re-election...Joe Biden will have to explain his 47 years of failure and job killing as a Washington politician and also defend the radical agenda he is now carrying for the extreme left, including raising taxes by $4 trillion. Biden spent decades skillfully debating in the Senate, won two debates while running for vice president, and just came through 11 debates in the Democrat primaries where he defeated two dozen challengers. Joe Biden is a master debater who knows what he's doing.
Newsweek reached out to the Biden's campaign for comment but did not receive a response in time for publication.
Updated September 28, 2020, 11:45 a.m. ET, to include a statement from a spokesperson for Trump's campaign.