Who is Lindsey Jo Parker and How Did She End Up in University of Kentucky's New Basketball Promo?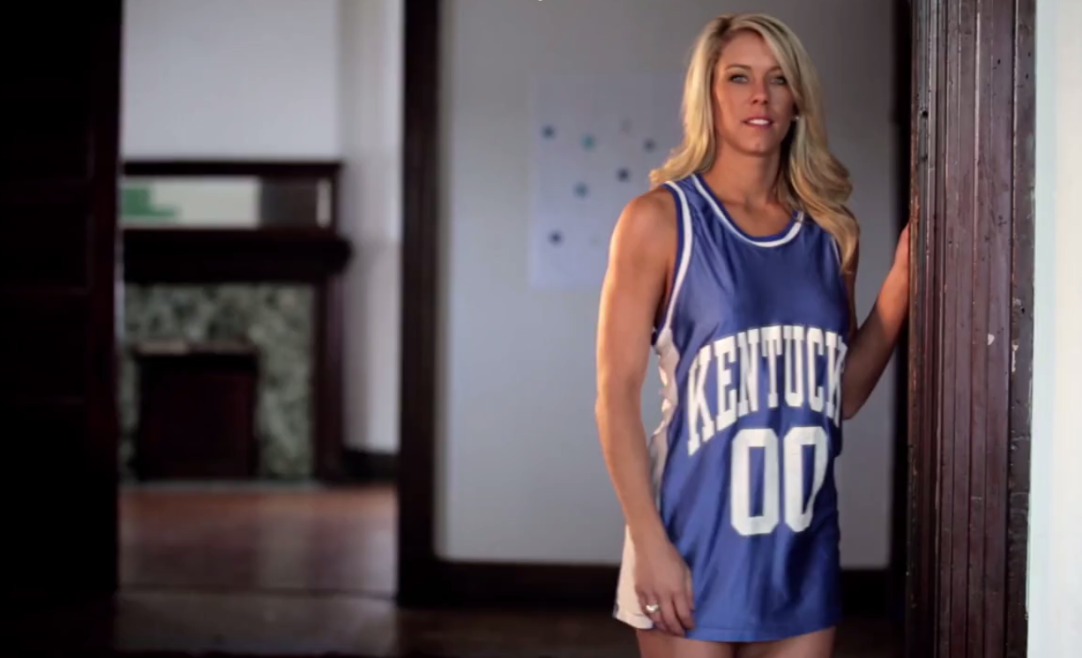 On Monday afternoon a Lexington, Ky., based production company, Bullhorn Creative, released a two-minute video, Rupp Arena Renovation. The proposed $310-million project is currently in the crowd-sourcing stage, if you will, hence the film.
Most of the familiar University of Kentucky basketball icons may be found among the piece's 100 or so brief cuts: Hall of Fame coaches Adolph Rupp and Joe B. Hall as well as current coach John Calipari--a future Hall of Famer, although that honor, too, may be vacated in the future; former Wildcat players Dan Issel, Kenny "Sky" Walker, Tayshaun Prince and Jamal Mashburn; and longtime play-by-play man Cawood Ledford, "The voice of the Wildcats."
However, at about the :40 mark, and ever so briefly, an unidentified blonde clad in nothing more than a blue Kentucky jersey appears. The vision is almost subliminal, as well as sublime, albeit cryptic (Jay-Z follows almost immediately after, by the way, ostensibly due to his 2011 concert at Rupp.
"We brought this girl in and we put a UK stamp on her cheek," says the film's co-director, Colin Doherty. "We spritzed her face with water so that it looked as if she was shedding a tear. That was the plan.
"Then we had her try the jersey on," says Doherty, "and that's what stayed."
The woman, Lindsey Jo Parker, is a 25-year-old aspiring model and a native of Harrodsburg, Ky. She played high school basketball at Mercer High School and is a friend of the film's co-director, Blake Judd. "She's just a super-nice Kentucky girl,"says Doherty, "who loves the Wildcats."
Doherty and Blake worked with Lexington civic leaders and the University of Kentucky on what he calls "the two-minute trailer," but no one seemed to notice Parker until the day before the video's release. "We had two weeks of meetings and nobody mentioned her," Doherty says. "Only until the final day did someone pretty high up notice. He said to me, 'Why did you put that babe in there?'"
By then it was too late. Which was by design. Also by design: no cameo of the world's most famous and comely Wildcat fan, Ashley Judd. "We knew people would be looking for her," says Doherty, 44. "I think it's a prop bet in Vegas as to how soon she'll be shown during a Kentucky home game. We thought the film would be more notable for her absence."
And, of course, for the presence of a mysterious blonde in a blue jersey.
Full video at http://bullhorncreative.com/blog/rupp/
Who is Lindsey Jo Parker and How Did She End Up in University of Kentucky's New Basketball Promo? | Sports