Protesters toppled a statue depicting Canada's first prime minister in Montreal on Saturday as the summer of protests demanding an end to systemic racism continued around the world.
The demonstration began in support of calls to reduce funding to local law enforcement, according to CTV News Montreal. Police told the station that activists toppled a statue of John A. Macdonald from its post in Place du Canada at about 3 p.m. local time. The head of the statue broke off in the process, police said.
Macdonald became Canada's first prime minister in 1867 and led the country until 1873. He also served as the country's third prime minister between 1878 and 1891. Macdonald is one of many historical figures whom the public is reexamining due to his controversial stances on the treatment of indigenous people.
According to BBC News, the Canadian government said in a 2015 report that one of the programs Macdonald created equated to "cultural genocide." The program, known as the residential housing system, caused about 150,000 children to be sent from their homes to schools run by the state, at which many of them were reportedly abused.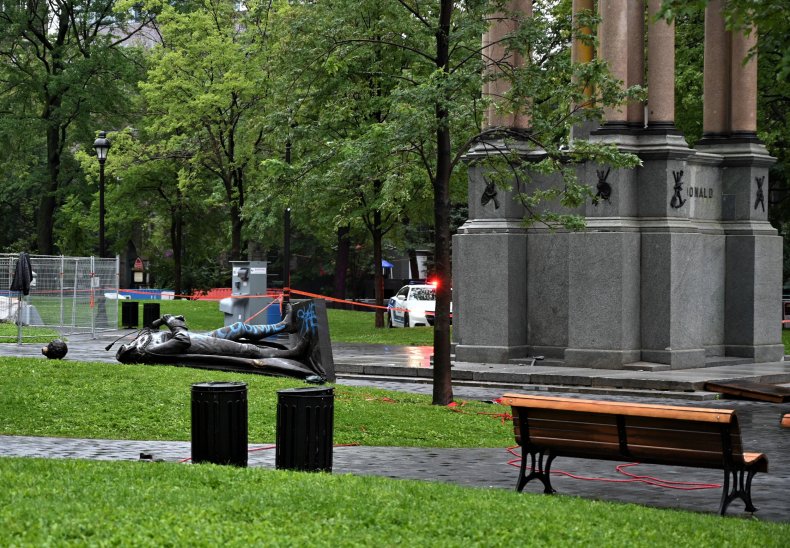 Despite the controversy surrounding Macdonald, several local politicians rebuked protesters for tearing the statue down.
François Legault, the premier of Quebec, said Saturday that destroying a statue or other historical monument is "unacceptable" regardless of the controversy surrounding the person it depicts. "We must fight racism, but destroying parts of our history is not the solution," Legault wrote on Twitter Saturday. "Vandalism has no place in our democracy and the statue must be restored."
Erin O'Toole, who became the leader of Canada's Conservative Party earlier this month, also spoke out against the destruction of the statue while acknowledging a need for change. "We have a lot of work to do to build Canada to its true potential. But tearing down statues of the founders of our democracy serves no purpose but to disrespect the memory of those who have served our great country," O'Toole said in a tweet Sunday.
"Such gestures cannot be accepted nor tolerated," Montreal Mayor Valérie Plante said in a statement on Saturday. "Some historical monuments, here as elsewhere, are at the heart of current emotional debates. I reiterate that it's better to put them in context rather than remove them."
The Coalition for BIPOC Liberation, a social justice collective, shared a video of protesters pulling the Macdonald statue off its pedestal. "These racist monuments don't deserve space," the coalition wrote in a caption accompanying the video. The group added a call to action for government officials to remove statues and other monuments of people that it said "promotes or has promoted slavery, anti-Black racism, or anti-Indigenous racism."
"Symbols of hate encourage the mental oppression of marginalized people and serve as reminders to all people of the inequitable imbalance of power and encourage white supremacist attitudes," the coalition wrote.
Plante said the city's public art office is working on plans to conserve the statue and will begin deliberating where it should go next. Montreal police are also investigating the incident, Plante said.
Montreal police spokesperson Jean-Pierre Brabant told CTV News Montreal that the protest was mostly peaceful aside from the damaged statue and said no one was injured in the incident.
Newsweek reached out to Montreal police for further comment, but did not receive a response in time for publication.