Which Candidates are Left in the 2020 Presidential Race? NYC Mayor Bill de Blasio Drops Out of Democratic Primary
New York City Mayor Bill de Blasio was the latest Democrat to drop out of the crowded 2020 presidential race, announcing Friday morning that he was suspending his longshot campaign for the party's nomination.
"I feel like I've contributed all I can to this primary election and it's clearly not my time," de Blasio said on MSNBC's Morning Joe. "So I'm going to end my presidential campaign, continue my work as mayor of New York City, and I'm going to keep speaking up for working people and for a Democratic Party that stands for working people."
Since entering the race in May, de Blasio had struggled to rise ahead of his 2020 competitors and consistently polled at or below 1 percent. After failing to qualify for the Democratic debate in September, de Blasio said it was difficult to see how his campaign could continue if he didn't make it to the October debate stage.
Fellow New Yorker President Donald Trump mocked de Blasio shortly after he dropped out of the race. Trump tweeted that New York City is "devastated" that the mayor was returning home. A recent Siena College poll found that de Blasio had just a 33 percent favorable rating among city voters.
De Blasio's exit follows that of New York Senator Kirsten Gillibrand, former Colorado Governor John Hickenlooper, Washington Governor Jay Inslee, Representative Seth Moulton of Massachusetts and Representative Eric Swalwell of California.
"Whoever our nominee is, let's make sure we're speaking to the hearts of working people and they know we're on their side," de Blasio said Friday. "And if we do that, we're going to win. If we don't, this is an election that could go the other way."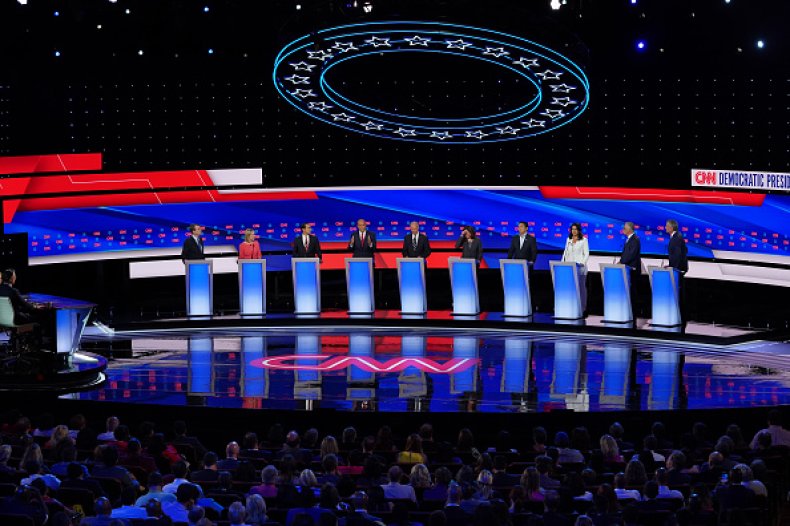 Additional candidates may be forced to drop out of the 2020 Democratic primary as the qualifications to participate in official events, like debates, get even more challenging. So far, only 11 candidates have met the necessary requirements to appear on stage in October for the fourth debate.
At its peak, the Democratic primary field had 26 candidates. Currently, 19 remain in the running.
Here's a full list of all the Democrats still vying for the party nomination in the 2020 race:
Colorado Senator Michael Bennet
Former Vice President Joe Biden
New Jersey Senator Cory Booker
Montana Governor Steve Bullock
South Bend, Indiana Mayor Pete Buttigieg
Former Housing Secretary Julián Castro
Former Maryland Representative John Delaney
Hawaii Representative Tulsi Gabbard
California Senator Kamala Harris
Minnesota Senator Amy Klobuchar
Miramar, Florida Mayor Wayne Messam
Former Texas Representative Beto O'Rourke
Ohio Representative Tim Ryan
Vermont Senator Bernie Sanders
Former Pennsylvania Representative Joe Sestak
Billionaire Tom Steyer
Massachusetts Senator Elizabeth Warren
Author Marianne Williamson
Former tech executive Andrew Yang